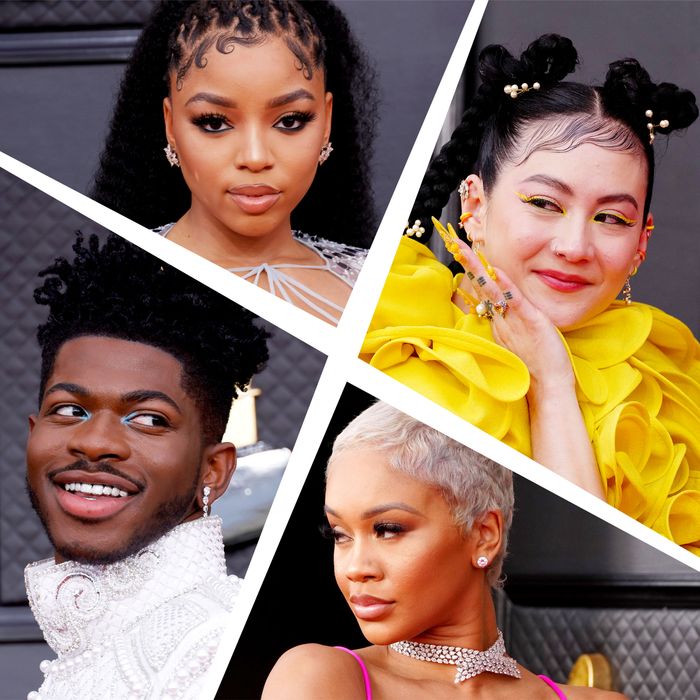 Photo-Illustration: by The Cut; Photos: Getty Images
Dopamine dressing with hot pink wasn't the only thing that dominated the Grammy Awards red carpet tonight: spiky hair had a moment, the bayang reminded us it's not going anywhere, and the bold eyeshadow. So much bold eyeshadow. Here are some of the best makeup and hair looks from the night.
The Bayang Is Here to Stay
If it's one thing Doja Cat is going to do, it's show up to a carpet and make a statement. We've seen her rock this short bang before, most recently in pink, but tonight she opted for platinum blonde spiky hair with flipped ends. And to top it off? The bayang, hitting the middle of her forehead and precisely cut.
Best Eyeshadow
Only Lil Nas X could win best eyeshadow with only a corner of his inner eye actually covered in eyeshadow. But, yes, it looked that good. There's obviously no need for a full cut crease or smokey eye anymore. A hint of a vibrant color like this bright blue does all the highlighting of the eyes that you need and it probably takes a quarter of the time that it takes to do a full eyeshadow look. Sign me up!
A Pixie Debut
Saweetie recently cut all of her hair off, but she's been covering her short cut with an array of wigs. Not tonight! Her pixie style made its red carpet debut and the short blonde cut highlighted her face while making her hot-pink two-piece grown even sexier? Magic.
Most 'Scratch Me Up' Nails
Nails always have a moment on the red carpet, whether they're extra long, super chrome, or Japanese Breakfast's texturized bright yellow nails. Look closely to catch those jewels! And her matching yellow eyeshadow tops it all off. Now, excuse me while I go ask my nail tech if she has jewelry that I can add to my next manicure.
A #BussDown Middle-Part Duo
TikTok is obsessed with buss down middle parts: It's parted to perfection, sleek, and straight. Well, enjoy: Megan Thee Stallion and Dua Lipa recreated Mariah Carey and Whitney Houston's 1998 MTV Video Music Awards moment not only matching in Versace looks, but also in matching crisp center parts. An iconic moment.
Best Updo
Lady Gaga's swooped front felt very Marilyn Monroe. The blonde look was chic and elegant — the perfect look for her old Hollywood-esque performance dedicated to Tony Bennett.
Most Swooped Baby Hairs
Chloe Bailey's hairstylist, Fesa Nu is working overtime on transforming Bailey's locs, from seamlessly tucking them to styling them into an array of twists. Tonight, her long voluminous curls were complete with baby hair swoops that didn't move an inch on the carpet. If you've ever spent hours on perfecting your edges you know how much of a task it is to get them perfect. These deserve their own Grammy.
Best Ponytail
Another bayang! But, this one had a standout ponytail attached to it. There was nothing basic about Cheri Moon's braided ponytail. With its flashy silhouette and gold adorned jewels, this pony deserves a Grammy, too.
Bantu Knots
Bantu knots have become a signature style for red carpets. Worn by everyone from Rihanna to Cardi B to Yara Shahidi, the cultural hairstyle has become more than a protective style, but A Moment™. Tonight, Tiara Thomas took that moment into her own hands.
Blush Is Back
We've been saying blush is back for sometime now and see? We're right. Melody Thornton's blush flawlessly blended into her pinkish eyeshadow for a blushing, yet radiant look. Flawlessly flushed, if you will! I will!