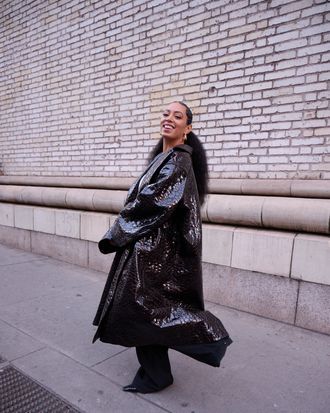 This week, Brooklyn Academy of Music (BAM) kicked off the first installment of "Eldorado Ballroom," an eight-night music-performance series curated by Solange Knowles for Saint Heron, her multidisciplinary creative collective. The series takes inspiration from the historic Black music hall in Houston, Knowles's hometown, of the same name. Knowles's Eldorado Ballroom will host an intergenerational lineup of artists who have all influenced Knowles's own creative practice.
"At the core, Saint Heron is about celebrating community, and the energy here tonight is such a reflection of that," said Knowles in press materials for the program ahead of last night. "Saint Heron and I worked very intentionally to curate this series for BAM and as its inspiration, Eldorado Ballroom is so close to my heart. This evening is a beautiful culmination of the type of intergenerational fellowship and celebration of self-expression that I am honored to have brought to life through this curation."
The first round of performances, which took place Thursday evening, included powerful sets from artists KeiyaA, Res, and Kelela, all known for their eclectic sounds and experimental approach to music production.
As guests filed into the theater, the sounds of endearment and air kisses filled the air. The feeling was one of a family reunion — excitement and familiarity — among the stylish crowd. (It's fitting that Knowles, known for her own distinct and artful approach to fashion, would garner a crowd that was as abundant in diverse and thoughtful looks.) The stage was just as spectacular: KeiyaA stunned in a three-dimensional Feben dress, Res rocked an asymmetric tulle creation by Act N°1, Kelela serenaded in Mônot, and Knowles held court in Bottega Veneta.
Making my way through the lobby, I watched as content kings and queens documented their outfits with enthusiasm and care, catching every detail before finally settling into the opera house. Onstage, the high-energy performances synthesized spirituality, rock and roll, and a deep soulfulness, all presented with vulnerability. The people in the crowd responded accordingly, rising from their seats at every opportunity, grooving to the sounds of the night. The high vibrations in the ballroom were palpable, and as a result, the audience members lost themselves to the music.
The Cut spoke with attendees about their looks ahead of the performances.
Gigi Renee
Research Analyst, Content Creator
"I just love to dress up, to feel good and feel confident. I dress according to my moods."
Ryan Cardoso
Photographer, filmmaker
"It's definitely giving church — a different type of church. The bag is Dauan Jacari, Duality Junkie. Very beauty-supply-store inspired. It's nice to see all these beautiful Black people outside!"
SHAN Wallace (left) and Lawrence (right)
Artist, Image-maker
"It's not quite spring yet, so I didn't want to be too bright. I still wanted to have some fall and winter colors. The Prada loafers are really comfortable and have a nice design, kinda bulky, and go really well with these trousers. This waistcoat is really cool and really cute. My shirt is Margiela, and my jewelry is collected from all over." —SHAN
Writer
"The top is Helmut Lang. These pants are made by a young girl named Imani in Baltimore, and the shoes are Acne." —Lawrence