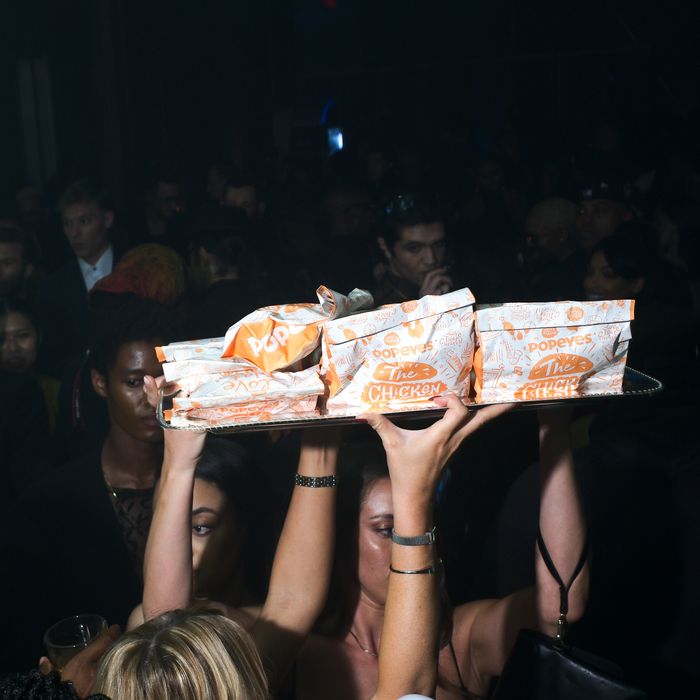 The star of the party.
Photo: Mike Vitelli/Mike Vitelli/BFA.com
If you can't believe it's been a whole year since the last Met Gala, then you would be correct: It was just eight months ago, delayed by the pandemic. This week's reprise was the second part of the Metropolitan Museum of Art's fashion exhibition In America, and the theme for the party, chosen every season by Vogue editor-in-chief Anna Wintour, was "gilded glamour" — you know, a throwback to late-19th-century high society as so weirdly depicted by that HBO show, which somehow didn't get too much into widespread unrest around immigration, injustice, and inequality, focusing instead on cutthroat social climbing. Watching the red carpet early on Monday night, it seemed that many of the celebs didn't know quite what to do to stay on theme while also not appearing clueless. Although Kim Kardashian in Marilyn Monroe's $4.8 million Mr. President dress — which required guards, three replicas, Pete Davidson, and 16 pounds of weight loss ("I would wear a sauna suit twice a day, run on the treadmill, completely cut out all sugar and all carbs, and just eat the cleanest veggies and protein," she told Vogue) — at least was a good stunt.
But back to cutthroat social climbing. Each year the Met Gala is followed by a string of glitzy after-parties with open bars, exclusive door lists, and buzzy hosts, all vying to be the one that attracts the most VIP appearances. My job is to bring you, dear readers, a sense of what it's like in those gatekept rooms, proving once again that celebrities can be bitchy, fun-loving drunk people, too. But after writing about how the annual party at the Standard's Boom Boom Room last year was basically just a pregame for Rihanna's party, I was strangely enough not invited to Cardi B's party with Playboy at the same location this year (although God knows, by the sometimes-shitshow standards of the Standard, how messy could that party have turned out?). Elsewhere, there were other vigilantly guarded soirées: Tom Ford took the Carlyle back from the TikTokers (or, at least the ones without an invite) and since Rihanna is very pregnant, her very popular afters was handed off to Kate Moss and Naomi Campbell at Casa Cipriani. Meanwhile, Instagram, a gala sponsor — and surely one of its most significant beneficiaries — threw down at a mansion on Fifth Avenue, featuring Mayor Eric Adams and a performance by SZA. A publicist informed me that I could go but wouldn't be allowed to talk to anyone on the record there; they were only seeking "fluffier" coverage. I declined. And so, in the end, I went where a party girl's press pass could get me: I stopped by The Blond, and then, of all places, Hudson Yards. There fashion designer LaQuan Smith (whose breakup dress Julia Fox wore on the runway earlier this year is included in the Met's exhibit) had gathered a hot crowd dancing, smoking, and blissfully unconcerned with anything Anna Wintour related, unless you count critiquing the admittedly lackluster red-carpet outfits.
Did anything about this celebrity prom matter all that much? The parties were still going on when news that affects millions of women who don't have personal stylists was leaked by Politico. By the next morning, all I could think about was something the late fashion editor André Leon Talley told journalist Amy Odell in her new biography of Wintour, while discussing his disdain for the 2019 camp-themed gala and Lady Gaga's made-for-social-media outfit changes: "It was a bit decadent. It was decadent. It was decaying. It was a decaying moment." By the end of my night, I secretly wished I was Kim K, back in her cushy hotel room working on gaining back those pounds with Joe's Pizza and freshly prepared donuts.
10:09 p.m. | Expecting a paparazzi shitshow, I get to The Blond on time, but like, I presume, any other rainy Monday night in Soho, the streets are empty and no one is standing outside the club. Inside, there's only bartenders and a couple of lazing photographers and publicists. One of the latter, representing a big New York fashion designer, bitches about the celebrity looks from tonight and their lack of gold or glamour. "I miss the Sarah Jessica Parker-Andy Cohen days," he says. I ask a yawning photographer about her favorite moment from the red carpet, but she tells me she doesn't remember anything that happened on the other side of her lens. That's for the internet.
11:00 p.m. | No one else arrives except for a few other journalists (lame) and one publicist (trying very hard to fit the theme in a silver ornamental skull cap). There's also a booth filled with unassuming business-casual people, who apparently supplied the rosé and Patrón for the evening.
Midnight | Not a single person on the list of supposed celebrity attendees, which included Amy Schumer, Addison Rae, Cara Delevingne, Camila and Shawn, Emrata, Kourtney Kardashian, Pete Davidson, and Rachel Brosnahan, has arrived. A plus-one at the bar tells me she's hoping things will pick up soon. "I wanna meet some cuties. I wanna bag one. Like Evan Mock."
12:50 a.m. | After another hour of waiting, it becomes clear that this party is a bust, so I extend my sympathies to the head publicist and hop in an Uber to LaQuan Smith's party.
1:13 a.m. | Outside the entrance to the Edge, a tourist attraction at Hudson Yards billed as the "highest outdoor sky deck in the Western hemisphere," the door is brimming with well-dressed guests who are for the most part ignoring the security guard's pleas to form a line. The party is apparently over-capacity, according to a scowling publicist, who mumbles at me, "We're not even letting the celebrities up."
1:26 a.m. | Thanks to an enterprising fellow journalist's schmoozing, I'm allowed to skip the line and head up to the 101st floor, where the first person I run into is the discerning door guy from ACME, who tells me Teyana Taylor just finished performing, and there's a rumor circulating that Doja Cat and Nicki Minaj are next. "I'm off to see Ms. Kate," he says, catching the elevator.
1:45 a.m. | Further inside, the party, surrounded by floor-to-ceiling views of the city, is filled with guests in slinky, silk dresses, patterned suits, and plenty of feathers and fur — better-dressed, I'm thinking, than most anyone featured in all of those Met Gala slideshows. The dance floor pulsates with blue and green strobe lights, rave style, and the DJ, for some reason, keeps calling out, "Are there any Latinos in the building? Any Latinos in the building? If you've got a Latino friend, put your hand up!" It's all very Miami by way of Brooklyn. Away from the dance floor, there's a line for a vending machine with $1 LaQuan Smith sunglasses, and several waitresses fluttering around with trays of Popeyes sandwiches and biscuits. The smell of the fried chicken mixes with all of the perfume and weed smoke in the room, and, weirdly enough, it smells great. A woman at the bar who's blotting her face with a napkin tells me, "It's time to turn up," and an influencer from Toronto decked out in latex adds, "Tonight was trash. Not even Cardi could serve a look." The only person who satisfied her taste for glam, she seems to share begrudgingly, was Blake Lively. She happily tells me she left the fashion industry years ago and tends to stay away from these things, but couldn't help but show up for the host: "All it takes is LaQuan and Popeyes and you're back in fashion."
2:01 a.m. | If this is the rare fashion party where people are actually dancing, it's also the rare fashion party where the guests are friendly — "Are you having a good time baby?" a model asks me before planting a kiss on my face — and everyone seems more concerned with hanging out with their friends than tracking down a celebrity guest. One woman with pink hair and, like plenty of others, LaQuan sunglasses, compares this party to the rest of the gala: "There's better looks happening here. The music is better. There's Black and brown people. I just like that for me." Oh, and there's gift bags. "Let's talk about the gifts," she says excitedly," showing off a Popeyes gift card and some "Mary J." What's her plan for the rest of the evening? "To drink as much free alcohol as possible."
2:10 a.m. | A stout woman dressed like a blue, tiled Tiffany lamp steps her white pumps into a jelly biscuit. "Maybe Wite-Out will help," she says, trying to wipe the stain off.
2:23 a.m. | Outside, on the Edge, which is not so much serving as an Instagrammable photo-op tonight as it is a smoke deck, I meet two dewy models with heavily bejeweled faces both picking at fresh clouds of pink cotton candy. "I'm a Black model, so it's like show up! It's all about LaQuan. He's sexy. Get your shit. Who else gets this view?" one says, gesturing at the city below. Her friend responds, "LaQuan just has these chic, downtown girls that you wanna be. The hot girl, the It girl, the villain. This party is for family. There's a warmth here," even though it's freezing this high off the ground. Speaking of … apparently they spotted me shivering in line downstairs and then borrowing a friend's coat. They roast me for it: "You're in New York baby! You downtown girl with your slip, having your assistant get your coat. Bitch we saw you at the front, bitch. Get my coat." To take the attention off of myself, I ask them what they would choose for the Met Gala theme if they were in charge. "The Hood Met. I'd wear that shit from the block," says one, and the other responds: "I'd wear a Dicky suit personalized with my name."
2:30 a.m. | I trip in my heels in front of a hot model boy in yellow-tinted glasses. "The walls make you feel anxious. Don't overthink it," he tells me, as if the glass barriers and not the beautiful people are the source of my anxiety.
2:40 a.m. | I meet yet another group of … models, this one queerer than the rest. I ask them how the party's going, and one man, in a leather jacket, responds, "I feel like I'm in Jersey. Like I'm in Secaucus." His friend, who's wearing only a bra, adds in, "I feel like I'm in a quinceañera or at a sweet 16." When I apologize that they're not having a good time, they tell me those were meant to be compliments. "We love New Jersey! And I wish I was 16! What the fuck?!" Once again, we discuss the looks from tonight (they'll only give props to Janelle Monáe and Lizzo), and then explain that they ended up at this party because, "We heard they were catered by Popeyes." With that, the girl chatters, "I have goose pimples on my nipples so …" and they head back inside.
2:44 a.m. | Almost everyone I talk to tells me they're a friend of LaQuan's, and one, in a long polka-dotted cape, tells me they met 15 years ago. He doesn't really care about the Met Gala at large; he's here to celebrate LaQuan: "I wouldn't rate it against the Met Gala. There's no comparison. LaQuan's actually in the Met now. He's in the Met now. This is the most important moment for him, to date. Because, he's in the Met. He's not like I want to get into the Met. He's in the Met. And this is the party. That he's in … The Met."
2:49 a.m. | I bum the influencer from Toronto a cigarette ("I owe you reparations. I'm not going to bring anyone around to ask for more, I promise. If they ask, say you ran out. I hate to drain the bank"), though she tosses it when she hears the song change on the dance floor: "I can't be outside during Azealia Banks. That's a cultural no-no."
2:50 a.m. | "I didn't know we were going to be a hundred bajillion feet in the air. 101 stories high having a Met Gala after-party fucking go off, good for you, hell yeah," a woman in a lime-green dress tells me on my way back inside. She's a singer-songwriter and, unlike everyone else, will admit she only has mutual friends with LaQuan. I ask why she and her friends chose this party over the others tonight. "Because we love Black people," she says. "When we all did the Electric Slide, it was like YES I'm here."
3:00 a.m. | I'm pulled into a group passing around a joint from one of the gift bags. "I'm trying to smoke and get on with my life right now. This party is lit," says one woman, in a long black gown. She and her friend, both fashion people, seem to be enjoying the entertainment provided by a very loud, very drunk white couple in front of us. The guy, who describes himself as "a hot steamy sweaty greasy hairy Italian," tells me he was also at LaQuan's after-party last year, under the Kosciuszko in Queens: "No one throws better parties than LaQuan. But the last party made this one look like a kindergarten lunch hall." Still, he's happy to be here with his "woman" tonight, all dolled-up: "You look good, you feel good. you feel good, you play good, and I feel good. I sprayed cologne three times more than I usually do." (I can certainly smell it). Once again, he tells me he's close personal friends with LaQuan. "I don't know shit about fashion. He's the reason I'm here. If his clothes all burned up in a giant fire and he was just a human being that no one knows, his inspiration and determination to make something and do something…" He's clearly too stoned to be making coherent conversation anymore.
3:10 a.m. | Shortly after 3 a.m. everyone inside is steered back toward the elevators for an ear-popping trip back to the first floor. Doja and Nicki never appear, and when I ask a few guests if they have any other plans for the evening, they tell me they're content (and high) enough to head home for the evening. And so I do, too.