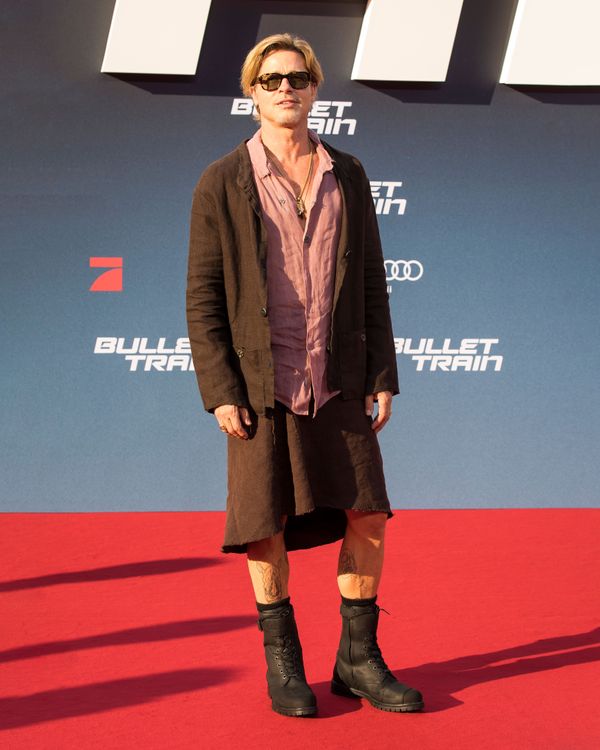 Pitt in Berlin on Tuesday.
Photo: Ben Kriemann/Getty Images for Sony Pictures
Brad Pitt and his symmetrical face have been on a press tour for the upcoming film Bullet Train in Europe, where temperatures are currently scorching. So how does the actor stay cool? He has worn a diverse array of linen regalia. To mention a couple from the past three days: a seemingly breathable charcoal gray suit he paired with sneakers and a loose, sherbet orange set complete with drawstring pants and a matching slouchy shirt that was unbuttoned just enough.
But it was on Tuesday night, when Pitt walked the red carpet in a raw-hemmed chocolate brown linen skirt that dusted just above his knees, exposing his calf tattoos, and a matching suit jacket, that we couldn't look away (not that we wanted to in the first place). He paired the suit with yet another unbuttoned shirt and topped off the look with black biker boots.
The actor is not the first high-profile man to don a free-flowing frock: There is the blueprint, David Bowie; Pete Davidson in Thom Browne at the 2021 Met Gala; Harry Styles in numerous skirts for his 2020 Vogue cover; Bad Bunny in his first campaign with Jacquemus; etc., etc. Pitt's outfit choice seems to be in tandem with his exploration of more experimental looks, as seen in his most recent GQ cover shoot.
And it is certainly not the first time Pitt has worn crotchless garments: We can never forget his famous 1999 shoot with Rolling Stone, in which Pitt was photographed in a variety of sequined, sparkly, and patterned mini-dresses.
So we'd like to say thank you to Brad Pitt, a long-time advocate of freeing the crotch.