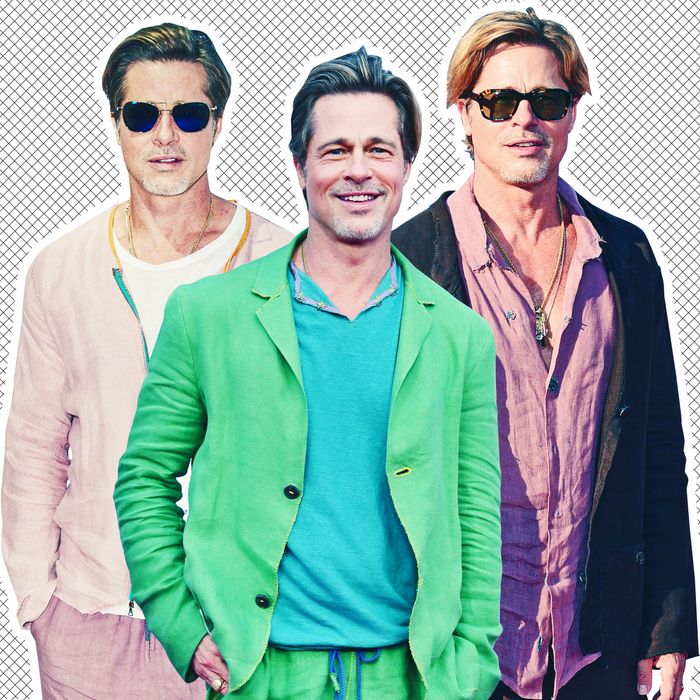 Brad Pitt seems to be having a lot of fun right now. The actor has been making headlines for wearing a skirt, having a secret list of actors he'll never work with again, and defending Ana de Armas as Marilyn Monroe while on his press tour for Bullet Train.
He's been taking fashion risks: experimenting with color, blurring the boundaries between formal- and casualwear, and wearing a lot of linen. Because he has been pulling looks, we wanted to have some fun too and ranked them.
The Best: You Guessed It
In Berlin, Pitt paired a brown linen skirt with a matching jacket and combat boots, giving us a glimpse of those calf tattoos. When asked about the look, Pitt told Variety, "We're all going to die, so let's mess it up." Fair enough.
The Next Best: Action Star Off Duty
In a more straightforward outfit, Pitt wore a casual brown suit at the premiere in London. In his dark sunglasses, Pitt looked like the action star he is … just on his day off.
The Next-Next Best: Making Orange Happen
As we all know, orange is a tough color to wear, and yet, it's working for Pitt. Maybe it's because he doubled down, wearing all orange even down to the sunglasses in Paris. Chic.
There's a Lot Going On Here
This outfit is getting a lot of attention, as it should. Pitt was ambitious, combining lime green, teal, yellow, and red at the Los Angeles premiere.
Linen Athleisure
Also in Berlin, Pitt opted for more linen, this time in light pink. The zipper top and roomy fit of his pants remind me of athleisure, which is perfect for Pitt, who has been doing a lot of inexplicable acrobatics on the red carpet for this film.
Reining It In
Pitt went a little bit more conservative in Paris, wearing a navy-blue suit with red stitching detail. He kept his look casual, wearing a pair of Adidas sneakers and a relaxed T-shirt too. It was a nice break from all the beautiful chaos he's been serving.
It's Not Easy Being Green
Pitt went with a dark teal suit in London, and it's not his best. The color and material make this outfit look a little too disheveled. We still love him for trying.