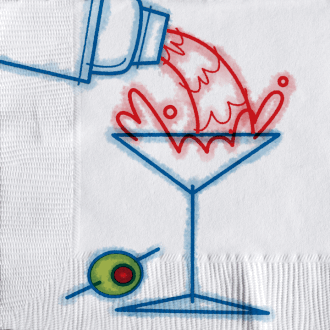 This weekend, on an evening much too balmy for mid-November, a horde of celebrities, artists, and Olivier Sarkozy — the infamous banker ex-husband of Mary-Kate Olsen — gathered in the West Village to celebrate the opening of Holiday Bar.
The new seafood see-and-be-seen joint from Kyle Hotchkiss Carone (the man responsible for the equally scene-y American Bar and Saint Theo's) opens to the public November 18, but for the past few weekends, the restaurateur has been soft-launching it to his famous friends, some of whom I was invited to observe this past Saturday night from the restaurant's mirrored bar.
Seated near a giant Champagne bottle and a neon sign of Holiday Bar's logo (the torso of a hunky man mixing a drink), I had an excellent view of the all-white dining room, which was lit by candles and bizarre wall lights recalling Snellen eye charts. As I ate a lobster avocado salad that tasted like a weekend at Gurney's Montauk Resort, I watched an eclectic group of celebrity guests — Sienna Miller; her ex, Tom Sturridge; and his current girlfriend, Alexa Chung — catch up over red wine. Eventually, I made my way outside, where I found Sarkozy, unsurprisingly, smoking. "Restaurants are mayhem," he told me. Below, I've ranked the entire evening on a scale of 1 to 10 lychee martinis.
Celebrity esteem
Carone's party the previous weekend, photographed by Glee alum Dianna Agron, was a star-studded affair with members of the new Gossip Girl cast, Desus Nice, and the Haim sisters in attendance. This weekend's event was a little quieter but nevertheless interesting as it was full of debonair British "It" couples. It was nice, if not odd, to see Sturridge smiling at a bar rather than brooding behind it, as the last time I saw him was onscreen was as the hot and sad bartender Jake on the ill-fated Starz adaptation of Sweetbitter.
Sturridge was joined by his new girlfriend, the designer and influencer Alexa Chung, while Miller was accompanied by her young actor boyfriend, Oli Green. Sturridge and Miller's child sipped a Shirley Temple while The White Lotus star Lukas Gage milled about. I'm told Sarkozy's children were present, but I was too distracted by the mystery woman who was feeding him from her fork to notice. 6 lychee martinis.
Food and drink
From oysters zhuzhed up with ponzu to the scallion-laden steamed-skate entree, all the seafood tasted fresh and expensive. Everyone, including Miller, was gushing over the spicy tuna rolls, though I thought they lacked spice and felt wistful for an actual sushi restaurant.
Nevertheless, I was relieved to find carbs on the menu and inhaled a plate of squid pasta full of fried garlic and bread crumbs paired with an excellent glass of Sancerre. Speaking of wine, Holiday Bar's real draw is its robust cocktail menu, and at one point, Carone eyed my wine and expressed the hope that I would indulge "in a real drink and not wine." When asked what the "realest drink" on offer was, he said the lychee martini, which was actually pretty good.
Sarkozy, when asked about his go-to drink, answered, "Moscow mule," before deciding he would "think about it" and get back to me. And he did, strolling up as I waited on the curb for my Uber: "Vodka mule." These two drinks are the same, but regardless, it was a refreshing change of pace from the tyranny of the negroni sbagliato.
Overall, the only culinary drawback was the conspicuous absence of dessert on the menu, but a waiter joked that I could grab some Hi-Chews from the bathroom, which I did. 8 lychee martinis.
Clothes
It's strange dressing for a flare of too-warm fall weather. Guests mostly opted for a night of casual coziness: Miller chatted at her table in a pink-and-white candy-striped blouse, Sturridge looked like a chic detective in a silver earring and a camel trench coat, and Chung had my favorite look of the night in a black minidress with an oversize blazer and knee-high boots. 6 lychee martinis.
Music
As guests slurped oysters, someone played a Rolodex of top 100s, including Soulja Boy's "Pretty Boy Swag" and a remix of Jay Sean's 2009 hit "Ride It." I have no idea who was in charge of this playlist, but I'm not mad at them. 9 lychee martinis.
Conversation
At the bar, where things were too loud, two oenophiles in the booze business swapped horror stories. "I'm dying a little bit," the woman said, to which her friend replied, "Welcome to the restaurant business." 10 lychee martinis.