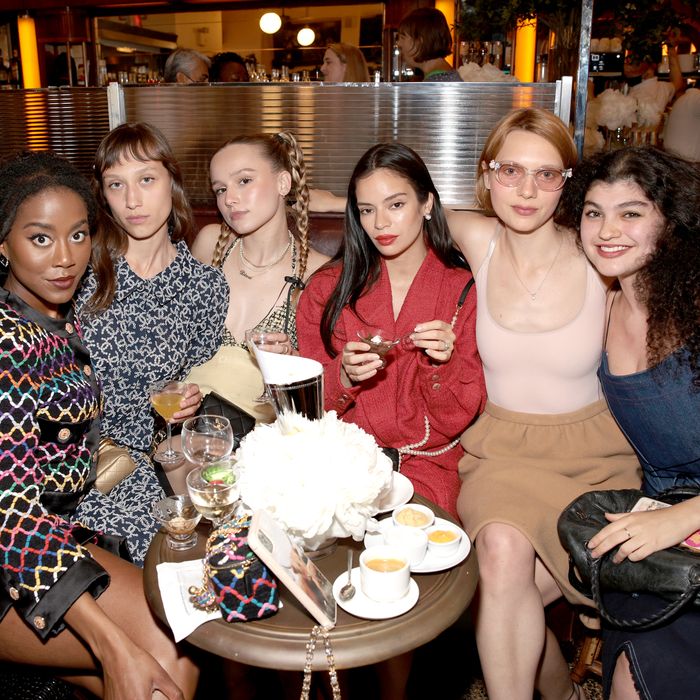 From left: Tomi Adeyemi, Bella Newman, Diva Smith, Coco Baudelle, Sasha Frolova, and Nicolaia Rips.
Photo: WireImage/WireImage
Chanel took over the Odeon on Thursday morning to celebrate "Through Her Lens," a program for women in film, ahead of the 2022 Tribeca Film Festival. From there, the event became a game of spot the Chanel, a Boy bag here, pumps and slingbacks there, and a sea of the fashion house's signature tweed worn in various ways. Someone told me they even spotted a Chanel ankle bag.
At around 1 p.m., the restaurant fell into a quiet hush as Tribeca Film Festival CEO and co-founder Jane Rosenthal announced, among other things, the premiere of J. Lo's Halftime the night before. There was riotous applause and cheers.
We asked guests who their favorite female leads are. When asked who her favorite actress is, costume director Miyako Bellizzi named Meryl Streep and said A Women Under the Influence, starring Gena Rowlands, is one of her favorite films. Actress Chase Sui Wonders also mentioned Rowlands as a favorite. "She really fills in like all those cracks and has a very specific type of femininity I think every woman can relate to," Wonders said. "It is underrepresented in film and storytelling."
A couple of guests mentioned the need for more female characters with depth and nuance. Zosia Mamet referred to the two-dimensional female characters she's read in scripts as "furniture pieces," meant to fill the room but not adding anything additional. "If the room didn't have the couch, it would look weird, but the only real purpose that it serves is to be sad. Often when I read a part, I'm like, 'What does this character have to say? How are they servicing a story other than just exposition?'"
Jane Rosenthal had a similar term for the less-than-fleshed-out female characters only meant to move the plot along. "Women leads today are like pillow characters — who can [the main character] cry into? Who can open the door and make dinner?" she said before declaring we need stronger, more fully rounded characters. Flawed characters who were less than perfect turned out to be a favorite: Barbara Stanwyck's con artist, Jean, in The Lady Eve was a favorite of Mamet's.
Nicoletta Darita de la Brown, a contributor to the 2022 Artist Awards Program, cited her grandmother as a notable woman worthy of being a character in a film. Just across the table, another winner, artist Leilah Babirye, cited herself — after seven years in the U.S. after immigrating from Africa, she explained her story can't be told in 5 or even 30 minutes.
"Through Her Lens is one of our most exciting programs that also was in its eighth year, which means eight women have made films that have gone on to other festivals," Paula Weinstein, chief content officer at Tribeca Film Festival, said in her speech. "What we get to do here is give a voice to them and allow their words to be seen in films to be admired and hopefully going on to bigger careers."
Psst! The Cut and New York Magazine are conducting a survey about dating. We want to know all about your swipes, IRL hookups, bad dates, and everything in between. Interested? Click here.