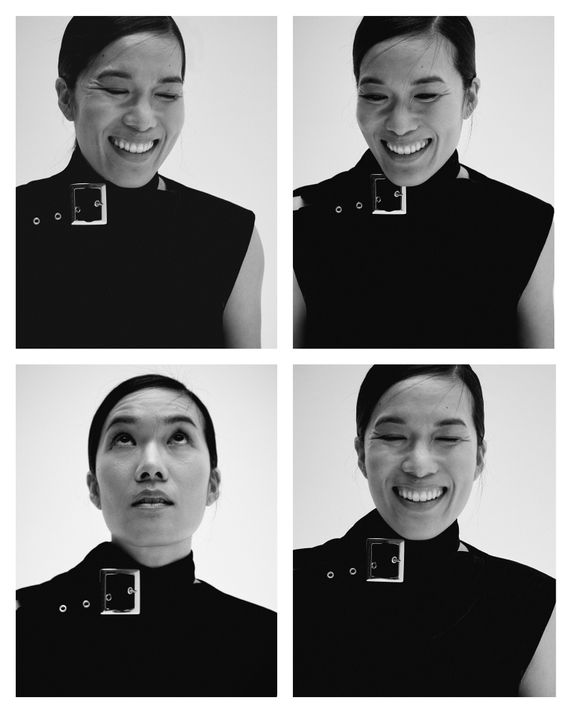 Yohji Yamamoto (archive)
top.
Photo: Noua Unu Studio
"I never sought to be famous," says Ali Wong. "I just wanted to tell jokes for a living. I probably could have been happy being a comic and doing clubs forever."
Tucked away in a nook at Etta, one of her favorite restaurants in Los Angeles, Wong is instantly recognized by the waiters, who send over gifts from the kitchen throughout our meal. Newly single after a much-scrutinized divorce, and feasting on crudo, cacio e pepe, and mushroom pizza, Wong says she's feeling inspired as she embarks on a new chapter in her personal and professional life. She beams when describing her first foray on the dating apps at 40 years old. "I thought in my lifetime I'd never get to do that," she says with childlike glee. "It sounded so exciting to have all of these people at my fingertips to judge." There's that familiar punchline.
Wong's star is post-risen, and yet she's visibly uneasy when discussing a level of fame that has pivoted her from stand-up comedian to comedian-slash-celebrity. She's got the former down pat, but the latter has her more unsure. She questions her stardom, but what she really seems to interrogate is what that fame will do to the thing she knows best: comedy. For instance, after Wong joked about miscarriages in her breakout 2016 comedy special, Baby Cobra, First Lady Michelle Obama sent her a letter that she now has framed in her living room. "It meant a lot to me," she says, "but I can't set out on every special being like, I'm going to do this hour to get another letter out of Michelle Obama." She laughs, then, after a beat, dryly adds: "I think that when people start to deify themselves, that's when you become unfunny."
On Beef, her new Netflix series, helmed by creator Lee Sung Jin (Wong calls him Sonny), she plays Amy, a self-made businesswoman entangled in the aftermath of a road-rage incident with a lonely contractor played by Steven Yeun. To call it a dramedy would be too easy; it's really more of a thriller. Wong had a lot to learn: how to masturbate using the barrel of a gun, the one-two punch of wrestling in a wig, and her very first onscreen sex scene. "I told him to spit on it!" she tells me. "I also ad-libbed some butt stuff … but it didn't make it in."
When Wong heard about Beef, she was eager to pour herself into a project. Another stand-up special would have been easy, but she had already proven herself in that arena. Something else led her here: "I always come back to instinct and emotion in everything that I do," she says. "It's always an abstraction of the truth. Like with Beef, even though I didn't write it, all of those emotions are connecting to something real for me, and whatever that is specifically I could never articulate because it all came from some sort of instinct when I read those words."
This is uncharted territory for the performer. A venerated comedian with three Netflix specials packed into her increasingly dense and kaleidoscopic resume, Wong has been in the public eye since her breakout 2016 special, Baby Cobra. Since then, she has released a New York Times best-selling book, walked at New York Fashion Week, appeared in a superhero film, and even gracefully maneuvered a public separation from her husband. But her latest effort is, as she describes it, the "most interesting" thing she's ever done. That aforementioned lifelong anxiety about becoming unfunny has led her to lean into the fear and star in this intense, semi-autobiographical role.
Wong is pragmatic in how meticulously she has crafted her seemingly devil-may-care onstage persona. Now that her career has deviated once again, can she find happiness in taking an artistic leap of faith? She finds solace in a scene from the first episode of Beef in which her character puts her daughter to bed and spins a yarn about the mechanics of childbirth, explaining that she was so happy the day she brought her child into the world. She gets lost in the memory, telling her that she wishes she could have stayed in that hospital bed forever. "It's kind of like all of us," Wong says of the scene. "How long do we let ourselves be happy for? Even in this process of Beef coming out … I have experienced projects debuting multiple times now, and I have to dig my heels into the ground and let myself enjoy it and not anticipate hate comments. But it can be hard to let yourself be happy."
Your private life has fueled a lot of media cycles over the last year since you first announced your divorce. How do you contend with wanting to express yourself in your work while also maintaining a necessary boundary around your personal life?
I'm still figuring it out. It's really weird. Up until recently, my personal life was actually quite boring. That was a strange experience getting photographed in San Francisco. I've never had a paparazzi photo taken of me. I think it goes to show how unaccustomed people are with seeing an amicable divorce. Divorce gets such a bad rap, and people think it's so ugly. When we said that we were lovingly co-parenting and focusing on the kids, we really meant it. That wasn't just a statement. To me, that's kind of boring. And in terms of my act, and what I choose to talk about, how I decide for myself is all instinct. I can always feel if it's too much.
But I am really delicate with Justin. The whole time we were married I would try stuff out at open mics and I would tell him, "I like it, I think it has legs, it's getting laughs, but I won't do it in front of a club audience if you don't like it." And he still to this day has ultimate veto power, because my relationship with him even post-divorce is more important than a two-minute bit. In my family, too, that's really sensitive. I don't generally talk about my family that much. I definitely don't talk about my husband's family that much. If you've noticed, I don't do in-law jokes. I'm really protective of my personal life. In addition to my fear of being unfunny, I do not want to become an ungrounded person. I would find that deeply embarrassing. Never for a minute with Justin do I feel like I don't still need him. He's the father of my kids. He's my best friend. I need him desperately, and I need to respect him.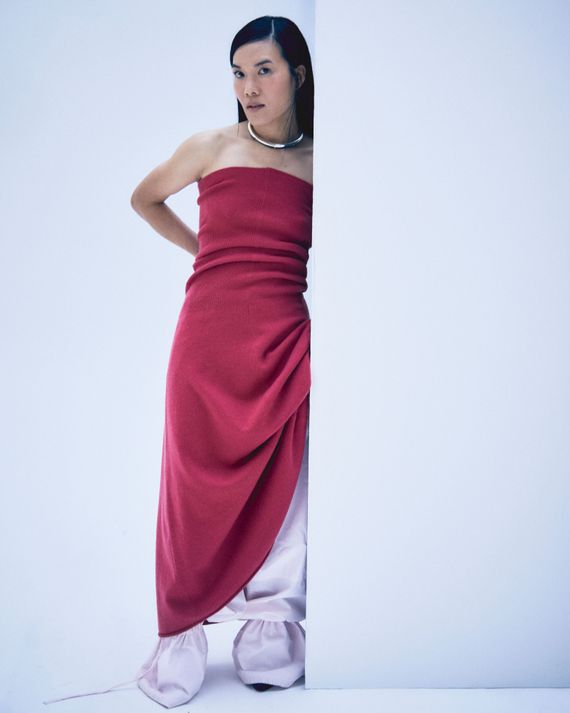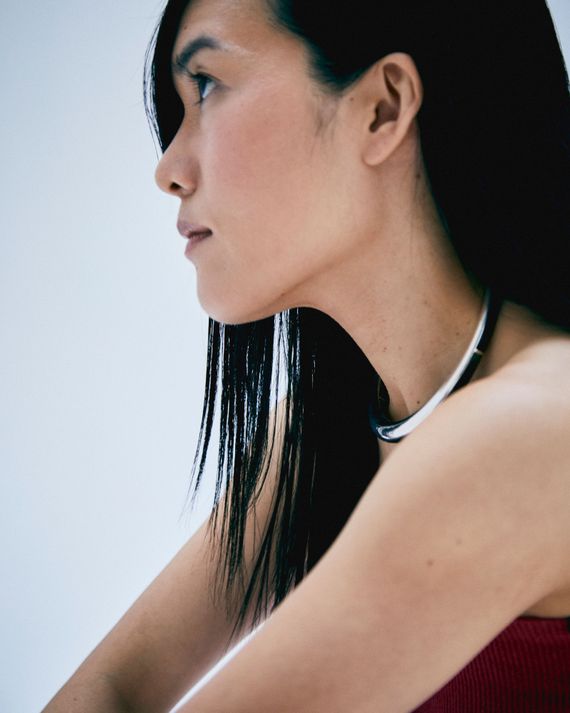 You wrote in your book, Dear Girls, that if you spent three or four nights not doing stand-up you would feel like you'd have to start over again. Do you still feel that way?
Beef was the longest break I ever took from doing stand-up. In the beginning, I was so worried about becoming unfunny and that muscle atrophying, but there is a point where you've done it enough that you know how to do it. But if you keep going and do it too much, after ten years and you're still doing it every day, then I think you run the risk of saying the same thing over and over again.
Do you mean literally telling the same joke or circling the same themes?
Both. I'd kinda liken stand-up to food and fashion in that you always want to look at a collection and think that the point of view is so clear: That is Proenza Schouler. That is clearly Phillip Lim. It should always come back to you and your unique voice, your instincts that are so personal to you. But at the same time, you have to surprise people and come up with something new. You have to achieve all of these things.
But at the end of the day, with fashion for instance, none of that matters if the clothes don't look good on the person. It's the same thing with stand-up. None of that voice stuff, none of that compelling shit matters if it's not funny. With food, none of it really matters if it's not delicious. So that's why I played a chef in Always Be My Maybe, because I really connect with chef Niki Nakayama. If I had a wedding or if I had to get married again — which I probably never will — she probably wouldn't be able to go because she always has to work Saturday nights. We're both in very male-dominated industries. You cannot be basic. But you also can't reverse engineer it and come up with your food just because you don't want to be basic. There has to be something that you want to say.
We're in this new age where comedians are more openly embracing fashion. Jerry Seinfeld did a Kith campaign; Larry David did a spread for GQ. Cynthia Rowley's most recent NYFW presentation featured comedians Nikki Glaser, Ego Nwodim, and Michelle Buteau. And here you are now doing full-blown fashion features. How do you like this part of the job?
When I first started taking pictures, I was really concerned about looking pretty. And then very quickly, I was like, Well, I'm never going to win at being pretty. Trying for that is not a good goal, and it's going to be much more fun for me to play and do something that's fresh and interesting. Opening Ceremony's co-founder Humberto Leon was telling me that the rule is that if you're not uncomfortable, it's not a good pose. You should be uncomfortable. It really is such a weird thing starting off wanting to tell jokes and now being at these photoshoots, because no one taught me about posing for pictures. But I also … I don't want to get lost … in that, where you just become a model and the person that everybody fell in love with, your authentic self, becomes fiction. I'm trying to still stay conscious of that.
There's also this unspoken expectation that celebrities owe the general public access to their lives.  
It's weird. I haven't really been famous that long. It's been about seven years, and two or three of those years were pandemic years.
You were famous before that, though.
I wasn't.

You didn't feel famous?
No, not before 2016. And that's a short amount of time, relatively. And I do think Beef is the most interesting thing I've ever done. For me. The whole experience feels like a fever dream now. Like, I can't believe I did a sex scene. My God!
The actor you filmed that sex scene with, really is, to put it diplomatically, incredibly good looking.
It's ridiculous. I think he probably just let himself sniff bread twice the whole month beforehand. During the scene itself, it was very intense, and we were very committed, and then afterward we just sat in my trailer and ate Popeyes chicken and talked about his life goals. I haven't talked about someone's goals in years. Because I'm 40, so we're all like, "It's over. If your dreams haven't come true by now, you're done." I wonder if people will watch that scene the way I watch that Bridgerton scene when Kate and Anthony first get together. I don't think they will, though, because this one's not like quivering loins and unlacing the corset. This one's more nasty and raw dog right away. There wasn't a lot of quivering.
You do tell him you want him to "squeeze his cock with my vagina," but that's admittedly not very Bridgerton.
Right, right. What are some of your favorite sex scenes in film? Like iconic ones?
That's a good question! Brokeback Mountain is very formative and stays planted in the back of my brain. The peach scene in Call Me By Your Name. Does that count? And 9½ Weeks for sure: there's the scene where Mickey Rourke is grabbing maraschino cherries, jalapeños, and honey and feeding it to Kim Basinger. I love a psychosexual thriller — I'm not sure what that says about me.
Oh, like Basic Instinct? I like that too. Also, Normal People had some good sex scenes. I mean, it's really about chemistry, right? When Sonny cast me and Steven, he had only heard our voices together in Tuca & Bertie, and I was really worried about whether or not we'd have chemistry. I was intimidated because it was Steven. In fact, before filming, all of my girlfriends were very concerned that I was going to fall in love with Steven. None of his friends were concerned. [Laughs.] Thank God I didn't. But it was a legit worry. He's a beautiful man. And I don't think I've ever experienced that kind of chemistry before, that kind people talk about. I used to always think it only meant sexual chemistry. But when we first read together it was kind of like when you're young and you hear about the idea of falling in love and you're like, What is that? and then you fall in love and you're like, Oh, this is what everyone's talking about. And with Steven and this idea of chemistry, I had that same moment of this is what everyone's talking about.
Does the chemistry extend offscreen? Are you really friends with Steven and Sonny?
Steven and I have a lot of unspoken understanding between us and a lot of shorthand. There's big parts of us that still can't believe we're here doing this. The harmony can get fucked up and people can get crazy. I hope we can maintain this playfulness and innocence. I love that my daughters are into Harry Potter because I have so many platonic friendships with men and I love to see examples of that in Hermione and Harry. I think it's nice to see from a young age. In the same way, it's nice that Steven and I can have this sisterly-brotherly thing.
This is a camp that I feel very at home in. The three of us, I wouldn't say we're uncomfortably close, but I talk to one of them almost every single day. We go to basketball games, Korean barbecue, children's birthday parties. They're people who I get along with, respect, and admire in and out of work. Those guys are almost a little bit too cerebral for me. I'm more, "Let's go back to poo poo and pee," and they're like, "Have you watched Severance?" And I'm like, "Have you guys watched the latest episode of Drag Race?"
You were a guest judge this season. How was that?
I've never given up more of my time for less money in the past seven years, and I couldn't have been happier to do it. What's so funny is that Luxx Noir London, I think, had no idea who I was and kept on calling me "Amy Wong." I was like, "Sure!"
Were you a fan before going on?
Bowen Yang got me into it. He gave me a detailed list of which seasons to watch — and which to skip — and in what order. I really do miss the days of "go back to Party City where you belong" and "look how fucking orange you look." The Tatianna-Alyssa lip sync! Those were the days! But I'm loving this season and the discussions around TikTok queens versus old-school queens because I see a lot of parallels with stand-up. Because of course there are so many people who are funny in these internet shorter formats like TikTok, or when there was Vine. And the question is always: Can they do hour-long stand-up? Because a lot of them would like to tour, and when it doesn't work — because most of the time it doesn't — a lot of stand-ups are like, "Woo-hoo! It wasn't all a waste, all of those sets I did every night hustling. There is something to putting in 10,000 hours!"
Who are you rooting for this season?
Every Saturday morning Nahnatchka Khan and I will, for up to three hours over text, recap the episode. Rooting for Sasha Colby. Anetra. Mistress! In Snatch Game, Mistress was giving Abby Lee Miller, Rosie O'Donnell … and James Gandolfini. Which we need!
Speaking of James Gandolfini, there's a scene in the Beef pilot inspired by a scene from The Sopranos in which your character begins masturbating with a gun.
Sonny wanted a scene where Amy does something that's very private to herself. And we thought of a bunch of different things, but none of those felt grounded and right to me. We talk a lot about The Sopranos and how much we love that show. Janice is one of my favorite characters, and I mentioned to him that scene where Richie is fucking her from behind and he has the gun to her head. I love it … because I get it. It wasn't like, "This is so weird, that's crazy"; I was like, "That's cool that they're showing this. I connect to this." So when Sonny suggested gun masturbation I was immediately like, "Yes."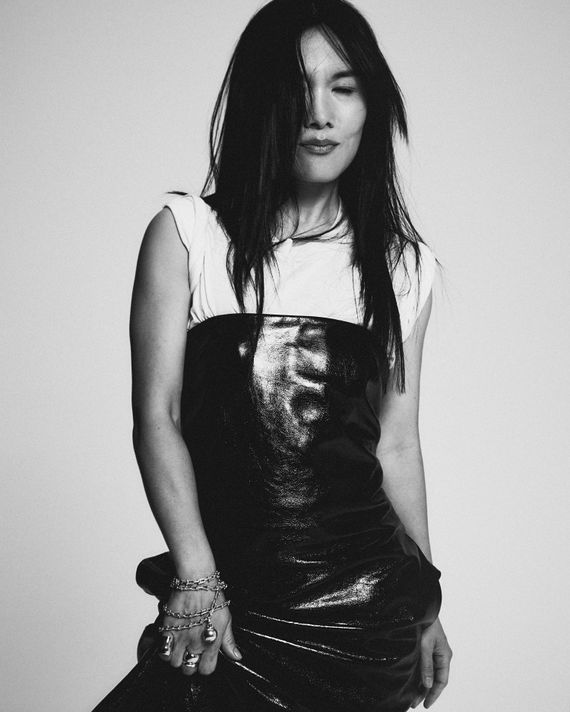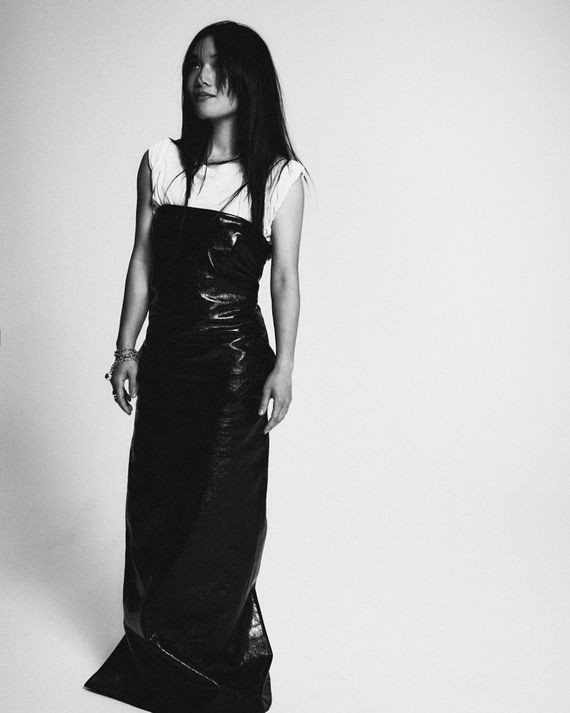 How would you describe your character, Amy?
She's someone who's so angry about being stuck in a maze of her own creation.
Is she unhappy?
[Thinks for a long time.] Not necessarily. I think there are moments where she's happy and she wants to be happy and she feels it, but it goes away really fast.
You talk about your dad and grief in your book, Dear Girls. It's been years since he passed, but how does grief live with you now?
I still keep meeting new people. And what's interesting is that in dating, I've had to tell that story and experience it again. So it's very much alive with me because people always assume your parents are alive, especially when you're Asian. They assume that your parents are playing chess in a park and doing tai chi in their down coats with their giant sun hats and just living their best Master Yoda lives. I know my dad died a long time ago now and it's like, I still feel it mostly with my kids because he never met my kids.
I'm really grateful I have my siblings to talk about it with. I think there's a lot of pressure when a parent first passes away to idealize them. But I think it's also okay over the years to live with how complex they were. You know what I mean? I've really appreciated allowing myself to recognize how complicated my dad was and my siblings doing the same with me, together. Connecting with other people whose parents have died is always a really big deal for me. And that never ends because everyone's parents are going to die.
Knowing the impact your work has on people, do you feel a pressure to have your comedy mean something more than just laughs?
Before Baby Cobra came out, I couldn't get an interview with The Sacramento Bee. Two weeks afterward, I was like, I cannot talk about miscarriage anymore. I have a letter in my living room that's framed from Michelle Obama because, as many people know, she's a big advocate for women speaking frankly about their bodies, for ourselves and for each other, and how much she appreciated my work. It meant a lot to me, but I can't set out every special being like, "I'm going to do this hour to get another letter out of Michelle Obama." I think that's when people start to deify themselves, and that's when you become unfunny. Again, big fear of mine. Which is good.
I read that you're planning to go back on the road?
Yes, I'm doing a big tour this summer. I'll probably do a residency, in New York, I don't know how many shows. I think I'm going to call it "The Single Lady Tour." But it's all about my dating life. So unfortunately I will not reveal anything about my dating life here, but I will be talking about it onstage, and it's really exciting.
This interview has been condensed and edited for clarity.