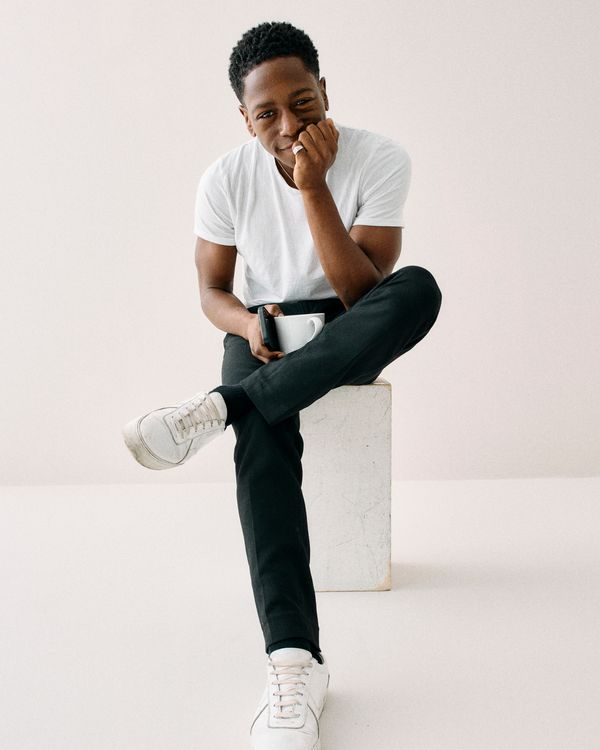 David Jonsson doesn't consider himself to be a romantic-comedy guy, which is hard to believe, given his latest role in Rye Lane. In the film, which debuts on Hulu on March 31, he plays Dom, a gentle and heartbroken empath who winds up going on a fortuitous (and unexpectedly long) date with a girl he meets in a gender-neutral toilet at a friend's art-exhibition opening. Set in South London's Peckham Rye neighborhood, the film, directed by Raine Allen-Miller, depicts the area as slightly gentrified and slightly loving. "There's no flip side, there's no bias," Jonsson says of his time shooting there. Filmed at the end of lockdown, he took the part as a challenge, having just wrapped his role as Gus, an entitled, gay Oxford grad, on HBO's Industry. High-octane, filled with tragedy and fueled by cocaine, the fictional bank Industry is set in is only a few miles but a world away from the artsy neighborhood of Peckham. Both are not shy about getting a little chaotic, but Rye Lane has a whimsical nature that might leave you feeling energized in a more positive way.
"I didn't grow up in Peckham; I grew up in East London," Jonsson says. "But it was nice doing something that felt different and rooted to a London that I know and understand. What is awesome about the film is that you recognize this, but you haven't seen it before." He landed his role on Industry a year after he graduated from the Royal Academy of Dramatic Art, having made several appearances onstage, and now he's gearing up for a few lofty projects that he can't speak too much about just yet. "I look for an element of truth and an element of madness in a part," he beams from a hotel room in Budapest, where he is currently filming. "As an actor, you want to change the way people see you. The only power you have is yes and no, so I try to be careful with my yeses. Some actors play themselves and others want to go somewhere different with each role. I guess I am in the latter camp."
Were there any spots in London that you suggested the characters go to in Rye Lane?
It was originally set in North London, but the director moved it to Peckham. We loved Prince of Peckham and Tola, a late-night rooftop bar, which made it into the film.
The characters in Rye Lane end up having quite the chaotic meal involving exes and fake partners. What would your last meal be?
My sister's lasagna. She makes really good lasagna, amongst other foods. Growing up, she cooked a lot for me because my mum was working a lot. Now I eat salad and good stuff, but as a kid I'd have garlic bread. Not even the good kind, the value kind from the supermarket.  
Dom and Yas also end up at her aunt's cookout, which leaves Dom in a precarious position with his accidental date's family. If you could invite anyone to a dinner party or cookout, especially celebrities, who would you invite? 
I am going to say Sidney Poitier. I watched his documentary recently on Apple. My dad raised me on him, which is ironic because I never knew I was going to be an actor. Aretha Franklin — I find women inspiring, and her story is insane. I'd probably invite Prince. I'd invite Pharrell, I'd love to meet him, and Kate Moss. She's bloody gorgeous. I can see them all getting on, you know what I mean?
What would you serve?
I am a really good cook. Just to undercut the tone a bit, because it sounds a bit bourgeoisie, I'd probably make a curry, so it's a little less pristine. Imagine everyone huddling around a pot serving themselves.
Do you have any pre-filming rituals?
It's the strangest thing when you are auditioning for something, it's balls to the wall, see what happens, and then you get cast in it, and you actually have to do it. So rituals do kick in strongly. I love to pray and meditate and connect like that. I love Jean-Michel Basquiat; I have a postcard of him that I take with me. I love poetry too, I read John Keats and Bukowski, people who are unapologetically themselves, it gives me a bit of confidence not to be nervous.
Rye Lane is a very whimsical and comforting film, and your character gets dumped at the cinema. What film do you like to rewatch for comfort?
Because I am in Budapest right now, and I have a bunch of DVDs my dad gave me, I comfort-watch A Room for Romeo Brass, which is a Shane Meadows film. I've got a little pile, but that is a real good one for me. I always watch Hunger too, and Fish Tank. Any Gaspar Noé films. I don't think I am a romantic-comedy person — other than at Christmas. When I'm working, I like darker things.
Dom and Yas bond over their love of music, too. What's on your favorite playlist? 
Generally, I listen to a lot of jazz. I like Miles Davis, Monk, Duke Ellington; it's kind of sporadic, so there's no time to think or hold on to anything, which helps me work. Right now, I am listening to the Submarine soundtrack that Alex Turner did. There's a song called "Stuck on the Puzzle" that I can't stop listening to. Recently I listened to the first track on the Arctic Monkeys' new album, "There'd Better Be a Mirrorball," on repeat. Music is pretty special.
What is the one song you'd recommend to a heartbroken person?
I would tell them to listen to the Cure. Go for "Friday I'm in Love." Do you know why? It's got that dreamy "get over it, crack on" dance beat. I always think with heartbreak, the only thing to do is carry on. It's all you can do.
What do you listen to in the car? 
If I am enjoying driving, I'll listen to Giggs or Skepta. If I want to think, I'll listen to Chet Baker. I love Japanese House, that Chewing Cotton Wool album, I know all the words.
In the film, Dom and Yas meet at an art gallery. What is your favorite piece of art?
I've only just started getting into art. I've got a great piece by Alex Peter Idoko. He's a Nigerian artist who makes pieces using  torch fire. It's brilliant. I recently bought one and it makes me so happy. But one of my favorite pieces is the Basquiat postcard. It's special to me.
Where would you go on a date?
If it's a first date, I'd go to a pub, somewhere East or North London. If it was a second date, I'd suggest you come to mine and I'd cook something nice … a nice dish.
Have you ever gone on any daylong dates like the ones in the movie?
When I was like 16, I used to go to the park with a girl and spend the whole day chatting. The whole day would fly by. I guess I miss those dates! Now, time-wise, being a bit more busy, I probably can't do that.
What is a piece of important date etiquette that people should follow?
Always be polite, but honesty is the best policy. I always appreciate honesty; once you set that as a precedent, it's always a good place to do. I think that's what they tried to do in the film. So be honest, and hold nothing back. I like people who eat on dates. Like, eat!