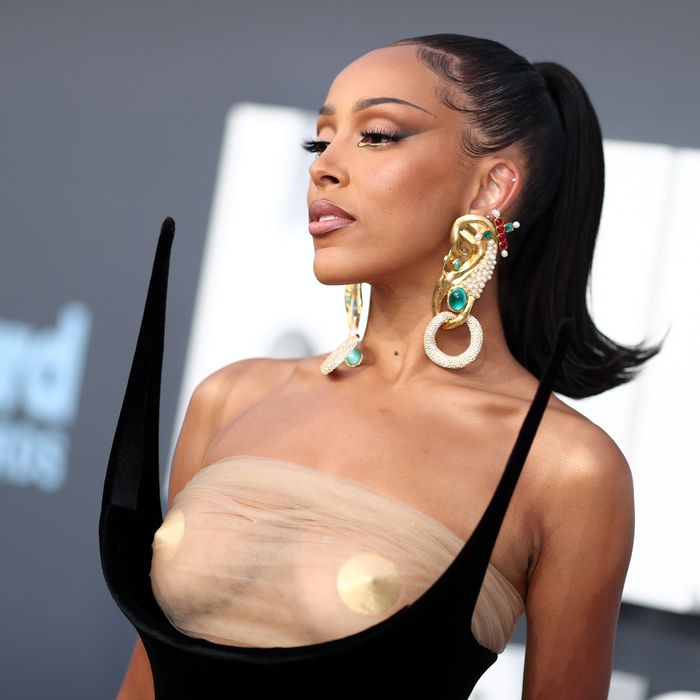 Photo: Christopher Polk/NBC/NBCU Photo Bank via Getty Images
Doja Cat knows a thing or two about accessorizing. At the Grammys, it was her clear purse filled with chocolate-coin candies that stole the show. At last night's Billboard Awards, it was her nipple pasties — glossy, gold-plated pasties complete with a nipple center peak, to be exact.
Bra tapes and pasties are more common on the red carpet as a way to hold and conceal, especially when photographers are snapping away. But these were more of an accessory than an undergarment. I have so many questions; will I sweat them off? These specific pasties don't lift your boobs, but they will make them gold-plated, which can feel just as good as a lift depending on how you look at it.
The ones Doja Cat wore are $110 from Agent Provocateur and dubbed "luxury pasties" because obviously they're far from the boring skin-toned nipple covers we're used to. The pasties are one size fits all, which scares me and my double D's because I feel like they wouldn't even cover half of my areola, but I could be wrong. The brand also has black leather pasties complete with gold nipple peaks and lace-adorned pasties with dangling jewels.
Could this be the summer we actually free the nipple? That feels like it would be on brand for a hot-girl summer. Forget the gold body chains, which are also making a comeback; gold nipples are all you need. You can rock it with a sheer overlay like Doja or simply bare it all.