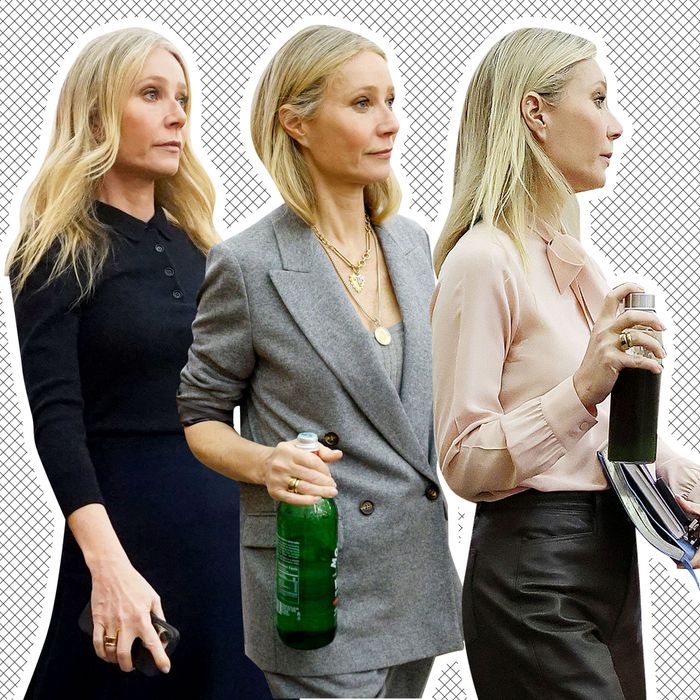 Gwyneth Paltrow's court looks.
Photo-Illustration: by The Cut; Photos: Getty Images
Gwyneth Paltrow may have lost a half-day of skiing when she (allegedly) collided with a retired optometrist on a bunny slope at Deer Valley in 2016, but I've lost much more time than that trying to track down every single thing the Goop founder wore and accessorized with when she appeared in court this week for her alleged "ski and run" trial, down to her $250 notebook and bottled water. I'm not alone.
For better or worse, celebrity court appearances tend to devolve into public theater, and dutiful entertainers have risen to the occasion in the past. Martha Stewart and her Birkin bag walked so Gwyneth Paltrow could run. Getting it right can be a challenge — so much that some will enlist the help of a professional stylist. (Or in the case of Lil' Kim, designer friends like Marc Jacobs.) Dress too ostentatiously and the jury won't take you seriously. But dress the part in a quote-unquote "court look," and it may read even more like a costume — especially if you're Paris Hilton in the early 2000s — and ultimately backfire.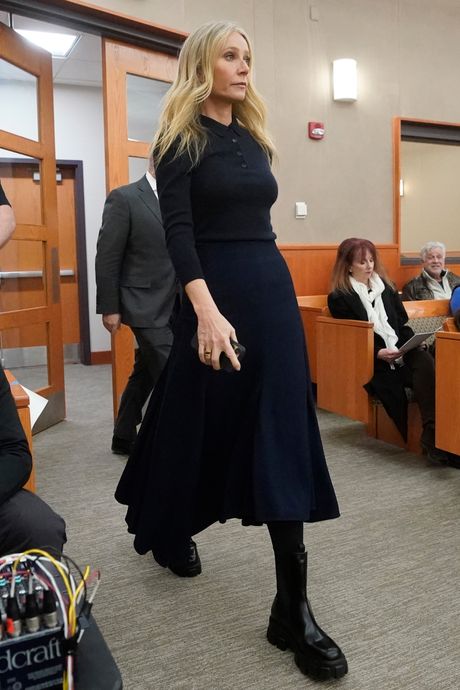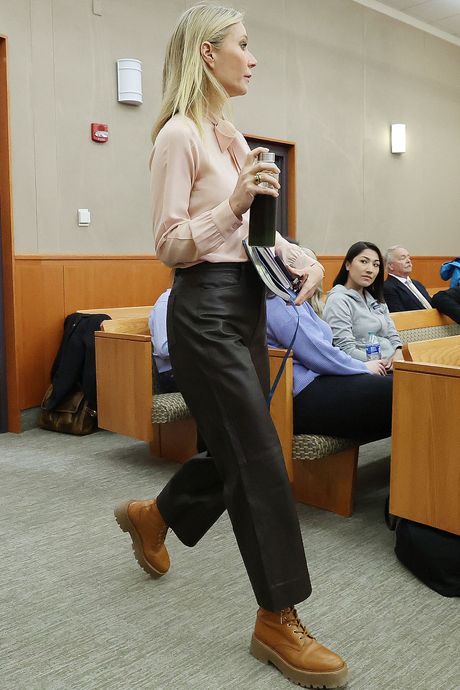 Rather than play by the rules, many celebrities will just treat the experience like the media circus that it is, showing up in full runway looks that emphasize just how much they don't want to be there. (Sometimes literally: Take Lindsay Lohan's "Fuck U" manicure in 2010.) Either way, multiple days of a trial means multiple outfit changes and endless opportunities for the public to dissect every inch of a defendant's wardrobe choices. An entire Instagram account was dedicated to Anna Delvey's courtroom looks in 2019, gaining some 55,000 followers.
Unlike Delvey, though, Paltrow is actually rich, and the way she presented herself more tactfully downplays that fact, which, of course, only signals just how rich she is. Her brown leather tote bag, for example, could be described by Succession's Tom Wambsgans as "ludicrously capacious," but it bears no obvious branding like poor "Bridget Randomfuck's" Burberry tote, leading me to believe that it's actually much, much nicer. (It's Celine.)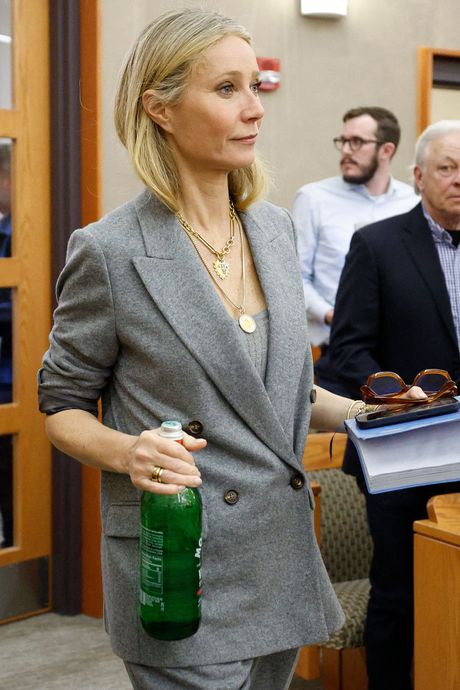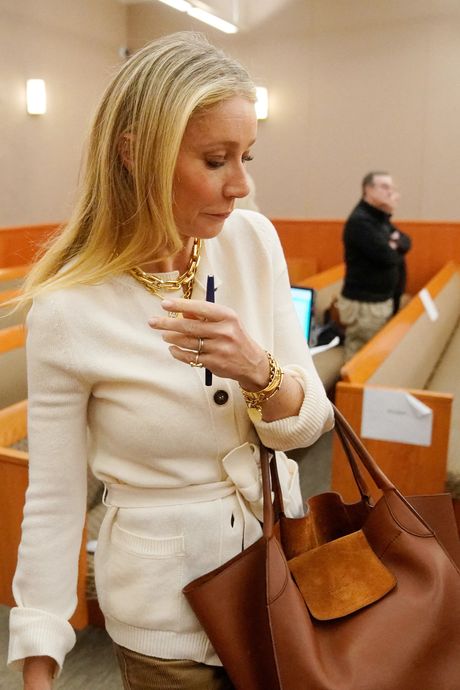 There is nothing "stealth" about Paltrow's wealth. She's on trial for something that happened during what she allegedly described as a "very expensive vacation," and that's the whole fun of it. We the people can easily find out that her Prada and Celine boots go for over $1,000 each and that those leather Proenza Schouler culottes cost almost as much. We can guess with one glance that her luscious green coat is The Row and that her brand of water is one you might only find at Erewhon. All that gold jewelry probably wasn't cheap, either. That said, she's playing it cool; nothing about her appearance has been too flashy. Her glasses and designer notebooks signal that she's taking the whole unserious thing seriously. Her dress was arguably a reflection of her defense: Does she really look like someone who would bulldoze you on a ski slope?? That sounds like far too much effort. If the plaintiff hadn't run into her, she probably wouldn't even have noticed him. So let's just wrap this whole thing up so that she can get on with her nice life.
Of course, run-ins with both skiers and the law suck. But [pulls out the world's tiniest violin]. The Ringer wondered if it was "the richest, whitest dispute ever put on trial." (Taylor Swift has even been invoked, so probably, yes.) Comparisons have also been made to The White Lotus, Real Housewives, and House of Gucci. I may not be able to afford Paltrow's outfits myself, but if my tax dollars somehow pay for this spectacle, it's been worth every penny.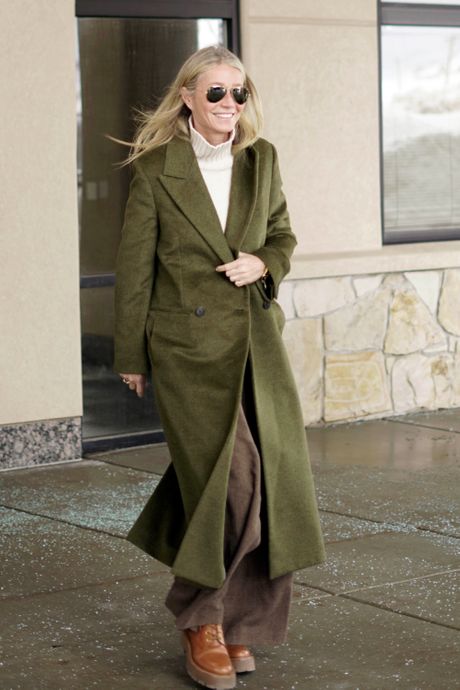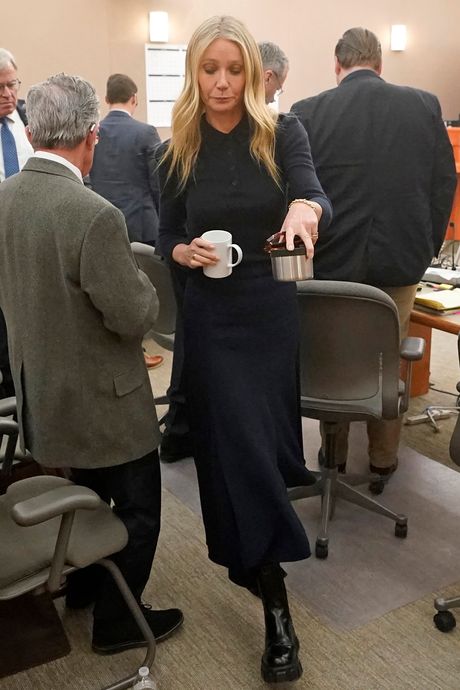 Being the rich person she is, Paltrow only seeks $1 in damages plus attorneys' fees with her countersuit. She doesn't need the money. But this fact is essential to her defense: She believes plaintiff Terry Sanderson's suit aims to exploit her wealth and celebrity, and Paltrow is nobody's fool. In fact, she's exploiting the exploiters right back. A number of the looks she wore this week appear to be, you guessed it: G. Label by Goop.