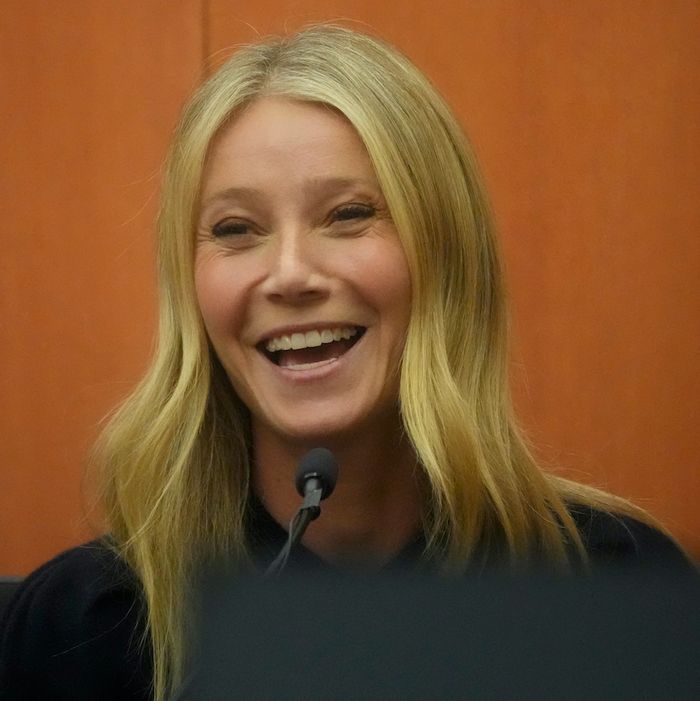 Gwyneth Paltrow: vindicated!
Photo: Rick Bowmer/Getty Images
Between ozone therapy, justifying her bone-broth diet, and peddling literal feces over at Goop, it sounds like Gwyneth Paltrow had a full plate even before her strange and delightful ski crash trial kicked off last week. The actress and wellness guru reported to a Utah courtroom on March 21, equipped with a $250 notebook and ready to defend herself against allegations that she bulldozed a retired optometrist on the bunny slope, then fled the scene. According to court documents obtained by CNN, Terry Sanderson, 76, claimed an "out of control" Paltrow plowed into him while the two were skiing at Park City's upscale Deer Valley resort in 2016, knocking him out and gliding away with her instructor without getting him medical attention. Sanderson sued the Oscar winner in 2019, asking $3.1 million before amending his complaint to $300,000. Paltrow quickly denied the allegations and countersued, maintaining that, actually, Sanderson skied into her. She sought $1 in damages plus attorneys' fees.
After sitting through eight days of testimony from doctors, neurology experts, physicists, ski instructors, and the Goop founder herself, jurors determined that Sanderson, not Paltrow, was 100 percent at fault for the collision, and therefore owed her a single dollar. She won the trial, but lost a half-day of skiing. Sanderson told the Associated Press that after the verdict was read, Paltrow walked over to him and whispered, "I wish you well" in his ear. (He purportedly replied, "Thank you, dear.") In a statement posted to her Instagram Stories on March 30, Paltrow said, "I felt that acquiescing to a false claim compromised my integrity. I am pleased with the outcome and I appreciate all of the hard work of Judge Holmberg and the jury, and thank them for their thoughtfulness in handling this case."
Sanderson's attorneys, meanwhile, said that while they are "disappointed," they "love and support the legal process." Their client separately told reporters that the trial felt like a "character assassination" that strayed away from "the facts of the accident," though he believes Paltrow "thinks she has the truth" and found her parting words to be "very kind."
Because we, too, will cherish these memories, a full breakdown of the proceedings is below.
Sorry, Gwyneth was on the bunny slope?
Her attorney clarified in court that the slope on which the crash took place was not bunny but actually green, though however we are describing it, this was entry-level terrain. That may not be a comment on Paltrow's talent as a skier, because as we have heard in testimony, she has been skiing since childhood. Anyway! According to Sanderson, she was coming down the beginner's slope behind him — which, under Utah ski law, would give Sanderson the right of way — when she turned to look at one of her kids. "As she turns her head back down, she screams, then skis into the back of Terry Sanderson," his attorney, Lawrence Buhler, reportedly told the court on the first day of the trial. The force of the collision allegedly knocked Sanderson over, such that he was "facedown in the snow, unconscious," Buhler continued. While he was lying there, Paltrow allegedly "bolted," while Sanderson — according to Buhler — would require emergency medical attention.
What is Sanderson saying in his lawsuit?
Sanderson sued Paltrow for negligence and emotional distress in 2019, claiming he had sustained a permanent traumatic brain injury because of the alleged blow, plus "4 broken ribs, pain, suffering, loss of enjoyment of life, emotional distress, and disfigurements." Initially, Sanderson named the resort and Paltrow's ski instructor as co-defendants, saying the latter made a false accusation in order to "protect his client." At the time, Paltrow categorically denied Sanderson's account, with a representative telling CNN that his lawsuit was "completely without merit." Per Insider, a district judge dismissed Sanderson's emotional-distress claim and dropped the resort and the ski instructor from the lawsuit last year, citing a lack of evidence.
In opening statements, Sanderson's attorney argued that not only had Paltrow violated ski etiquette by failing to give his client the right of way, but she "knew what she was doing was dangerous." As a result, Sanderson has suffered a personality shift. "Before this crash, Terry was a charming, outgoing, gregarious person," his attorney informed the jury. "After the crash, he's no longer charming."
In service of that thesis, witnesses — mainly friends and family members — have discussed Sanderson's apparent downslide into paranoia and intermittent rage, while Paltrow's lawyers have worked to paint him as a longtime jerk who has alienated certain family members and maybe once punched a man in the face in a jealous outburst. He was, according to his lawyers, an "expert skier" — and yet he, too, was on the beginners' slope? Things are not adding up.
What is Paltrow saying in hers?
One month after Sanderson filed his lawsuit, Paltrow countersued, arguing that Sanderson had been the one who crashed into her, a ski-law-abiding sportswoman who had the right of way. According to court documents obtained by the New York Times, Paltrow had been taking skiing lessons with her family on vacation when Sanderson, who she said was uphill from her, "plowed into her back." The documents state that Paltrow "was angry" with Sanderson and that he apologized, and that a "shaken and upset" Paltrow "quit skiing for the day even though it was still morning." The countersuit alleged that one of the resort employees present during the collision backed Paltrow's account and believed Sanderson had "taken Paltrow out from behind."
In their opening statements, Paltrow's team painted a more vivid picture of her version of events, telling the court that the actor — purportedly a conservative skier — was making short turns on the trail when she heard a man groaning behind her. All of a sudden, she saw "two skis appear between her skis and a man comes up right behind her," and — her attorney, Stephen W. Owens, said — briefly wondered if she was being assaulted before she went down, Sanderson supposedly falling with her. Her team reiterated that Sanderson apologized to Paltrow, allegedly explaining he hadn't seen her. They said Sanderson insisted he was okay and that he'd waved off help from the ski patrol. Paltrow's team attempted to raise doubts as to whether Sanderson's injuries were a result of the crash or a strokelike event he'd suffered years prior, leaving his vision impaired. (Sanderson, it may be worth noting, is blind in his right eye.)
What about Sanderson's actually quite severe-sounding injuries?
Dr. Wendell Gibby, a neuroradiology expert at the University of California, San Diego, took the stand on March 22 and testified that Sanderson showed signs of traumatic brain damage after his collision with Paltrow. The incident, Gibby told jurors, left Sanderson unable to do the some of the things he previously enjoyed, like attending wine tastings. "Terry had been a high-functioning, active person," Gibby said, per the New York Post. "Every day he was doing lots of things. Meeting groups, wine tasting, skiing, volunteering." Following the crash, Gibby said Sanderson's cognitive functions "deteriorated abruptly," allegedly impairing his relationships with his children, grandchildren, and girlfriend. Although Gibby insisted Sanderson's issues weren't related to his age or preexisting conditions, he agreed that he hadn't done "an extensive look" into Sanderson's neuropsychological functions. He did say that he thought Sanderson's injuries suggested he "was struck from the left side and then hit the ground," an opinion a handful of other medical experts called by the plaintiff's side have echoed in their testimony.
Witnesses called by Paltrow's team, however, disagreed. On March 28, the court heard from Dr. Steven Edgley, who specializes in physical medicine and rehab in the University of Utah's acquired-brain-injury division. Having reviewed the medical records, Edgley — who himself suffered a traumatic brain injury — said of Sanderson that there was only "very inconsistent evidence that he did in fact lose consciousness." Indeed, Edgley continued, Sanderson seemed to remember things about the immediate aftermath of the crash, during the stretch when he was purportedly unconscious, suggesting that his post-traumatic amnesia occurred briefly, "if at all." On top of that, Edgley said, Sanderson "had a number of brain conditions" before the crash occurred. "He had a stroke" from "which he lost his eyesight in his right eye. He had evidence of a microvascular disease in his brain. And probably most important, he had evidence of hydrocephalus," neurological problems that all preceded the crash. In court, Paltrow's team displayed a long list of medical complaints — knee injury, walking into walls, hearing problems, osteoarthritis, and limited field of vision, to name just a few — that Sanderson brought to his doctors before the collision, all of which, the lawyers suggested, may have been contributing factors.
On March 29, a cadre of neurological experts took the stand and agreed that Sanderson's problems appeared to predate the crash. Neuroradiologist Dr. Carl Black pointed to MRIs suggesting that the supposed damage to Sanderson's brain first showed up after his strokelike event in 2009 and, therefore, did not point to a traumatic brain injury at Deer Valley. Neurologist Robert Hoesch reviewed Sanderson's substantial records — he'd sought a lot of medical attention in the years leading up to the crash — and concluded that if the optometrist came away from the accident with a concussion, it "fell in the most mild category" possible and would've resolved itself within weeks. Hoesch did not believe the collision changed the neurological trajectory Sanderson was already on. Nor did neuropsychologist Angela Eastvold. She testified that he'd had a mild concussion, if he had one at all, and that his symptoms were probably better explained by a slate of preexisting conditions including, but not limited to, anxiety, depression, chronic insomnia, routine migraines, and restless-leg syndrome — all of which can signal the onset of dementia in older adults.
A second neuropsychologist, Dr. Galit Askenazi, prepared a PowerPoint outlining the conclusions she'd drawn from medical records going back 15 years before the accident as well as up to and after it. Askenazi said that, in her opinion, Sanderson had a tendency toward confabulation — making things up to fill in memory gaps — and exaggeration. "I think he himself best explained it when he said he has changed his report of things based on the attention he wants to get at the time," Askenazi said. "Mr. Sanderson has consistently tested as having intact cognition since 2016, even with documented normal pressure hydrocephalus and microvascular disease," the conclusions slide read. "He has long suffered from somatization tendencies, such as believing he had dementia after a friend died from dementia."
Robert Sykes, the attorney for Sanderson who continually refers to himself as a "simple country lawyer," adopted a belligerent posture toward many of these defense witnesses. Hacking his way through the cross-examination, he harangued each for offering an opinion on his client's medical status without evaluating him in person — something they, as consultants on the case, were not contracted to do. At the same time, Sanderson has apparently generated a massive paper trail through frequent visits to doctors and neurological specialists. He has, according to these witnesses, created an uncommonly rich medical history, which seemingly offers them a sturdy base on which to build their opinions. Hoesch, for example, said that Sanderson's files were far more extensive than those of his existing patients, and having reviewed all of them, he felt 90 percent certain of his conclusions.
What did Sanderson say on the stand?
Sanderson's colorful testimony quickly revealed a hole in the plot: When a person falls unconscious, they typically don't remember anything from the time they were out. But if his account is to be believed, then Sanderson's mind seems to work a little differently.
On March 27, he told jurors he would've been an "advanced intermediate" skier at the time of the crash, but was taking the slope at an "easy" pace and making "nice, soft turns." As he was coming around a corner, he said, "I just remember everything was great and then I heard something I never heard at a ski resort, and that was a blood-curdling scream, 'Aaaaaaaah,' and then, boom. It was like somebody was out of control and was going to hit a tree and was going to die." Someone hit him hard in the back, he continued, sending him "absolutely flying" through the air and into the snow. He explained that things then went "black, like I'm unconscious," while simultaneously, his "subconscious" went "into protection mode, saying, 'You'd better pay attention here.'" His brain apparently recorded a lot of detail during that time, including a man allegedly standing over him and shouting "Do you realize that you hurt someone, you hit someone?" Even though Sanderson said he couldn't move or necessarily see, he recalled thinking that "this has got to be the husband or the boyfriend." It wasn't clear how, from his alleged vantage point of lying face-planted in the snow, he made that assumption about the relationship status of the skier who supposedly body slammed him.
Still, he recalled being "bullied" by Paltrow's ski instructor, Eric Christiansen, and spending a significant amount of time on the ground, totally unable to move. He said the crash has changed the "essence" of his personality, straining his relationships with his family members, friends, and even acquaintances. It turned him into a "self-imposed recluse" who almost never leaves his house, he said, adding that he has developed memory problems and disorientation even in familiar settings. Although he described the moments before and immediately after the crash in fairly vivid detail, he didn't seem similarly confident in his recollections during cross-examination. Steve Owens, one of Paltrow's attorneys, highlighted the alleged discrepancies between Sanderson's testimony in court and the account he gave in previous depositions. According to Owens, Sanderson told various people at various times that he had been unconscious for anywhere from a few seconds to ten minutes. He also claimed that he stood five feet and eight inches tall, whereas he told the jury he was five-five. When the defense brought Sanderson back to the stand on March 29, he attempted to blame the differences in his reported heights on the doctors who examined him at the veterans' hospital sometime after the crash.
Sanderson: I know why I said that. It's because the V.A. records weigh you with all your clothes.

Owens: Clothes don't give you three inches.

Sanderson: Heels do!

Owens: Were you wearing heels?

Sanderson: No.
In his deposition, he described the run as being nearly empty at the time of the crash, but on May 29, he told his attorney the slope was quite crowded that day. He made a deliberate effort to stay "away from all the people congealed in the center," he said on the stand. Days earlier, Sanderson also informed the court that his alleged brain injury made it hard for him to do some of his activities — skiing and travel, for example — but in this second installment of his testimony, we were treated to a slideshow from the optometrist's post-crash vacations. We got to see photos of Sanderson riding a camel, golfing, kayaking, hiking, biking, and even posing on some ski slopes. Owens asked him if he had gone to Peru and climbed Machu Picchu after the fact — he had. Did he float down the Amazon? "Uh, yes, I guess so." Did he travel all over Europe — "with my daughter Jenny, yes" — and visit the Netherlands three times? "I don't remember." Did he go to Morocco twice? "Very likely." The Canary Islands? "I can't dispute it." Did he go to Thailand? Did he visit at least the states of Montana, Washington, and Idaho? Yes, yes, yes, and yes.
Sanderson explained all the travel by saying that at the time (2016–2017, roughly) he was "determined to prove [he] didn't have any mental issues" and to get back to his routine. Nonetheless, he continued, "I just found that it was like flipping a switch. It was like I looked back and there was a light side and now I'm in the dark side." He said he noticed the change in the way people responded to him, too: "It's always nice, if you walk into a room, when people say, Hey, c'mon over here, it's Terry!" he told the jury. "But now it's, Oh, it's Terry …" All the light drained from his voice.
Still, Sanderson suggested that he didn't regret bringing the lawsuit, even though all the deeply personal information it dredged up meant he could never try online dating again. "That's the pain of trying to sue a celebrity," he shrugged. "I felt like I was injured" and then "had so many insults layered on and added to that." Among the biggest ones: the feeling that he was being ignored, he said. And also, if celebs are not held accountable, Sanderson mused, "What're they going to do? They're going to do it again," and again, validation looping until you have "people molesting children on an island!"
And what did Paltrow say?
When she took the stand on March 24, Paltrow described herself as an "intermediate" skier who is very familiar with the rules: "Use common sense, ski safely, be aware of other skiers around you," and, of course, ski in control and cede the right of way. In a circular exchange, Sanderson's attorney probed Paltrow on a 2020 deposition, seemingly trying to demonstrate that Paltrow was distracted by her children at the moment the crash occurred. But in a frankly stunning line read, Paltrow forcefully maintained that it would have been possible for her to be watching her kids at the same time as she was "skied directly into" by Sanderson. Paltrow recalled the feeling of a body making "strange noises that sounded male" careering into her back, explaining that she first thought the situation might be sexual because of all the grunting. Sanderson's attorney then insisted on acting out the scene in court, even though Paltrow's team advised her against participating. Unfortunately, the court livestream the Cut reviewed remained trained on Paltrow as the lawyer pantomimed both sides of the collision, so we don't know what that looked like. But Paltrow directed the placement of the imagined skis and answered questions with a humoring smirk, swiveling gently in her chair throughout most of her testimony.
Can you tell me more about this lawyer? She sounds fun!
It would be our absolute pleasure. Kristin VanOrman, representing Sanderson, has taken a tone with Paltrow that is by turns flirty, accusatory, and clownish. She marveled at Paltrow's height, mused wistfully about her probably very chic ski outfits, and made assumptions about her generosity as a tipper. She questioned Paltrow about her $1 damage request, expressing sincere and gratuitous disbelief that Paltrow hadn't heard about Taylor Swift's symbolic $1 sexual-assault lawsuit. From there, she accused Paltrow of downplaying her friendship with the pop star. VanOrman really wanted to know if Paltrow had purchased "personal and intimate" Christmas gifts for Swift, but the judge said Paltrow didn't have to answer on grounds of "how is that relevant," so we will never know what those presents may have been. (Exploding vagina candles?) VanOrman insisted that Sanderson's side has hard evidence that Paltrow is chronically clumsy and "always running into things." VanOrman pointed to a Jimmy Kimmel clip, but unfortunately, we're not going to get to see the blooper reel, as the judge once again failed to see its relevance. VanOrman claimed that Paltrow had repeatedly lied on the stand, though she didn't say about what. Nonetheless, she caused Paltrow's jaw to drop and stay dropped for approximately 30 seconds.
To be fair, though, attorneys on all sides have floundered. For example: Paltrow's lawyer, Owens, kicked things off by waving around a $1 bill — or the amount she's asking in damages — to make a point about motives that got buried in an avalanche of rambling. "She is upset," he told the jury. "She has, uh … anyone sustaining a blow is upset. She's sore. She never went to a doctor for this, by the way, but it rattled her." At one point during his questioning of a witness, Paltrow passed him a note commanding him to "land the plane," and you can see why:
On March 28, attorneys on both sides indulged in some light theater, doing a dramatic reading of depositions from Paltrow's children, Moses and Apple, and Apple's ski instructor, Keri Oaks, to save time on verbal testimony. Via the attorneys and legal assistants cast to play them, all three confirmed that they didn't see the crash but witnessed no verbal abuse afterward.
Didn't someone say something about eyewitnesses?
Craig Ramon, a friend of Sanderson's from Salt Lake City, claims to be the only person who saw the accident firsthand. He told the court that Paltrow blazed into Sanderson, not the other way around. "We were skiing down the run and then I heard this scream. I looked over and I see this skier just slam into the back of Terry," Ramon reportedly said. "She slammed him. Very hard. She hit him directly in the back. The tips of his skis go out and he goes facedown, spread-eagle, with Gwyneth on top of him. There was about a second or two. Terry stops, then Gwyneth slid down to the right side. She bounced off of him." Ramon said that Paltrow's ski instructor confirmed her identity to him and that Paltrow got up quickly. Sanderson, on the other hand, was purportedly lying facedown in the snow and "wasn't moving." What's more, Ramon said, Paltrow's now-husband, then-boyfriend, Brad Falchuk, and her son, Moses, followed after her. "I was going to go down and check on her and then she bolts — just goes straight down," Ramon reportedly testified. "There's a guy and a kid with Gwyneth and they stop above Terry — about 20 to 25 feet up. Then the adult comes by just giving me a dirty look and then they both took off after Gwyneth."
In cross-examination, Paltrow's attorneys pressed Ramon on an apparent misstatement: Initially, he said the actor's instructor told him Paltrow "took out" his "buddy." Ramon then said he had it backward. "He said, 'Your buddy just took out Gwyneth,'" Ramon testified.
Eric Christiansen, the ski instructor, took the stand on March 27 and testified that actually, Ramon had been skiing behind him and Paltrow's group when the crash occurred. Christiansen, aided by a series of animations presented by Paltrow's team, said he observed Sanderson skiing "much faster" than the others down the slope, but only turned his head toward Paltrow when he heard a noise from her side of the run. Christiansen explained that he stopped and went over to the pair, who were "tangled up with each other" facing upward on the ground. He purportedly heard Sanderson apologize to Paltrow, who was on top of Sanderson — placement that suggested to Christiansen, a top-level instructor with 40-plus years of experience, that Sanderson had skied into her. He said he heard Sanderson say, "She just appeared in front of me." Christiansen testified that he helped both parties up after removing their skis, and heard Ramon — who took an estimated 45 seconds to catch up, according to the instructor — confer with Sanderson when the ski patrol arrived to offer help. In Christiansen's memory, both declined. "The whole time I'm removing his skis and trying to help him up, I was asking him, 'Are you okay? Are you okay?'" Christiansen recalled. "He was firm when he said 'yes.'"
Testimony from two members of Deer Valley ski patrol backed that up. Whitney Smith and Steve Graff (at the time of the crash, the resort's ski-patrol supervisor, now its vice-president of mountain operations) took the stand on March 27, Smith telling the court that she met Sanderson and Ramon further down the hill. Sanderson was, according to Smith, standing up and showing no signs of cognitive disruption. "Per my assessment, he was alert and orientated," she said. He mentioned rib pain, Smith recalled, but offered few details about the collision: "He told me he was hit from behind, but he didn't have much in the way of specifics." Ramon, whom Smith did not remember saying anything about being a witness to the incident, "mentioned a couple of times that the skier had been Ms. Paltrow, but beyond that there were no specifics like how it happened." She took Sanderson down the run on a toboggan and spent the next two hours talking with him, she said; if he had mentioned going unconscious for any length of time, she said she would've called an ambulance rather than referring him to a clinic. But he allegedly didn't show any symptoms of a concussion and, in her memory, never said anything about possible head trauma. Still, she wrote that he "was hit from behind" on her incident report because that's what he told her — though he did, she added, seem "uncertain what had happened."
Graff, meanwhile, testified that he didn't hear anything about the incident from Sanderson until about a month later, when he sent Graff a letter complaining that "ski-responsibility code wasn't being applied evenly because of Ms. Paltrow's celebrity status." That letter supposedly didn't say anything about Christiansen's alleged yelling, which Graff said he heard about for the first time while reviewing Sanderson's lawsuit. Asked if resort employees colluded to cover up the crash and protect Paltrow from being labeled a ski-borne menace, Graff said, "Absolutely not."
Although she did not see the crash firsthand, one of Sanderson's daughters received an email from him shortly after the fact and told the jury about it on March 23. "I'm famous … at what cost?" Sanderson reportedly wrote to Polly Grasham, who told the court that the tone of the message fit with her father's personality, "making light of a serious situation." Paltrow's attorneys, however, have framed the email as potential evidence of Sanderson's alleged motivation for bringing the suit: notoriety and profit. Grasham told the court that "something was terribly wrong" with her father disposition-wise after the crash, prompting Owens to suggest that Sanderson had a history of verbal abuse and even physical violence. He subsequently apologized to Grasham for pursuing that line of questioning and, in so doing, "being an ass."
Can someone explain all of this to me in terms of physics?
One man can: Dr. Irving Scher, who received his Ph.D. in biomechanical engineering, specifically as it applies to skiing, from UC Berkeley. In practice, this means Scher studies "what forces and what motions create damage to the body," he explained on the stand on March 28, as well as safety in winter sports. Scher performed a complex check on the math done by previous medical expert Dr. Richard Boehme in support of Ramon's account. We're told Boehme testified remotely last week, appearing as a floating head against a green screen, and we're sad to have missed that.
Scher's math was hard for some of us to digest, but having squinted along through all of his scribbling, your Cut court correspondents and members of the live chat largely seemed prepared to accept Dr. Ski's conclusions: Scher found that Boehme had incorrectly calculated the force on Sanderson's chest at about a quarter of what it would realistically have been in a fall with Sanderson's and Paltrow's weight combined. Adjusting Boehme's formulas, Scher said Sanderson's chest injuries would have been much more severe if Ramon's story checked out; if you plug in just Sanderson's weight, though, you get injuries more closely resembling the ones he walked away with. Scher concluded that those could be incurred simply from landing on the snow.
Further, if Ramon's version of events checked out physics-wise, Scher believes Paltrow's boots would've at least popped out of their bindings; she might have suffered injuries to her legs because her skis would have been trapped under Sanderson. Explaining several animated simulations to the jury, Scher said Paltrow's account is the only one "consistent with the laws of physics and how people move and rotate." The mathematical pathway to this conclusion was complicated, seemingly bamboozling even his cross-examiner, Buhler, who did not have many clear or relevant questions for the witness. Hard to argue with science of this caliber:
Yet Sanderson's attorney did try, defacing Scher's drawings with possible alternative positions for Paltrow's skis. Dr. Ski didn't buy any of these and persistently reminded Buhler that we are comparing two versions of events here: Ramon's and Paltrow's. "I'm sorry to say Mr. Ramon's version is not consistent with the laws of physics," Scher said, to which Buhler replied, "I don't think Mr. Ramon's version was designed to be consistent with the laws of physics." He asked to strike the entirety of Scher's testimony from the record, a request that was denied.
On March 30, the eighth and final day of the trial, the plaintiffs called Dr. Boehme back to the Zoom stand, briefly giving us the opportunity to view testimony via floating head. But the technology flatlined, and the attorneys resorted to playing Boehme's testimony through an iPhone speaker, allowing Boehme to read his math aloud for the packed courtroom. Eyes were unfocused and glazed. One man gingerly touched the tips of his fingers to his forehead, as if in pain. The variables were flying, the audio was glitching — welcome to AP Calc. ca. April 2020.
This correspondent has never quite grasped calculus and therefore feels ill-equipped to summarize Boehme's mathematical rejoinder. Here is what I take to be the short of it: "Dr. Scher mischaracterized my analysis, which led to his analysis being misleading and incorrect," Boehme said. "If Ms. Paltrow landed on Mr. Sanderson and he landed on his back, that means she landed on his chest, and if that were to happen, that means his ribs would not fracture … as we see in the records." The only possible scenario that "satisfies" Newtonian physics, the medical records, and Sanderson's injuries, is — in Boehme's estimation — that he was struck from behind.
In cross-examination, Boehme admitted he hasn't skied in 40 years; has not accounted for Sanderson's statement that he flew through the air before hitting the snow; does not have any experience applying the principles of biomechanics to the sport of skiing, as Scher does; and does not know anything about how bindings work, let alone how different types of force may affect them. He was nonetheless affable as he signed off, asking if he was "allowed to leave" and wishing everyone a nice time out there in Utah.
What's all this about GoPro footage?
Throughout the trial, attorneys and witnesses alike have gestured to missing GoPro footage that may show the whole crash but has, at some point in the past seven years, disappeared from the internet. Now it sounds like that footage may not even exist. According to Shae Sanderson-Herath, another of Sanderson's daughters, her father had raised the possibility that someone else on the slopes might have captured the incident on their own camera. "After my dad told me about what he was feeling and that he could hardly think and that he had rung his bell, I believe he mentioned there had to be GoPro video," she said of an email her dad sent her after the accident. "He said there has to be GoPro footage because there was this big blood-curdling scream, so that means someone with a GoPro would have turned to look and captured it."
That feels like a leap, and on the stand, Sanderson-Herath indicated that she may have taken a hypothetical for the truth. "I have never seen GoPro video, and I don't know that it does exist. I believed there was GoPro video at the time, and that's why I said that," she said. "I just wanted my dad to have peace of mind that there was video out there that showed what happened." Throughout her testimony, Sanderson-Herath appeared nervous and offered extraneous details — such as her dad's being a very highly reviewed host on Vrbo and how he used to drive her and her siblings on the highway, traveling at 70 mph and reading a book — so it is not so hard to see where that game of telephone might have gone awry.
Another highlight from Sanderson-Herath's testimony: The jury reviewed a meme pulled from Sanderson's Facebook page. "My family's Coat of Arms ties in the back ~ is that normal???" it read, alongside an illustration of a straitjacket. Huh!
Is there a succinct way to summarize all of this?
No, but in their closing arguments, the attorneys did try. First up was Sykes, followed by Buhler, and both took the rambling route. As allegories for the ski collision, Sykes conjured the memories of a car accident he once saw outside of a Salt Lake City Costco and of his first time milking cows. Buhler recapped "the legend of King Morgan" (British), the Magna Carta (also British), and Winston Churchill (famously British) in driving home the ultimate point: that an advanced skier like Sanderson would never take big, wide turns down a bunny slope, and that the only possibility that physics supports has Paltrow screaming into his back, knocking him to the ground, and leaving him with not only broken ribs but also a brain injury. "Part of Terry will forever be on that Bandana mountain, figuratively," Sykes said, hammering on the idea that the real Terry Sanderson went out to ski and never came home. Because of that neurological trauma, Buhler reiterated — and personally confirmed — people who know Sanderson say he has become insufferable. For the pain he has suffered, Buhler suggested that the jury compensate Sanderson for every waking hour he has spent living with a brain injury since 2016 and every waking hour he will spend living with a brain injury in the 17 years his attorneys hope he has left. They calculated that figure at $3,276,000, but encouraged the jurors to exercise their own discretion.
Owens stepped up to bat for Paltrow first, reminding the jury that she didn't just lose half a day of skiing; she lost "half a day of bonding" with the family she and Falchuk were attempting to blend. The summary that followed was intermittently shouty and jumped unpredictably from point to point, but the central idea was that Sanderson "hit her, he hurt her, and he wants $3 million for it," Owens said. "The easiest thing for my client would've been to write a check and be done with that, but what does that tell her kids? No! It's wrong! it's actually wrong." Meanwhile, Sanderson, Owens said, "does like to be the center of attention. He loves the spotlight. His own daughter said he would be dishonest for money or notoriety." And he may even have gone so far as to destroy a certain GoPro video if it hurt his case, Owens alleged. Evoking Lady Justice, Owens said, "We want you to use the sword. This sounds harsh because we're not beheading anyone, but the sword is to defend a meritless claim. This is a meritless claim." Evoking a press conference Sanderson held in 2019, Owens concluded: "You don't throw a $3 million bombshell in the courtroom, call her King Kong" — as Sanderson did when addressing reporters — "and walk away. You shouldn't reward that."
Attorney James Egan followed, offering a more sober and sympathetic analysis of Sanderson's claims. If anything, Egan noted, "the evidence shows that his life is not the mess that he believes it to be." On the one hand, he said, "you've got careful evaluation," and then "you've got extreme exaggeration on the other." Egan believes that while Craig Ramon discovered a celebrity's involvement and turned it into an exciting and possibly lucrative tale for friends, "Mr. Sanderson's taken the reality of his aging body and he's turned it into a profound injustice perpetrated by Ms. Paltrow. It isn't that."
Have there been any especially Goop moments?
No shortage of them, in fact. From day one, Paltrow has breezed into court in a rich-mom uniform, the cost of which the Daily Mail has voluntarily tallied. She has worn a heavy gold chain that looks a lot like this one from Foundrae, which the Mail values at $65,000 but may retail closer to $40,000. She has worn chunky Celine boots and a selection of creamy knits, possibly by Goop, plus an olive-green duster. It's absolutely giving ski crimes, no?
Arguably the pièce de résistance? Her metal-framed aviator eyeglasses, which we believe to be Gucci and which some people are saying make her look like the murderer Jeffrey Dahmer. Sure, but what we're more clearly seeing is Adam Driver as Maurizio, his sweater as big as one whole Alp.
It is perhaps because of this association that still other people are saying:
Or even … ski witch?
Outfits aside, there have been food-related Gwyneth moments: She reportedly requested to bring in "treats" for the bailiffs (denied, though that is maybe for the best; do the bailiffs want bone broth?), and as Gibby addressed the court, the Post reports that Paltrow sipped on a green juice and "appeared to be texting."
This article has been updated.