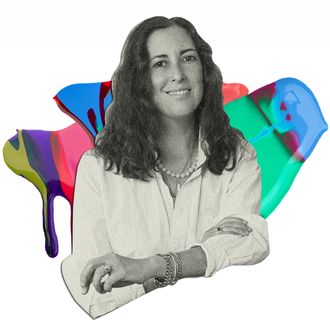 Photo-Illustration: by The Cut; Photo: Jason Frank Rothenberg
A lot has happened since Clare Vivier found $400 in cash on the street and used it to buy a sewing machine back in 2008. The designer — known for Clare V., her collection of vibrant, "tongue-in-chic" accessories and clothing — stitched her first leather work bag later that year. At the time, she was a young mom with a style blog, a French husband, and zero capital. "I learned very quickly that you have to be consistent and you have to create a community," says Vivier, 52, who will open her 14th store in the fall and, with her team, oversees over 100 employees primarily at her headquarters in Los Angeles. Soft spoken but quietly fiery, Vivier uses her platform to amplify gender equality and social-justice reform. She's originally from Minnesota and has no time for mean fashion girls. "My parents instilled this notion of being kind and respectful in me," she says. "I have confidence, so I don't need to be bitter." She lives in Silver Lake with her husband. Here's how she gets it done.
On her morning routine:
I roll out of bed at about 6:30, put on my robe, and bring my two little dogs out to the backyard. It's my little moment of invigoration because it's kind of chilly in the morning.  I do Pilates at eight. It's a very civilized form of exercise and very much suited to my temperament. Basically, I'm appreciating my body versus ignoring it. And I'm not getting super-sweaty, so I can get away with going right to work after I do it. Then I brew coffee, take a shower, and start thinking about what I'm going to wear for the day. That's really where I spend the most time. Some people do makeup. Some do their hair. For me, it's about getting dressed.
If I have 30 minutes to get ready, that's lovely. It might sound frivolous, but it's my industry, and I don't feel bad about it anymore. Sometimes the outfit begins with the pair of shoes that I want to wear; sometimes it begins with socks or a jacket. I always build around one article. If I'm doubtful or I hate my outfit, I bring an extra one. I get into work at 9 a.m., and I make myself a piece of toast and a coffee.
On her media diet:
I also listen to podcasts in the morning. On Tuesdays and Fridays, I listen to Pivot. On Mondays, I listen to Smartless. Wednesdays and Thursdays are a little bit out there, but it's usually On With Kara Swisher. She's great. But then, the other one is Dana Carvey and David Spade's podcast, Fly on the Wall. All they do is interview former SNL people. I've grown to really like David Spade.
On social media:
I just try to be authentic on Instagram. I show how I get dressed in bright, cute outfits with mirror shots — and that comes pretty naturally to me. I also put aside the voices in my head that would make me feel self-conscious. Some people will get it, and some people won't. I don't think about the audience or how many people are watching. I would get tripped up.
For me, it's very important to tell our story and put my own image and aesthetic out there. I tell all people who are trying to start their own business to get out in front of people and to have a voice. We are also able to be in touch with our community and to see how women are wearing our products. Designers of my generation are the first ones to market ourselves through social media. I started with blogging, and now it's TikTok.
On the people who help her get it done:
You have to be smart enough to know what you're not good at. I surround myself with competent people, starting with my husband, Thierry, who takes care of so much stuff in our lives. Recently, he has been making dinner every night and helping our son, Oscar, transition to college. Running a business of this size, I could never get it done without a competent president such as Molly Leonetti, who has been with me for over six years.
On self-doubt:
I always fall back on this idea: I'm just as capable as anyone else. So that's how I get through it. People can be their own worst enemies. I always talk about this and say, "Stop looking around at what the competition is doing and just keep going forward because you're always going to have a unique perspective and you're always going to have something to say." When I was starting out, I thought it sounded preposterous to start a handbag line, but I just kept making the bags that I wanted to carry. I kept going. The worst thing you can do when starting a new brand is think about all the problems you don't even have yet. Just keep moving forward. Insecurity breeds a lot of bitter, toxic behavior. I'm pretty confident, which probably comes from my loving family. I have a really great husband and a great community of girlfriends. I just want people to be kind and to feel cute in one of my sweaters or carrying one of my bags.
On overcoming losses and celebrating wins:
The best thing for me to do on a bad day is go into designer mode and start playing with materials. I just start cutting things and thinking about shape and medium. A lot of times, I'll make a miniature bag — and that will be the beginning of a design. I'm running a company, which can be stressful, but I'm a creative person at heart, and that is what is true to me. When I have a small victory, my friend Heather Taylor and I will go out to dinner and remind each other to be thankful. I'll say, "Just think of where we were last year or two years ago or ten years ago, when we started." That's my thing. This year, we're celebrating our 15th anniversary and we just signed a lease on our 14th store.
On paying it forward:
There was no way I was going to create any kind of momentum around my brand without the help of my fashionable friends. It takes a village. I've become a mentor to Jennifer Archie, who has a company called Junie Bees Butta. I'm always available to consult and give her tips and ideas. But mostly I give her encouragement. I also mentor Audra Robinson from St. Paul, Minnesota, which is where I'm from. She started a small business of body-care products for Black and brown girls called Rocky Robinson.
On why she does it:
The real magical moment for me is when we do our big sample sale once a year. Hundreds of women come out. I'm like, Oh my God! This community is amazing because not only are they clamoring to get the product, but they're just so excited to be here. I am cognizant of the fact that Clare V. is a very happy brand. I'll go out and talk to them and hear that these women feel like they are already friends. They feel like they could do what I do as well. I love that empowerment.
This interview has been edited and condensed for length and clarity.