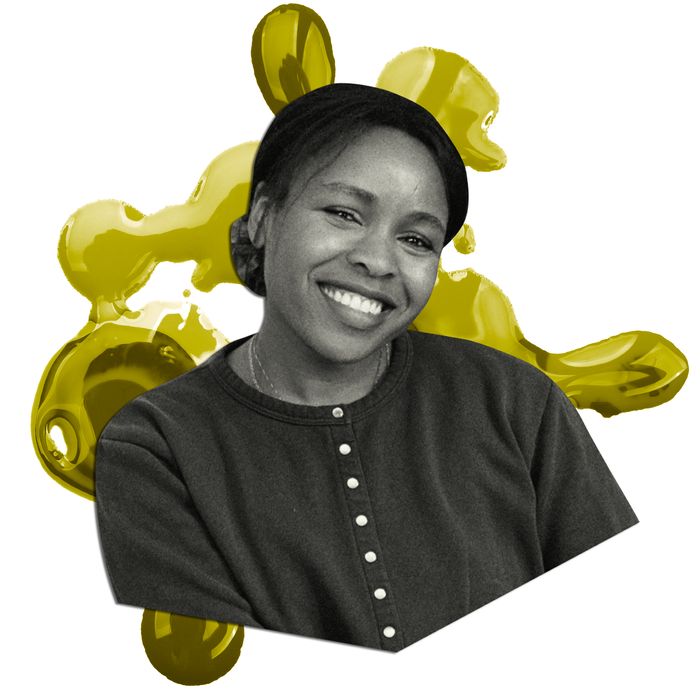 Photo-Illustration: by The Cut; Photo: Georgia Hilmer
For this special edition of "How I Get It Done," we're asking successful women about how they're making their return to the "office" as new moms work for them.
Nigerian American artist and designer Sarah Nsikak is an expert at piecing things together. She worked in the fashion industry for several years before founding her company, La Réunion, which creates hand-quilted clothing out of fabrics recycled from designers, vintage stores, and estate sales. Last year, she collaborated with Madewell on a collection made of materials left over from the brand's past seasons. She also gave birth to her first child, Maleigha. 
In addition to running her label and being a new mom, Nsikak, 31, creates textile art. Her latest show, "Luck Comes Before Love," recently on view at the Ace Hotel, drew on the softness she found in her first year of motherhood. She's also in the midst of moving back to Brooklyn from the Hudson Valley. The transition has been stressful, but she copes by compartmentalizing — she keeps separate spaces for work and family, and closes her laptop at 6 p.m. 
On taking maternity leave:
I started working on some projects about six weeks after giving birth, but I approached things on a case-by-case basis. I wasn't fully healed yet, but I felt okay mentally. We were working on a big collaboration with Madewell, so I designed a few options for their textiles. If something was important to me, I responded to emails about it. I wanted to be involved.
Do I sometimes wish that I took more time? Maybe. That probably would have been nice. But I also don't feel like I was robbed of some amazing break that I could have had because I wanted to be working on the stuff I was working on. I wasn't mad about the fact that I had to answer emails sometimes.
On her work schedule: 
Usually our nanny comes at 11 a.m. Then I work from 11 a.m. to 6 p.m. Some days, my daughter would be sad to leave me. But most of the time, the handoff was easy. I would just say "Bye!" and head into my work zone in my studio upstairs and keep my distance and be in my own world.
On setting boundaries:
I always try to set a time when I'm done for the day just to cut myself off. I did that before I had a baby too. Especially when I was working from home, I tried to work a standard nine-to-five. Otherwise, I can work really late into the night, and I don't want to do that. Now I make a time frame that corresponds with child care. Before we had consistent child care, my husband would sometimes take care of our daughter while I worked. His company is based in the U.K., so he had six months of leave. It wasn't always perfect, but we really tried to respect each other's time.
On guilt:
When I started working again, I felt guilty sometimes, especially when we got a nanny and I was commuting into the city more often and sometimes staying for the night. Then I told one of my good friends about the guilt I was feeling, and she was like, "Guilt is a really unhelpful feeling because it doesn't have any action. You can't do anything with it. It's this emotion that women, especially mothers, often have because of societal demands. Most of the time, it's not warranted." And she was right. We don't need to be with our child 24/7. But we feel this guilt because society says we should feel bad. But it's not like you are fulfilling your obligation to your child by feeling bad about not being with them. Guilt isn't going to help me be there for my daughter more. If she's with the right person, she is fine, and I should feel good about that.
On creating artwork postpartum:
A lot of what I've done since having a baby has been personal artwork outside of my company. I was feeling so isolated, and it's been helpful for me to reconnect with my identity as a person and an artist. I had a solo show of my artwork in December. Having that was really important for me to share who I am now with the people in my community and people who have followed my work. I'm not the same person that they knew before. I wanted to have those reference points for myself, too. It's interesting to look back on work that I created when I was at a certain point postpartum, things I made when my daughter was five months or ten months. My work has definitely become softer. That's the whole theme of my show at the Ace Hotel. I've been looking at soft and delicate things and watching shows and films that tap into these feelings. As a Black woman, I didn't always feel like I had access to being a soft person. I was always told I was strong and tough. And my daughter has given me a lot more perspective into softness — having this amount of love given to me. How can I not be melted by that?
On moving:
We moved upstate at the end of 2021 during Omicron. Part of it was because we were having a baby. We weren't sure how we could handle having her in the city. It wasn't a COVID move, exactly, but COVID definitely played a role. We were also really lucky that we got a decent deal on a place. To own property as a Black woman and have some equity, that's something I'm proud of. Buying property also felt significant for our family — our daughter can hopefully inherit something. I didn't come from money, so that feels good. I feel more connected to New York, too, my adopted home. More recently, though, we were ready to move back. Our community is here in Brooklyn. My studio is here. So we had the opportunity to rent out the house, and we decided to take it. The act of moving has been really stressful. My daughter had a meltdown at Ikea the other day. But I'm happy to be back.
On her evening routine:
My partner and I have been making dinners together lately and having a glass of wine every now and then and watching something in bed. It's so cathartic to turn my brain off and do that. That three or four hours before bed is our only time together some days.
I've also started a skin-care routine every night, which I'm trying to keep up with. I have hyperpigmentation, and I never really paid attention to it until recently. I use color-correction products by Good Molecules, and I do them every night. I think it's helping, but the most important thing is to have a routine for self-care, whatever that means.