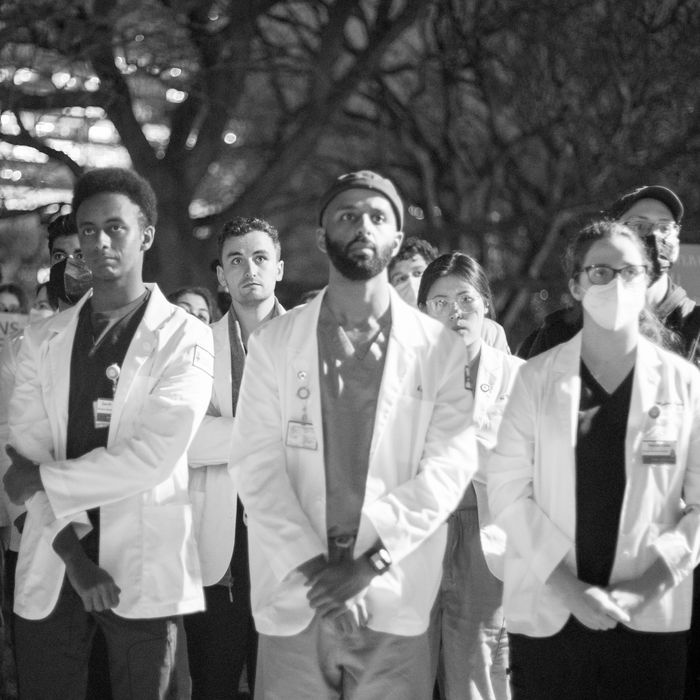 Rose Al Abosy was on the last day of their maternal-fetal medicine sub-internship last year when the Dobbs decision came down. The end of the constitutional right to an abortion made it clear to the fourth-year medical student at Boston University that they could apply to obstetrics and gynecology residency programs only in states where the procedure is protected. "Residency applications are very, very competitive," they say. "It is a risk to narrow your list in a geographic way." Al Abosy wants to become an abortion provider, so being matched with a program where they might not get the right training wasn't an option; on the other hand, failing to be placed in a program would derail their career.
So Al Abosy, who is also a board member of Medical Students for Choice, a nonprofit that helps offer abortion training to students, applied to 80 programs — nearly twice as many as the 40 to 50 applications that advisers typically recommend. The process was grueling; Al Abosy had to research programs, attend orientations, discuss their options with residents and mentors, prepare for interviews, and try to figure out the political landscape before ranking their preferred choices. "I'm in my interview season, tracking governor races in states where I don't live in," they say. "I had a vested interest in how people in Pennsylvania were voting because it determined whether having the foundation of my career there made any sense."
Graduating medical students like Al Abosy undergo a cutthroat "match" process that pairs them with a residency program at hospitals where they'll continue their postgraduate training. There are a finite number of slots available, especially in highly competitive specialties such as OB/GYN, for the 40,000 people applying to become residents in the U.S. As a step that signals the culmination of medical school, matching is often a joyful, but also stressful, moment for students, one that Dobbs has made much more complicated. "What I did and what everyone around me did was do their best under very, very uncertain circumstances," Al Abosy says.
When applying to a residency program, medical students have always weighed a wide range of factors, including location, specialization, access to the populations they hope to serve, and research opportunities. Ariana Traub, a third-year medical student at Emory University, has been surveying other medical students about how Dobbs has affected their career decisions. One of her team's preliminary findings is that students, regardless of specialty, are less likely to apply to programs in states with abortion restrictions, in part because they're concerned about how putting down roots in these states could impact their family planning. "Now, not only have you added this layer of restricting the care you can offer and the education you want, but you're additionally restricting you or your partner from accessing the individual health care services that you want," she says. 
Many residents already delay parenthood because of a combination of concerns around their long and intense work shifts, finances, and lack of access to child care. Studies have shown these conditions exacerbate the challenges physicians face if they become pregnant during residency, including the risk of experiencing complications such as preterm labor and preeclampsia, as Kellen Mermin-Bunnell, one of Traub's research partners, pointed out. "Doctors are patients too, which is something we don't really ever talk about," she says. (Traub and Mermin-Bunnell said their opinions don't represent the views of Emory University.)
Some of the people Traub's team surveyed are passionate about abortion access and want to land at a program that will train them to provide abortions, Traub says. Half of medical schools in the U.S. include no formal abortion training, or else offer a single abortion-related lecture, according to a 2020 study by Stanford University researchers. (At Emory, Traub says she and her classmates have had a handful of lectures about abortion and miscarriage care.) Organizations like Medical Students for Choice offer training for students across the nation, such as learning manual vacuum aspiration by practicing on uterine models, but these opportunities are optional. "It's very possible for me to walk out of medical school, even in Massachusetts—a 'pro choice' state—and just not see that at all as a medical student," says Al Abosy, whose exposure to abortion training through school was limited in part by Covid-19 and scheduling issues. So they independently sought out opportunities, like a family planning elective class, where they'd learn abortion care in a clinical setting.
OB/GYN residency programs must train resident physicians on abortion care in order to be accredited. However, about 45 percent of the country's 286 OB/GYN residency programs are located in states that have banned or will likely ban abortion, according to a recent analysis by the American College of Obstetricians and Gynecologists. Those institutions have been scrambling to find workarounds to meet the accreditation requirements, such as sending residents out-of-state, and such volatility could be unappealing to prospective residents like Al Abosy. "This is the foundation of my training to become an attending," they say. "That's maybe not a risk I want to take."
Navigating the ever-evolving legal landscape in states that restrict abortion has been disruptive for newer residents, says Dr. Haben Debessai, a fourth-year OB/GYN resident physician in Georgia. When she was matched, Debessai knew that the state's pre-Dobbs restrictions, including a 24-hour waiting period for patients and a 22-week gestational ban, could impact her own training (she asked that her program not be identified because she doesn't speak for the institution). But she was willing to take a risk in part because she liked her program, and Georgia had the patient population she wanted to serve. "I made a leap, and I have no regrets," she says. "It's more a leap of faith for those coming after me."
Debessai learned the bulk of abortion care, including surgical abortions and offering counseling to pregnant patients, during rotations in her first year. She says residents currently in their first and second year have not been so lucky. The state has a six-week ban in place, which means the program is considering sending residents to be trained out-of-state. Residents' ability to learn certain standard abortion procedures, such as dilation and curettage, the most common technique used to terminate a pregnancy in the second trimester, is also hampered by the six-week ban, Debessai says. While a D&C is used for abortions, it is also used in other situations, including to treat postpartum bleeding after full-term delivery and for cancer biopsies on people who aren't pregnant.
Since residents tend to put down roots where they train, it doesn't bode well for patients in states where abortion is restricted—which already experience the brunt of the physician shortage and have devastatingly high maternal mortality rates—if medical students avoid seeking training there. "Those residents will become faculty members or become attendings or be in private practice," says Dr. Jonas Swartz, an obstetrics and gynecology professor at Duke University who is also the medical director of its family planning clinic. "You could be endangering a whole generation of patients who come through those hospitals with the need for care for a miscarriage or a complication from an abortion."
Swartz is concerned that restrictive states will continue to lose health care providers who have that maternity care knowledge to states that protect abortion, impacting both patients and the next generation of doctors who are left behind. Dr. Debessai says she plans to stay and practice in Georgia once she finishes her residency, but she has a lot of sympathy for the students who just underwent the matching process and those who will do so in years to come. "It's unfortunate we have to think about the legalities when choosing your residency. We don't see this in other fields," she says. "Other fields don't have legal counsel on call in the middle of the night."
Limiting residency applications to a sliver of the country's programs may have been a gamble, but it paid off for Al Abosy. They were notified Monday, the start of Match Week, that they had been paired with a program; on Friday, along with 40,000 other students, they'll learn where they are headed. "If we're gonna just manifest for a second," they say, envisioning how the past four years of their hard work will pay off. "I'm catching babies. I'm providing life-affirming preventative care for folks. I'm someone's OB/GYN! That's remarkable in and of itself."