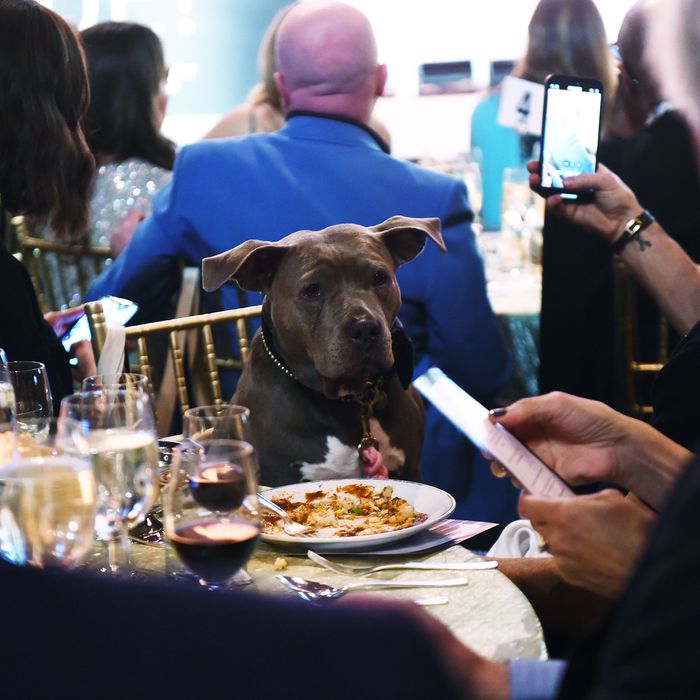 A good boy for a good cause.
Photo: Diane Bondareff/Invision for The Humane Society of the United States/AP Images
Well, in case you are more worried about making your rent this month than getting dressed up and writing big checks for good causes (while probably scoring a tax write-off), it's gala season, something I mostly had previously experienced through the early seasons of The Real Housewives of New York ("Just tell me where the Social Register is!"). So when I was invited to the Humane Society's annual To the Rescue! Gala hosted by Andy Cohen at the 42nd St. Cipriani last weekend ("cocktail attire … no furs or feathers"), I decided to indulge my secret aspirations to be an uptown mom with a spunky and endearing "Vows" column in the New York Times in her past, private-schooled youngsters at home, and plenty of spare time to pursue various philanthropic endeavors. Turns out that's exactly the kind of woman who attended this one, as well as their favorite senator, a horse-loving former First Daughter of NYC, and many, many beagle owners (some bereaved). By the end of the night, the gala set had opened their animal-loving hearts to the tune of over $2 million, a lot of people got drunk and seemed to have a pretty good time, and I met a slew of nice ladies whom I would love to adopt me.
6:15 p.m. | "Would you like to share your credit card number for tonight's auction?" a woman asks me almost as soon as I walk into Cipriani and find the cavernous former banking hall decked out in stock photos of bunnies, puppies, pigs, and raccoons. I decline, because I don't have the money to afford a puppy of my own in this city, much less the money to donate to animals I don't know, and head straight to the open bar instead, where every gray-haired galagoer seems to be ordering Grey Goose cocktails. I notice one gentleman in a tux tip $50 for a Grey Goose martini, and no, it wasn't a sponsor, nor are any geese harmed during distillation.
6:28 p.m. | Any party these days needs a TikToker or two, and tonight's Gen-Z representative is club kid Griffin Maxwell Brooks, who's wearing a dress from the sustainable New York designer Collina Strada. They're here, they tell me, as a friend of a company that makes leather out of mushrooms. They don't have much else to say about loving animals in general or Grey Geese in particular, but they do alert me to the "get ready with me" video they will post to TikTok later (a caption on their report from the night: "The Humane Society said 'no more fur' but they didn't say anything about furries").
6:37 p.m. | The women in this crowd seem like the types to have closets full of leopard-print blouses, and sure enough, when "Beast of Burden" plays, I spot several. I ask one with a messy blonde bob what inspired her 'fit. "I'm the chair of the board. I would never wear fur. Just animal prints in honor of animals," she tells me.
6:50 p.m. | Andy Cohen, Justin Theroux, and Amy Sedaris walk the red carpet, but the openly vegan U.S. senator Cory Booker skips it to snap selfies with the people. This seems very much his crowd. They swarm him, screaming things like, "You're handsome on TV" and "I voted for you!" (His communications director tells me, "I'm just amazed by his stamina.") When it's my turn to meet and greet the senator, he grabs my arm and asks, "May I? I love your ink." I ask him how he became a vegan: "Back in 1992, I was doing things to experiment with my body and … the more I read, the more I saw that there is a preponderance of reasons to go plant-based." I wonder how my life would've turned out if that was the kind of experimenting I did in college. Anyway, how's he feeling after the midterms? "My body is exhausted but my spirit is flying." As the Grey Goose tagline says, Fly beyond.
7:11 p.m. | The dinner portion of the evening is about to begin, so I take my seat at a table decorated with origami squirrels, foxes, pigs, and rabbits next to a bald middle-age gay who, even though I'm seated next to him, doesn't acknowledge my presence for the entirety of the evening. Sir, on the off chance you're reading this, that's not terribly humane. Luckily, I'm joined by two Upper East Side MILFs and their husbands. MILF No. 1 is a bedazzled bombshell with a Céline handbag who tells me she works in HR and enjoys pushing her own dress code sometimes with short suits. While the hosts onstage talk about something called Prop 12, her husband admits to me a certain skepticism for the charity at hand: "When you think about your list of causes, I mean … this isn't at the top of the list." But their daughter has two guinea pigs, and "we like to joke the rats on the street look up at Cocoa and Bean in the window, wondering about their cousins who live a better life." (Nobody talks about rodent income inequality.)
7:21 p.m. | Andy Cohen takes the stage and starts talking about more animal stuff, but I'm too busy listening to MILF No. 2 start sentences like, "Well, I was picking up Olivia from dance on the corner of 72nd and Columbus …" She kind of looks like Real Housewife Jill Zarin, and when I tell her this, she says Jill's granddaughter is actually invited to Olivia's bat mitzvah next week, featuring empanada trucks, an emcee, multiple DJs, bouncers, and 200 guests. A sad video about the three Fs (foxes, fashion, fur) starts playing, and MILF No. 1 grumbles, "A fox? A fox? Put a puppy up there!" "I saw Justin Theroux earlier," she continues. "I didn't want to mention Jennifer Anniston because she looks great too." We're served vegan tamales, and they're surprisingly tasty.
7:45 p.m. | Every time someone onstage mentions beagles, an older lady at the next table yelps … and then cries. I get confused when the talking heads onstage start discussing the war in Ukraine and then realize they're talking about raising money to send to pets displaced by the war in Ukraine. "Pets make our lives better," one of them proselytizes, and the beagle lover howls, "Yes, they do!"
8:17 p.m. | I get a text that reads, "The Silent Auction will be closing at 8:45 p.m. Get your last-minute bids in now," with a link to fake-fur coats, handbags, and heels made from apple and grape skins. On second thought, I probably shouldn't have carried a handbag made of calfskin.
8:53 p.m. | The live auction begins, and within a couple of minutes someone has already spent $50,000 to go see Watch What Happens Live With Andy Cohen. Meow.
8:54 p.m. | Someone else spends $30,000 for their pets to model in the Humane Society's 2023 "Animal Lovers" calendar. The MILFs are giggling, "No more private school!"
8:55 p.m. | The auctioneer, who honestly seems kind of drunk — he says "elements" instead of "elephants" and "porches" instead of "poachers" — keeps raising, eventually selling four safari trips to South Africa for $30,000 a pop ("It's more like staying in a condo than a tent") and a human-pet photo shoot (by a photographer who shot Meghan and Harry) for $13,000. Another video, this one about test-lab beagles, plays, and the woman at the next table starts blubbering again: "ANGELS! How can you watch this?" I'd say cue the Sarah McLachlan, but that's the ASPCA you're thinking about, not the Humane Society.
9:12 p.m. | Per the auctioneer, we're entering the "most important ten minutes of fundraising of the year." At a ruthless pace, he starts taking donations, and around the room, dog-bone-shaped paddles go up in the air. The DJ, who according to the brochure I'm holding works for the Today show, plays "Hot Stuff" and then "Dancing Queen." Every time someone donates anything from $500 to $50,000, a thin white woman in an LBD appears and gives them a pair of glow-up cat ears. Another sad dog video plays ("Where's the mother of the puppy in the window? In a cage producing litter after litter after litter"), and immediately after they raise another $50,000. MILF No. 1's husband chuckles, "It's like a Saturday Night Live skit."
9:44 p.m. | Finally, Andy says good night to the crowd and my MILFs say good-bye by asking for a selfie.
9:50 p.m. | The after-party starts up, and I meet a mother-daughter whose matching vintage dresses remind me of Big Edie and Little Edie. "My daughter rescues hundreds of cats. And she saves them and she neuters them and she gives me the vet bill," the mother says when I ask what brought them out tonight. Her daughter is an antiques dealer from Pennsylvania who tells me, "I have a non-registered animal sanctuary. It's not registered, you know, it's not in the government's eye. I do it on my own is what I'm trying to say."
9:55 p.m. | A bottle-blonde vegan chef in corn leather tells me she used to be a "lab girl" for Bill Nye the Science Guy and currently works as a "plant-based consultant" for the Four Seasons, which sounds like a nice gig. I ask her about her pet life, and she tells me how she saved an Italian greyhound-Chihuahua mix — "He was found in a dumpster because somebody drop-kicked him" — and gave him a fabulous life. "He used to come to the gala every year. His life was insane," she says. But sadly, he recently died. A Cyndi Lauper type chimes in, "I lost my daughter last month," meaning her cat. "It's the biggest hole in my house, you can't imagine. It's like a hole. It's a hole in the house."
10:26 p.m. | Now introducing … MILF No. 3, who is a Tribeca mom in an ab-bearing lace top and Oscar de la Renta earrings. She's an artist who came to the gala with her "power-lesbian cousin." "I have a question," she says when I meet her at the bar. "I was driving into midtown and my husband asked, 'Have you heard of Dimes Square?' … I know it's not a real thing. Can you get reservations there?" I tell her the crowd here is much friendlier.
11:01 p.m. | Well, now everyone who's left at the gala is trashed. Even my three MILFs are still here, getting down to Justin Timberlake in their glow-up cat ears. It feels like, well, I guess a bat mitzvah. "We have to leave. My son is calling me. He has to get up at six o'clock for soccer. I'm not going. He goes," says MILF No. 2, pointing to her husband. MILF No. 1 asks her husband for permission for us to go for drinks. Anytime, ladies.
11:16 p.m. | At last, I meet the fairest one of them all: Georgina Bloomberg, the horse-girl daughter of Mike Bloomberg and tonight's gala co-chair. She's nothing less than stunning in a shimmering emerald gown with a heartthrob fiancé on her arm. She's also clearly flying and dishes to me about some catfight she got caught in between the Humane Society and the ASPCA. Now she's off to her favorite bar — "I love it more than I'll ever love a place ever" — with her friends on the Upper West Side. "I lived downtown once," she tells me quickly. "I'm glad I tried it. I was never cool enough to live there. I never fit in."