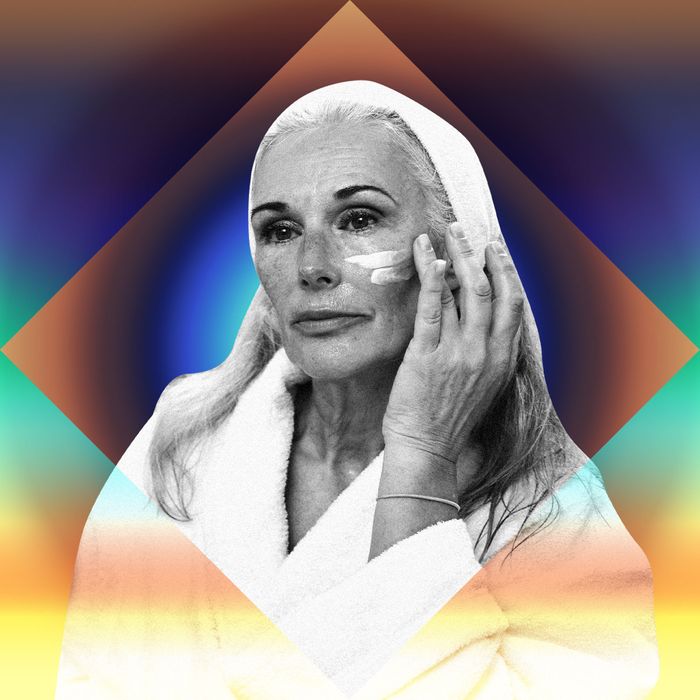 Photo-Illustration: by The Cut; Photo: Getty Images
This column first ran in Valerie Monroe's newsletter, How Not to F*ck Up Your Face, which you can subscribe to on Substack.
Q: I just saw your post about whether beauty products are killing us. Loved! While I don't believe a product can do miraculous things, I'm still considering using a couple of face creams for perimenopausal and menopausal women. They seem to have more solid clinical research behind them. What is your take on Alloy's estriol cream and Emepelle's skin-care line with MEP technology? Talk some sense into me!
A: Before I could talk some sense into you, dear reader, I had to make sense of estriol in skin care and MEP technology. For that, I needed a major tutorial, handily offered by HNTFUYF's treasured DermDiva, Heidi Waldorf. I sent her your question along with one of my own: Because I'm using the hormone cream estradiol vaginally to treat postmenopausal symptoms, am I potentially getting too much exposure to estrogen if I also use estriol on my face?
"Your question hits the nail on the head," said Waldorf. "Topical estrogen can be absorbed into the bloodstream and may increase the risk of side effects such as blood clots, stroke, and certain types of cancer if too much is used for extended periods. An excess of absorption can cause the same symptoms as too much systemic estrogen: nausea, vomiting, breast tenderness, fatigue, and withdrawal bleeding."
"Studies have shown that topical estradiol estrogen in specific dosing is safe to treat vaginal symptoms of menopause even in women with a history of breast cancer," Waldorf continued, "but additional application on other skin surfaces will lead to additional absorption."
Well, that sounds perturbing.
The complicating factor in this case, said Waldorf, is that the Alloy cream contains estriol, which is a weaker estrogen than estradiol, and we have fewer data on this ingredient's safety parameters.
Before I get to the next chapter of Waldorf's response, I want to say that I believe the idea behind Alloy is admirable: The company's intention is to make it easier for women to address and find solutions to the issues menopause presents. Huzzah! But Waldorf had some concerns with the process that eventually lands a tube of estriol cream in your mailbox.
Here's Waldorf's account of her own experience:
"To test Alloy's 'medical screening' process, I completed its questionnaire two ways. First, I completed only the ten-second questionnaire required to get a prescription for M4 (estriol) skin cream. For each question, I said my skin is perfect, no signs of aging. I answered the questions about medications and allergies — and in the box that asked, "Anything else we should know?" I wrote, "History of breast cancer." After uploading a photo of my ID, the checkout screen with my recommended prescription of estriol cream popped up along with the $35 'medical evaluation' fee waived.
"I returned to the site asking for an evaluation of everything. Just as I answered that I had no skin issues, I also answered that I had no local or systemic menopausal symptoms — no hot flashes, night sweats, fatigue, etc., and no vaginal or sexual symptoms. There were additional medical questions, all of which I answered in minutes. I checked off my history of breast cancer. This time, the checkout included a prescription for an SSRI (an antidepressant), a treatment for the systemic menopause symptoms I said I didn't have, and the option to add Alloy's facial, vaginal, and orgasm-stimulating products, all meant to treat other symptoms I stated I didn't have. Again, the $35 'medical evaluation' fee was waived."
Her conclusions:
"If that was a medical evaluation, I'm a ballerina. The questionnaires clearly went through a program designed to sell products. Even the fastest 'provider' couldn't have interacted with a patient at that speed. The questionnaire format easily lets you leave out important information because you either forgot it (which happens more than you'd think), you never completely understood your own medical history (again, more commonplace than you'd think), or you just didn't think it was relevant. Based on the speed, I doubt the box asking for a customer's current medications is adequately evaluated for potential interactions or contraindications."
To test that theory, Waldorf answered the full questionnaire again, this time excluding her breast-cancer history and including Lysteda under her medications. (Lysteda promotes clotting to treat uterine bleeding; it's also used off-label to treat melasma.) This time, Alloy's recommendation included oral estrogen — which may also promote clotting. "I'd much rather see my doctor, who knows my medical history, my medications, and their implications on my health, and can discuss the relative risks and benefits of any treatments and concerning signs or symptoms I need to report," Waldorf said. "The pills and topicals recommended were all meant to treat symptoms I don't have — and they aren't without risk."
Waldorf went on:
"An SSRI must be prescribed carefully. Doses begin low and are gradually increased. The drug I was prescribed, though generally well tolerated, can cause side effects. And patients should be warned not to discontinue the medication suddenly to avoid serotonin storm (headaches, nausea, etc). The site prescribed topical and vaginal estrogen to me despite my history of breast cancer. While topical estrogen applied vaginally (or gradually released through an inserted ring) has been studied at length and declared safe for patients with a history of estrogen receptor-positive breast cancer, the combination with additional topical estrogen has not. And the degree of absorption will depend upon the surface area and amount of product applied."
Ah! Finally, a bottom line: It may come as no surprise, but your wisest course of action would be to discuss with your doctor whether any hormone-containing cream is a healthy choice for you and not to assume that an unchecked topical hormone therapy is without risk.
I thought of something else after reading a study Waldorf sent me: Though hormone creams may work to reduce fine lines and wrinkles and improve skin texture, vitamin A–derivative retinoids have been proven to do the same. As Waldorf said, sunscreen and retinoids continue to hold their place at the top of the pyramid for treating photoaging and aging skin.
Still with me?
As for Emepelle's MEP technology: MEP stands for methyl estradiolpropanoate, a non-hormone estrogen-receptor stimulator. Waldorf explained that though MEP stimulates estrogen receptors in the skin, it's deactivated in the bloodstream. Is it worth the $98 to $195 price tag? Though the product has a different effect than a simple moisturizer, whether you'll see anything clinically different on your face depends on your skin condition. Which reminds me of a wise remark dermatologist Estee Williams made once about in-office skin-care devices in general: The less they have to do, the better they work.
For me, that means what continues to make the most sense is a drugstore moisturizer, sunscreen, and a prescription-strength retinoid.
Valerie Monroe was beauty director at O, The Oprah Magazine, where she wrote the monthly "Ask Val" column for nearly 16 years. Now she writes the weekly newsletter How Not to F*ck Up Your Face. Her goal continues to be to shift our thinking in the beauty arena from self-criticism to self-compassion and to learn how to be loving witnesses to ourselves and one another as we age.