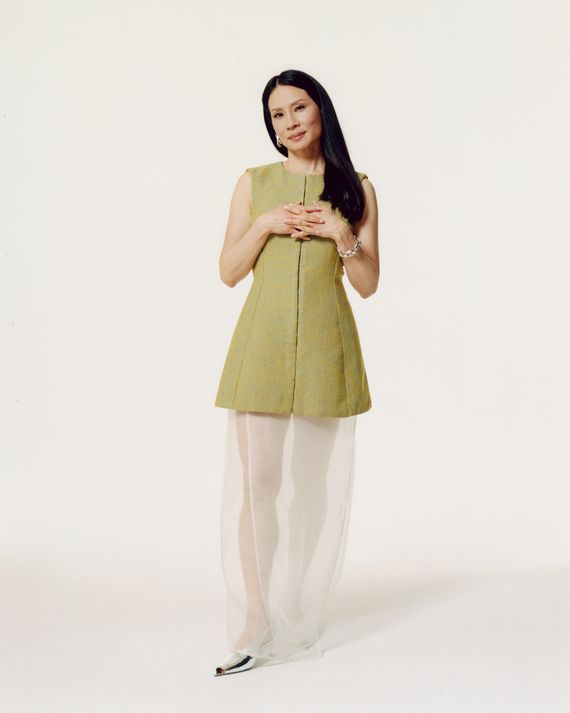 Tory Burch h
ook-and-eye tunic, double-layer hand-done mirrorwork skirt, and metallic peep toe slingback,
available at toryburch.com.
Yun Yun Sun
14K-gold-plated Pattie earrings,
available at yun-yun-sun.com
.
Jennifer Fisher
extra-large chain-link cuff,
similar styles available at jenniferfisherjewelry.com
.
Photo: Johnson Lui
There's a thrumming neuroticism particular to the New York celebrity that Lucy Liu, frankly, lacks. It's astonishing. Not only does she freely take subways and buses, ("They're there for a reason," she says in that tone reserved for locals exhorting the use of the MTA), she moved back to the city after a decade in Los Angeles to have a kid here. By herself.
When Liu invites me into her personal space, she forewarns me that the airy Manhattan studio where she works as a multidisciplinary artist (sculpture, mixed media, painting) is "nothing fancy."
"We just moved in," she explains of the boxes, ushering me through and taking my coat to hang on a ladder beside hers. Wearing Girbaud jeans and work boots, she gathers her hair up as she leads us to a set of chairs. She's had to sort out childcare for the Monday that we'd both forgotten was a holiday and as she moves through the room with Billie Eilish playing in the background, it's easy to forget that the Queens native is spectacularly famous.
Liu, who received critical acclaim for her roles as Alex Munday in Charlie's Angels, Ling Woo in Ally McBeal, Kittie Baxter in Chicago, and O-Ren Ishii in Kill Bill: Volume 1 (and has been equally lionized chez nous as Mia Mason in the lesser-known comedy series Cashmere Mafia and as Kristen Stevens in the delightful Netflix rom-com Set It Up!), contains multitudes. As the first Asian American to host Saturday Night Live and only the second Asian American woman to be awarded a Hollywood Star (after Anna May Wong), Liu has done so much for AAPI representation it's almost as if we take her inclusion alongside blue-chip marquee names as a given.
And yet in conversations about diversity, it's as though we have semantic satiation for her face. She's been recognizable for so long that when we take roles of hers to task for contributing to stereotypes, we sometimes  forget that she's been mainstream since white guys wore silk dragon robes and mounted Katana blades on their walls; since Chinese Laundry was a brand name no one seemed to take issue with and pretty much everyone stuck chopsticks in their hair for the messy up-do to match their pencil-thin brows and polyester bias-cut slip dresses.
Which is to say that the beautiful, freckle-faced star has always obliterated the status quo with the unfazed air of a seasoned stalwart who stays searching for fucks to give when it comes to explaining her choices. Her television appearances — on Sex and the City, Girls, Beverly Hills, 90210, The X-Files, Curb Your Enthusiasm, The Simpsons, and seven seasons of Elementary, for example — are a good place to start to understand her range. And now, at 54, she appears as Kalypso in DC's Shazam! Fury of the Gods, her first superhero franchise. She stars alongside Rachel Zegler (who luminously debuted as Maria in West Side Story) and Dame Helen Mirren (who truly needs no introduction), all three playing sister-goddesses and daughters of Atlas who come to Earth to reclaim what's theirs and wreak a little pugilistic, vengeful havoc.
And as we settle beside a workbench featuring a dark, angular sculpture about the size of an overnight suitcase, among meticulously labeled stacks of lidded plastic bins, we flit easily between her work as a big- and small-screen iconoclast, her identity, and the extremely New York triumph of fitting a brand-new slop sink into her tiny studio bathroom.
Tell me about Kalypso. You're a baddie.
Helen, Rachel, and I consider ourselves protagonists. We come to this world to take back what is ours. And what was taken from us because our world dies. I've been asked many times, "How does it feel to play the antagonist?" I have no idea. Why would I know that? My characters have never been outright evil. They're not sociopaths. They come with a mission, and that's the whole story of life: the bible, Greek mythology. But I do think Kalypso has an extreme version of where she takes it.
What's Helen Mirren like? 
She's a legend. Not solely because of the work but because she's a generous, professional person. And Rachel is just an angel. The three of us sisters were able to have, within our own family, sibling rivalry in how we paired with each other. And how we agreed or disagreed changed the dynamic and kept it more interesting. We took Helen out for her birthday and had lunch together. We were paper-bagging it. We went and sat in the mall and ate. We were shooting in Atlanta; nobody had any airs.
Does movie-making feel like summer camp? 
Successful or not, box office or not, these are the things that are my life, and they take up a lot of time. You never know what you're signing up for because everyone has a different personality. This is what binds and connects you. I'm very aware that it's a privilege to be in that kind of environment even when it's hard. But you're not sitting there lounging in the sunshine. There's a lot going on. Production is not easy. It's funny most people don't watch the smaller movies, but those are the ones I live for — those really are sweat and tears. They're painstaking.
When somebody says they loved you in a smaller film you've done, like the 2007 indie Watching the Detectives, does your heart crack open a little wider? 
I'm so excited that they saw it. It's a little bit harder. It's like going to the video store back in the day and finding that non-blockbuster. It's rare. That whole back row was new releases and they'd be all gone. Empty space.
Did you ever think you'd be in a superhero franchise in your 50s versus your 20s?
If it had happened earlier, it would have been miraculous. It would have been a different story; my career would have been easier. There would have been more opportunity.
But I guess Alex Munday in Charlie's Angels was that for you. That was stratospheric. 
Yeah, but we didn't know that going in. That character, Alex, was important because of the composition of the three of us regardless of whether that movie did well or not. It's really the visual that can help propel the next thing. And I say visual because even if a film doesn't do well, it starts to move the needle a little in toward the direction you want it to go. Not just for yourself, but for others.
Whenever you had a non-Asian name, like, Alex Munday or Kitty Baxter from Chicago, I always felt like you'd snatched the role from a white person. Why didn't the names change?
For me, it was important to keep that character's name but be able to embody it my way with my history and my culture, which is a mixed culture. I think the main point was that in order to shatter the ceiling, you needed to do things that were conventionally significant. Charlie's Angels was such a big move because it was such a big piece of Americana. It was an important distinction to have Alex Munday instead of Alex Woo just to show the history.
Is it weird these days you're pretty much guaranteed to get an Asian writer to interview you?
The past couple of interviews have been with Asians. When they sent me your name, I was like, Oh, I see, so that's how it's going to work now.
Do you feel conflicted on one hand to be celebrated for achieving mainstream success with Ling Woo in Ally McBeal and O-Ren Ishii in Kill Bill, while also being criticized for promoting negative Asian stereotypes?
I think it's really prescriptive and defining something from another time. There's no way to win. It's not what I went in with.
Right, non-Asian leads are rarely accused of possessing the same traits that qualify you as a "Dragon Lady." 
I happen to be Asian. I like that Ling was sure-footed and was funny because she was so sure. I don't know that she always made the best choices, but she thought she did, and that's okay. With Kill Bill, the bottom line is that there were other women doing the same thing, so why pull my character out as an example? You take any character and switch them out and make them Asian, and people would say, "Oh, this is what they were doing there."
Does it sting that it's usually an Asian writer assigned to the "Lucy Liu is problematic" beat as well? 
That's their opinion and how they feel. They don't feel like we're far along enough, and they want to use me as an example of what's not far along enough. That's okay. I put out the work. Not everyone's going to like it. I'm sure there are tons of people who don't like my work or my career or me. I'm not here to change somebody's mind. I don't want to go out with somebody who doesn't want to go out with me. You want to convince someone to love you, but the decision, that's their prerogative.
What made you move back to New York? 
I loved being in L.A. I stayed in the Beachwood area, and everywhere I stayed, the address was "something-something and a quarter." I went hiking … But it's too much of a pod city. You've got your home pod. You get in your car pod. Go to your work pod. In New York, you're exposed to things you may not even want to be exposed to. But that's part of living and the culture of life. I like to be in that mix and that feeling of being alive and connected. You can be alone, but you don't have to be closed off. I think L.A. is less reliable in that sense.
During COVID and lockdown, when there was a heightened awareness of targeted hate crimes against AAPI folks in the city, I remember feeling betrayed by New York. Did you have that sense? 
I don't know if I had that, but there's a very different level of caution that one has to have now. That's a real thing, and if you don't recognize it, you're being ridiculous. I still took the subway during COVID. There was nobody in the cars. A friend of mine brought me Mace and I had that with me. I don't know if it's fear but it's a high level of awareness and concern. I've always had that awareness. Always. I mean, I grew up here. I don't take anything for granted. I take my son on the subway all the time. If I don't feel comfortable I'll walk out. I don't need to sit somewhere to be polite. I'm a person of action in that sense. I have to trust my instincts. Just having an awareness helps me, but I don't want to live in fear. I'm not going to not take risks in my life. I'm just not stupid about it.
I also listen to the news. Local news always. It's like my thing. I'll be in Atlanta listening to NY1, and people will be like, "Why are you listening to NY news?" I know all of the anchors really well. They just had an anniversary. I love that station.
Any favorites?
There are no favorites. They're all my favorite and you know what? They mix it up. For a while it was Annika Pergament and Pat Kiernan. I'm okay with whoever they want to bring on.
Do you do that New York thing of, 'Hey your shoelace is untied' or, 'Yo, watch your bag' for strangers? 
Yeah, all the time. I'll be pointing, your metro card is right there. Your bag's open. It's just a courtesy.
Was it important to you to specifically raise a New York kid?
I definitely wanted to raise a kid in New York. People will say, "It's not convenient, you don't even have a car," but this way, they're going to see all the things. You're going to show them what's safe and what's not, and they're going to understand that through experience. It's hard to build common sense when you're in a car all the time. They're going to smell the smells.
What made you decide to have a kid in your late 40s via surrogate?
I didn't have a plan. I just thought, I want to change the conversation a little bit. I didn't want to talk about the next project. I felt like I was reading the same script. I got tired of it. I didn't want the same dialogue. I'd heard myself say the same things many, many times and just thought, Well, this can't be what's next. It wasn't enough. I didn't mull it over too much. I didn't do a lot of research, I just pulled the trigger. I can think myself out of something easily; if I think too much I won't do it. It's better for me to feel something and just go for it. A lot of people read books about parenting. I didn't do any of that. I was like, When the child is here, I'm just going to figure it out.
Is that the same way you decided to go to New York Studio School for painting between Kill Bill and Lucky Number Slevin?
I've always been curious, and there's never a good time to do anything, so it's also always a good time to do something.
Wait, what's your sign? Your decision-making process is blowing my mind.
Sagittarius.
That tracks. But walk me through this, your career is going bananas and you're like, "Screw it, I'm going to paint"?
If you have the capacity to take time out of your life to do something like that, it's a privilege. I was like, This is something I'm curious about, let me try it. I didn't discount it. I'm never going to not do something because of something else. This just makes sense to me.
How much therapy have you had?
I think therapy is amazing. I didn't start doing therapy until later.
You're a multimedia studio artist who exhibits work. Is that not more quantifiably scary to you than releasing a movie? There's nothing to hide behind. 
The thing is, I never read reviews. I really don't. I'm very unaware. I have to be honest. I'm just not that with it. I'm not that Zeitgeist-y! I don't know who's dating who. I don't know what beauty products people are using. I don't have the bandwidth. I don't begrudge people for knowing those things; I'm in awe. My only job is to express myself. It's all I can present. It's not going to be to everybody's taste and it's not meant to be.
But you're represented by a gallery. Art is a commodity. Surely there's an effect when you get the value judgment of being priced at a certain number when you sell something. 
I allow that to be something my gallery determines. If I don't feel like it's worth it, I'm not going to sell it. I've only sold something more recently because they promised it to a museum. I wanted to hold onto it. For me, it was important, but if it was promised to an institution, then it's going to be shared eventually and I'm okay with that. I don't even know what it sold for. I don't remember.
You used to exhibit under your Chinese name as Yu Ling. Did that create a division between who that was and who the world knew you as? 
That's what I thought. To be honest, I wasn't doing it to protect myself as much as I wanted people to come in with an open mind. And when you go in with a name already, the walls are already there. The process is not as permeable. People invariably aren't allowing you to be a different person. They want the same thing. I wasn't trying to trick people. I was just trying to have them have the idea of un-naming names. But then I had to decide to own who that person was in connection to the work. And really allow that to be 100 percent and fill that space completely.
Was there code-switching involved? 
I'm not that versatile in my actual life.
What feels better: a good painting day or a good day as part of a production?
It's so different. I would never compare the two.  Both are divine. Painting is so much harder. It's torture. It doesn't come out easily. It's a certain suffering one has to go through. And sometimes you need to know when to stop.
You could have avoided all this so easily. So why didn't you? 
[Laughs.] I was doing just fine? Just fine is not enough.
Do you ever have a kind of grief about Michelle Yeoh being recognized for a role that shows such a breadth of character (she's an imperfect romantic lead with ADHD who can't pay her taxes in Everything Everywhere All at Once), given the earlier scarcity in your career?
That she's being recognized for this over other things she's done?
Yeah.
She's such a beautiful artist. And there's a vulnerability in this character that she's had before, but for whatever reason they've decided to recognize her for this. She's said that the ten opportunities that some people get in a year, she'll get in ten years. So I don't feel grief. I feel elation for her. And for the opportunity for the beauty in that. Even Awkwafina being recognized for her work, and she's young. It's not even satisfaction.It's like, Behold. There's so much to shine. Scarcity is like going into a scene and saying, I hope this person's terrible so I can shine. You want the other person to be better to bring you up. You can't be better unless you're challenged. To hope otherwise is absurd to me.
You're notoriously private so there are some facts we need to know. What's your breakfast bodega order? 
Lemme see, I love a bagel with cream cheese. I love lox. I like a bialy. Egg with cheese. Bacon, egg, cheese on a roll. All those things are good. But the go-to is just a banana and almonds. The basics.
Are you sober?
I rarely drink. If people are drinking I might have a drink. I don't think about it too much. I've never been a party animal.
Therapeutic ayahuasca trips? LSD? DMT? 
I've never done any drugs in my life. Not even pot. And it's just because, first of all, I couldn't afford it, and now it's not something I think about at all.
Caffeine?
I started drinking matcha recently. I started drinking coffee when I was 48. I didn't like the taste when I was younger, but it's delicious! It's so delicious. I love it. It tastes like chocolate.
Do you take a million supplements? You're insultingly well-preserved even for an Asian person. 
Are you serious?
Yes. I need to know what you're taking.
What do I take? I don't overdo it to be honest. I don't do facials. I don't do massages. I just don't do it. I have a lot of spa gift certificates that I don't use.
Do you do lasers? Genius RF? Profound? Ulthera?
What? What are those?
They're all names of skin-tightening treatments. 
No, no, and no. No peels. No nothing. I think you only have so much skin, cell-wise, and I don't think rubbing it off is a good idea, but listen, everyone has a different thing.
Would you consider surgery?
Never. But if it makes you feel good, I think you should do it. I don't want any pain. I could barely do a Swedish massage. I don't like them. I like acupuncture, holistic medicine, but I don't want Rolfing. I don't even want to hear about it if it sounds painful.
Do you work out?
I do Pilates. I used to do SoulCycle, but I haven't done it in years. I enjoyed it at the time. I haven't gone to a class since the pandemic.
You're famously single. Did you ever think a partner would be supplemental to your life? 
Absolutely. But I think it's an investigation. It hasn't occurred to me that that should be the next thing. I think it will present itself when it's supposed to, but I've never lived according to what's supposed to happen next. I've been proposed to but … I don't know. I don't know if I've ever followed a social norm. It's very permanent. I've never been in a situation where it felt good to be like, Oh, that didn't work out, divorce and move on. That scares me.