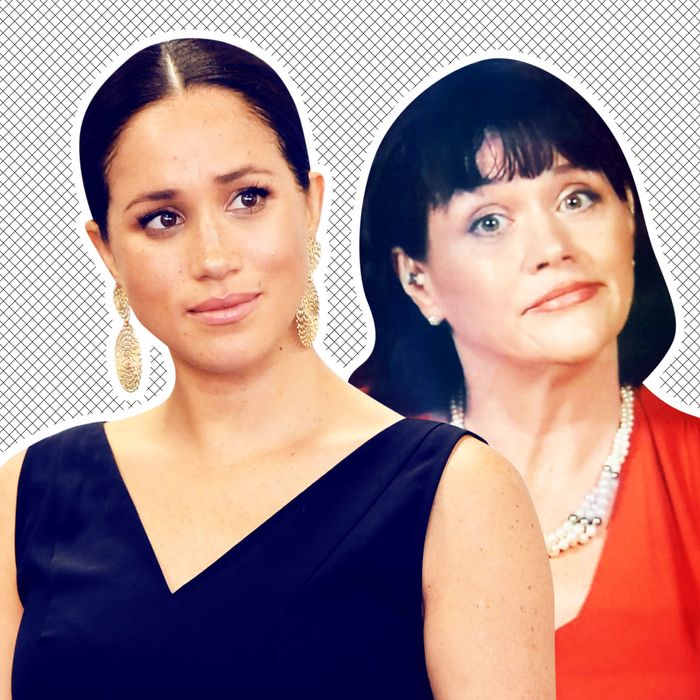 Photo-Illustration: by The Cut; Photos: Getty Images, Shutterstock
Ever since her engagement to Prince Harry launched her into the public eye, Meghan Markle's father, Thomas Markle Sr., and his family have insisted on inserting themselves into the narrative. Thomas, who's long been described as "estranged" from his daughter, has repeatedly bad-mouthed Meghan to the press while concocting drama out of thin air. Meanwhile, his other children, Samantha Markle and Thomas Markle Jr., have used interviews, open letters, and social media to further insult Meghan and paint themselves as victims of her narcissism. Samantha even took her grievance to court. In March, as reported by TMZ, she sued Meghan for defamation, claiming a number of things she said in her now infamous Oprah interview are false. The $75,000 suit included 14 other statements that Samantha deemed defamatory, including from a leaked email to her then-communications secretary Jason Knauf and from Finding Freedom, a book Meghan did not write. On Thursday, a judge finally dismissed Samantha's claims, determining that Meghan's comments were opinions and couldn't be considered defamatory.
Previously, Samantha has accused her half-sister of social climbing and complained about not getting invited to the royal wedding. Last year, she further capitalized on her proximity to Meghan by publishing a memoir titled The Diary of Princess Pushy's Sister — which may have something to do with her lawsuit.
In the suit, Samantha contests that Meghan called herself an "only child" in the Oprah interview — Meghan is 17 years younger than her siblings and was raised in a different household — and denied Meghan's claim that Samantha only changed her last name to Markle once Meghan started dating Harry. Samantha also claims that Meghan did not grow up with the financial strain she's discussed publicly. In an open letter to Congress about parental leave, Meghan said that she started working at 13 to help her family "make ends meet." Samantha claims Thomas paid for Meghan to attend "elite and expensive private schools" and "dance and acting classes." The suit also reiterates Thomas's claim that he covered Megan's tuition and expenses as a college student at Northwestern, which Meghan said both in the Oprah interview and on the Ellen Show that she worked to pay herself.
If that all seems rather petty, that could be because Samantha's real concern is her book sales, which her lawsuit claims were damaged as a result of Meghan's "lies." Per her account, Meghan's discussion of her family in the press has also prevented Samantha from getting jobs and caused her emotional and mental distress. The suit does not seem to mention the fact that Markle has endured an astounding amount of harassment and racism stoked by the press and social-media trolls and compounded by attacks from her own family. In her Oprah interview, Meghan called her father's relentless press appearances a "betrayal." When asked about her sister's book, she said that it would be "very hard to tell all when you don't know me."
Responding to the initial filing, Meghan's attorney Michael Kump told TMZ, "This baseless and absurd lawsuit is just a continuation of a pattern of disturbing behavior. We will give it the minimum attention necessary, which is all it deserves." Meghan and her legal team filed an initial motion for dismissal in 2022, which was reportedly denied in June. In July, Samantha filed an amendment to her complaint, prompting Meghan to again ask a judge to dismiss the suit.
In a document filed in July, Meghan's team responded to Samantha's claims in more detail, including her classification of Meghan's statement that she grew up "an only child" as defamation. "It is hard to imagine a more personal and subjective feeling than how one views their own childhood," read a statement written on behalf of Meghan. "Meghan's response to that question that she 'grew up as an only child' was obviously not meant to be a statement of objective fact that she had no genetic siblings or half-siblings."
Meghan also responded to Samantha's claim that she defamed her estranged sister in Finding Freedom despite not having written the book. (She reportedly gave aides and friends permission to speak to the book's authors, Omid Scobie and Carolyn Durance.) "Meghan did not make the statements; she cannot be liable for them. It is that simple," read the new document, per the Daily Beast. As Meghan's attorneys pointed out in a previous motion to dismiss, the email to Knauf, in which Meghan briefed him on how to speak to Scobie and Durance regarding Finding Freedom, was sent in 2018, which is outside Florida's two-year statute of limitations.
In the months since, Samantha has continued her aggressive campaign against her half-sister and brother-in-law. In January, she called Harry "emotionally underdeveloped" during a TV interview following the release of his memoir. She appeared in virtual court twice last month, where her lawyers asked Meghan to recant her claim that the king and queen were racist. Meghan's legal team called Samantha's claims "inappropriate" and "offensive," stating that "not every perceived slight ought to be litigated."
In an order dismissing Samantha's suit, a Florida judge wrote that any "reasonable listener" would understand Meghan's comments as an "opinion about her childhood and her relationship with her half-siblings," which is "not objectively verifiable or subject to empirical proof," nor is it "capable of being defamatory."