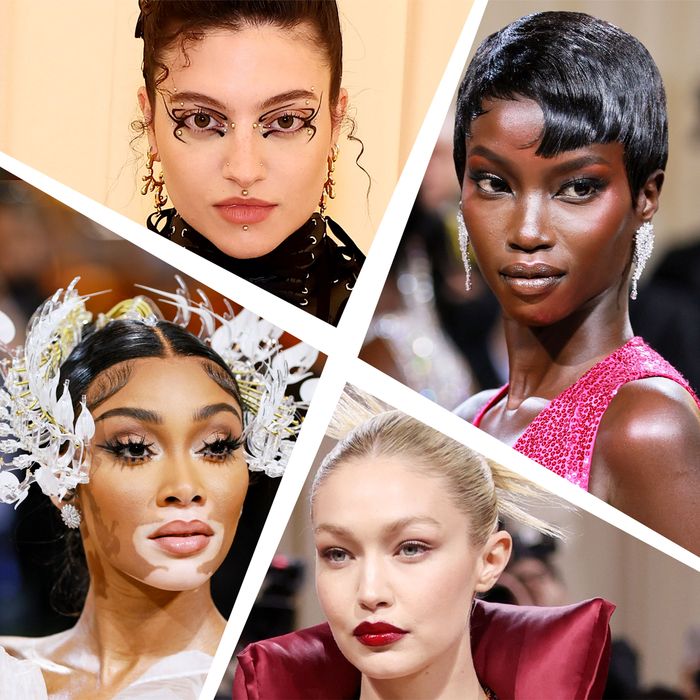 Photo-Illustration: by The Cut; Photos: Getty Images
Can you think of a better occasion than the Met Gala to dump out your beauty bag and test a new look you've always wanted to wear? I mean, maybe, but that's not why we're here. We're here to pore over the looks of the celebrities who did just that on tonight's Met Gala red carpet. Consider it inspo: Want to wear excessive face jewels? Go for it! Hair past your ankles? Why not! Who cares that, ahem, certain celebrity attendees didn't actually follow the theme 100 percent? For trying out these look-at-me trends, they're forgiven.
Best Ponytail
Alicia Keys loves a braided ponytail, but tonight she added something new: bedazzled circular disklike accessories that stretched down her back. A sculptural masterpiece of a hairstyle.
Best Metal Part
Ciara said she was going for "modern woman of the Gilded Age," with her Unite hair products which I guess means a foiled part? It's a trend I wouldn't mind trying. It probably gets hot after a while, though.
Best Hair Jewels?
Bad Bunny didn't wear a Gilded Age crown — he adorned his hair in gold hair jewels. Upgrade!
Best Smokey Eye
Megan Thee Stallion is the eye-shadow queen. Her metallic Revlon smokey eye had a cut crease as sharp as knives.
Coolest Eye Makeup
Forget the eyeshadow — Isabelle Boemeke's swirly eyeliner created a statement on the carpet.
Best Drawn-On Facial Hair
While I don't think I've ever seen yellow hair, a pink lip, and a drawn-on mustache in one look on the carpet, somehow it felt cohesive with Jessie Buckley's Schiaparelli suit.
Longest Hair
Erykah Badu, one question: How long did this take? Getting your hair braided is like a rite of passage for a Black woman — it's an experience to get it done — but thinking of the amount of hours this took is making me tired just looking at it. And it's styled with beads too!
Best Skin
I think we can all agree: We need Jodie Turner-Smith's skin-care routine. Her deep complexion already radiates like no other on a normal day, but today it was extra luminous, thanks to her Gucci Beauty routine. Send us the routine, Jodie!
Face Jewels
Nicki Minaj didn't actually paste jewels on her face, but this sheer jeweled overlay was a great way to have the illusion.
Best Crown
Winnie Harlow looked ethereal in her sculptured crown, which matched her dramatic Iris van Herpen dress. And her deep middle part using Unite hair and baby hairs were the perfect accessory to the crown. Not too much, but just enough.
Coolest Eyelashes
Lucy Boynton's bedazzled eyelashes were a Chanel Beauty masterpiece.
Best Hair We've Never Seen Before
We've seen Kim in blonde hair before but never this platinum with a slick back this slick. She went full-on Marilyn Monroe with the platinum dye. Talk about commitment to a look. Now let's see how long she keeps it this color. I say 48 hours!
Best Haircut
A crisp bang cut and sheened to perfection. Anok Yai understood the assignment.
Best Bayang Plus Updo
We can always count on Cardi B to give us a moment. Not only was she on theme with her gold-chained Versace dress, she also stunned for a major beauty moment — an airy bang and classy updo using a Dyson and TRESemmé products. The more Cardi wears an updo, the more I want a Nanny reboot.
Best Lipstick That Didn't Move
It's one thing to wear a deep, bold lipstick on the carpet. It's another to wear lipstick and entertain everyone by playing the flute without smudging the lipstick one bit. Lizzo, teach me. I also would like to be multitalented.
Best Neon
J Balvin went full-on neon with this haircut. Not sure if neon hair dye existed during the Gilded Age, but the colors are great.
Best Red Lip
What's a carpet without a standout red lip? Gigi Hadid complemented her monochrome red Versace look with a bold one.
A Bob That Knows a Flip
Kris Jenner's bob was flipped and carpet ready. I just wonder whether it will hold all night.
Best Glow
I've never seen shinier shoulders. Iris Law's denim eye makeup was one thing, but her luminous shoulders were another, thanks to Dior's face and body glow, done by Sam Visser. My shoulder will be looking just like this on all beaches this summer.