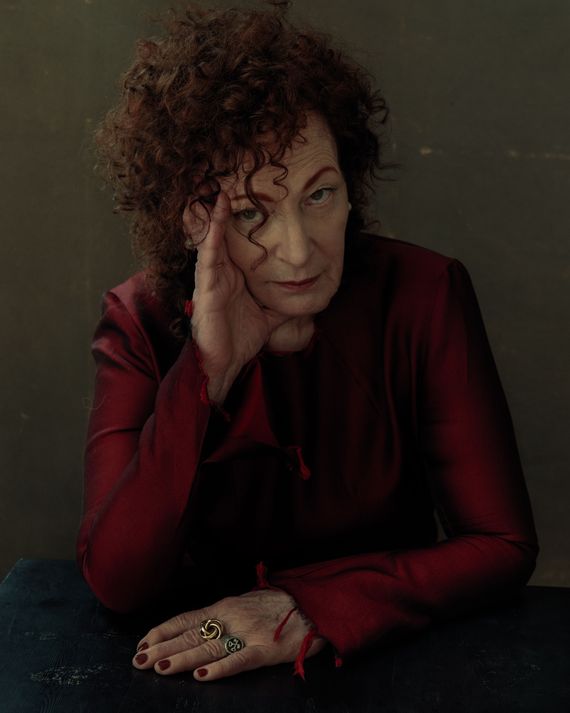 This article was featured in One Great Story, New York's reading recommendation newsletter. Sign up here to get it nightly.
My work has always been about making the private public but to a very limited audience," says the photographer Nan Goldin, ashing an American Spirit. We are sitting in her sunny living room in Clinton Hill, treetops visible through the window. On the coffee table are cans of La Croix on Hilma af Klint coasters from the gift shop at Moderna Museet in Stockholm, which recently showed six of Goldin's slideshows and video installations in a retrospective titled "This Will Not End Well." Peter Hujar's black-and-white portrait of her friend the artist and activist David Wojnarowicz hangs above the mantel.
The show in Sweden (Amsterdam is the next stop) isn't what's making Goldin anxious; instead, it's Laura Poitras's documentary All the Beauty and the Bloodshed, which tells the intertwined stories of Goldin's art and activism. The movie didn't win the Oscar it was nominated for but is now streaming on HBO Max. "Think about if there was a two-hour film about you in the world," Goldin says. "It's an ambivalent experience. There's a lot of good feelings and bad feelings." She feels in her body the vulnerability of being exposed to such a large audience: "It's in my skin. It's not about thinking how people respond; it's not about worrying about the audience reaction. It's about my own reaction."
All the Beauty and the Bloodshed premiered in September at the Venice Film Festival, winning the Golden Lion that now sits on Goldin's mantel. The film powerfully connects the story of her life — her alienation from her parents' conformist culture, her sister's suicide, the bohemian world she documented in her photographs (which was shattered by the AIDS epidemic), and her more recent opioid activism. She founded the group P.A.I.N. on the model of ACT UP to call attention to the overdose crisis brought on by Big Pharma's marketing of opioids and to fight the influence of the billionaire Sackler family, whose company produced OxyContin; Goldin herself became addicted to it following surgery. The Sacklers are also a very powerful philanthropic family, and fund many of the museums showing her work.
"This Will Not End Well" gives a comprehensive overview of Goldin's career with thousands of images in nearly two and a half hours' worth of slideshows with musical accompaniment — this is how she prefers they be shown. "I'm getting old," she says. "So it's time to put together my work in a retrospective manner."
Both the exhibit and the film are exercises in politicizing the personal through the "public disclosure of a private reality," as Wojnarowicz wrote in the catalogue for the 1989 Goldin-curated group show "Witnesses: Against Our Vanishing," which included artists affected by, and many dying of, AIDS. The exhibition was one of the flash points in the culture wars at the time, with the National Endowment for the Arts pulling its funding.
To look at a Nan Goldin photo is to participate in a conspiracy. You get the sense that she observes with a level of depth other people do not and invites viewers to share her gaze, if only for the duration of a slideshow. "I'm careful not to betray people," Goldin tells me. That's one reason set designer and P.A.I.N. member Noemi Bonazzi was drawn to Goldin 38 years ago. They met in the early 1980s, while Bonazzi was working at a gallery; Goldin handed her a flyer and invited her to one of her slideshows presented at a bar. "I just couldn't believe she could be that close to people and people could be so trusting," Bonazzi said. "So that also propelled my friendship. I just thought, Okay, this is a person who can be trusted. Clearly, people feel they can entrust her with their secrets or their most vulnerable moments, and that's how we became friends." Bonazzi and her family were later Goldin's subjects. "You feel that her gaze holds you," Bonazzi said. "She's not going to drop you and hurt you."
Goldin has always been able to capture her subjects in unguarded moments: applying makeup, getting dressed, showering, urinating, having sex. She did this, of course, decades before digital photography and the internet were created, much less social media. She was taking pictures of her friends and lovers at a time when, said her first gallerist, Marvin Heiferman, "people were not responsible for their own representation, like they are now." Yet Goldin allowed her subjects to strike any photos they objected to, and today she has banned visitors' photography in galleries where her slideshows are on display. "There's sensitive stuff in those," she says. And she is exacting in how she constructs their narrative context.
She refuses to collaborate with galleries that tell her which pieces to show or how large to make her prints. In the case of her retrospective, she had originally planned to produce it with London's National Portrait Gallery, which she threatened to boycott in 2019 if it accepted a Sackler donation. A month later, it became the first major art institution to turn down a Sackler grant, but she still didn't end up working with that museum. "I wanted exclusively slideshows. I wanted to be shown as a filmmaker," Goldin says, so she switched to the Moderna Museet because its chief curator, Fredrik Liew, shared her vision. "I care about my books and my slideshows" more than prints, she says. "That's the two mediums that my work belongs in." Which is to say: It belongs in context.
The Ballad of Sexual Dependency, Goldin's nearly 700-slide meditation on levels of autonomy in relationships, is not a fixed set of photographs matched with music but rather a body of work she has continually reordered, added to, and subtracted from. "I love editing," she says. "It's a pleasure." At the beginning, she showed her slides at bars and clubs; many of the people depicted in the photos would be right there dancing and reacting. Goldin made her edits based on their responses. Today, nine museums and foundations own a version of The Ballad, and each copy is different.
Over the years, as Goldin has reedited this work, the slideshow has gotten subtler, darker, more knowing, and is about desire and loss in equal measure, Heiferman told me. "There's no happy endings, right? The show ends in death," he said. The chapters — on topics including couples, feminine power, masculine power, domestic violence, women fighting back, female friendship, sex work, marriage, children, friends, nightlife, "happy" couples, sex, ambivalence, and death — have remained the same since 1987, as has the soundtrack, which features the Velvet Underground, Yoko Ono, and Lou Reed. "The slides relate to the narrative of the lyrics," Goldin says, but they're open to interpretation. "What pulls it all together is her willingness to look at vulnerability — her own and everybody else's — and put it out in the world in a way that other people can look at it too and not be intimidated or embarrassed," says Heiferman.
The Ballad and The Other Side, a slideshow featuring Goldin's transgender friends, are presented in analog with Kodak carousels in "This Will Not End Well," while the other works are digital. All were reedited for this retrospective. Goldin found a place in Germany, the last in the world where you can "re-dupe," or copy, physical slides. "So I'm going to re-dupe everything analog for the last time because they have the last material," she said of the lab at a press conference in October. I ask Goldin whether it's accurate to say the show's cuts of The Ballad and The Other Side will be the definitive ones. "I guess it is accurate," she says, her voice deflating. But she is open to editing them again "in the far future, if anyone else develops the ability to dupe them analog. In Sweden, they're digital dupes, but analog dupes are so much more beautiful."
Goldin has now started a new chapter in her career. Since adolescence, she has wanted to make a film, and there are a few novels she has long wanted to adapt (she wouldn't tell me which ones); the success of the documentary has made her think that now is the time to try to do so. She has another photographic project in the works and is going to reedit Scopophilia, a 2010 piece commissioned by the Louvre, for which she wandered its galleries after hours, photographing art from the collections. "I literally fell in love with several women in the paintings, and I would go back to visit them every week," she says. "Scopophilia is a word Peter Hujar always used, meaning 'the pleasure of looking.' 'The consuming pleasure of looking' is how he and I define it."
I'm used to having full control of my work; that's why the film is strange for me," Goldin says of All the Beauty and the Bloodshed. "Or difficult for me, 'cause I didn't have full control" and she can't go back to reedit it. Poitras did the final cut, though the pair call the project a collaboration.
Goldin granted Poitras several months of audio interviews, during which they came to an agreement that Goldin could redact what she'd said about some of the more sensitive topics. When she previewed a rough cut of it last year, she worked "very intensely" with her assistant, Alex Kwartler, to show her photos "the way they were meant to be used," she says. "And I made sure that I'm speaking my truth and not someone else's version, which was the most important thing to me." She "made a lot of changes" with Kwartler: "Originally, there were voice-overs and all sorts of stuff. I don't think there was an understanding that the slideshows were pieces unto themselves." Poitras "did the right thing," Goldin adds. "She earned my trust. She kept her word." Even so, Goldin avoided watching the final cut until recently and has no plans to see it on HBO Max.
For a year and a half, Goldin and P.A.I.N. had been producing their own documentary about the Sackler protests and working with another director. But after a 2019 meeting to discuss a different activist project, Poitras volunteered to come onboard. "I've always been just really compelled to be able to create historical records in real time," Poitras tells me.
In an initial conversation with the artist, Poitras said she realized that "Witnesses: Against Our Vanishing" would be central to the film because the NEA controversy was a clear example of "the larger historical parallels and government failures" between the AIDS crisis and the overdose crisis. In both instances, Goldin emerged "on the right side of history despite the risks and pushback in the beginning," Poitras said. And once she saw a digital version of Sisters, Saints, and Sibyls, a 2004 slideshow about Goldin's sister, Barbara, she asked if Goldin would be open to including Barbara in All the Beauty and the Bloodshed.
"Had it been just a movie about our work against the Sacklers, I don't think it would have been that interesting," Bonazzi said. But Goldin's life story anchored it in pathos: "The pain that brought her to go out there and shame the Sacklers was on her skin. The message is doubly important and valuable because it's someone who has lost so much to drugs." P.A.I.N. organizer Megan Kapler said she hadn't "ever witnessed someone so willing to put their personal story on the line for a cause."
The film begins and ends at the Metropolitan Museum of Art, where, on March 10, 2018, Goldin and P.A.I.N. tossed orange plastic bottles into the reflecting pool surrounding the Temple of Dendur and staged a die-in to bring attention to the links between the Sackler family's name on the galleries, the source of their fortune, and the opioid crisis. One protester in the film carries a tote bag printed with SILENCE=DEATH, the logo of ACT UP.
According to Daniel Weiss, the Met's president and chief executive, the museum had been quietly deliberating "issues associated with opioids" for several months, and "Nan's activism, without question, helped to raise the visibility of the issue of opioids and the connection of opioids to cultural institutions through the philanthropy of the Sacklers." Because the protest didn't significantly impact either the art or the other visitors, Weiss said, he was "perfectly happy for the museum to be a place where these important issues are being discussed."
P.A.I.N. considers the film its latest activist project. Just as the group has brought its work to cultural institutions and bankruptcy courts, it discussed the effectiveness of overdose-prevention centers with harm-reduction organizations like VOCAL-NY, Housing Works, and OnPoint NYC in the lead-up to the Academy Awards.
Goldin is a rigorous person to talk with. She challenges you relentlessly by insisting on discipline in your language and concepts, and at other times she veers into critique of millennials. ("All this text talk. People can't write end of day or thank you? Everything's abbreviated. And that, to me, is destroying the language.") She believes the world would be different if thinkers like Wojnarowicz were still here. "The kind of cultural reality that's been prescribed would not have gone so far if my people were alive," she says.
She hopes she won't be canceled "because my language is not your language," she says. "I think someone tried to read me on Twitter once as being transphobic. Me. One of the first people to ever show and represent trans people in a beautiful way in the '70s. And somebody just shut them down and said, 'What are you talking about? Nan is the O.G.'"
Goldin believes that P.A.I.N.'s success came from its solidarity and that progressives need to stick together, especially online. "The least political thing you can do is destroy other people because they didn't agree with you," she says, "and it's just cruel." With the film offering P.A.I.N. as a blueprint, she hopes to galvanize other grassroots movements. "I think everyone has to get on the street and find their fight. Everyone." She takes a drag on her cigarette. "It's really dark times," she adds, exhaling.
There's another upside to going mainstream with All the Beauty and the Bloodshed. Even before the HBO Max release, she says, "Kids come to me and tell me — not just kids, adults — that the film really helped them deal with a lot of things: their own histories and the overdose crisis and the Sacklers. I put the work out to destigmatize things" such as drug use and mental illness. "So if it results in that, it's great."
On Oscars Night, with her coiffure flawless, Goldin got dressed up in a red gown and black evening jacket. "It was harkening back to the golden age of Hollywood," she says of the look. Back in the '70s, when she lived with drag queens in Boston, she recalls, "We were buying gowns we could hardly afford at Goodwill, and now people are making gowns for me." This one was by Elena Dawson, "a British designer who's not well enough known," she explains. "I sought her out. There were a lot of designers who came to me, but I sought her out."
Throughout the evening, Hollywood types approached Goldin to thank her for her work. "How many films have we seen that directly or indirectly quote Nan's sense of the look of a person or the mood of a room?" Bonazzi said.
Was Goldin disappointed not to win? "I didn't think I cared about the Oscars, but by the end, as it was coming up, I got excited about it," she admits. Winning the Golden Lion meant more: "I found that very elegant because it's by a jury of intelligent writers and filmmakers and actors. I was really touched by that award and what Julianne Moore said, particularly that it was a unanimous decision as a jury because it touched everyone so deeply. So that was really big for me."
After the announcement, her team decamped to the "black carpet," the indoor-outdoor room where smokers congregate. "That's where we met great people," she says, like the groups behind nominees EO and All That Breathes, along with her awards-circuit pal Paul Mescal, with whom she hopes to collaborate.
But was she relieved? "The relief is that I didn't have to give 1 million more interviews," she says. "If I'd won, I'd have to give a million more. Now it's quieter."