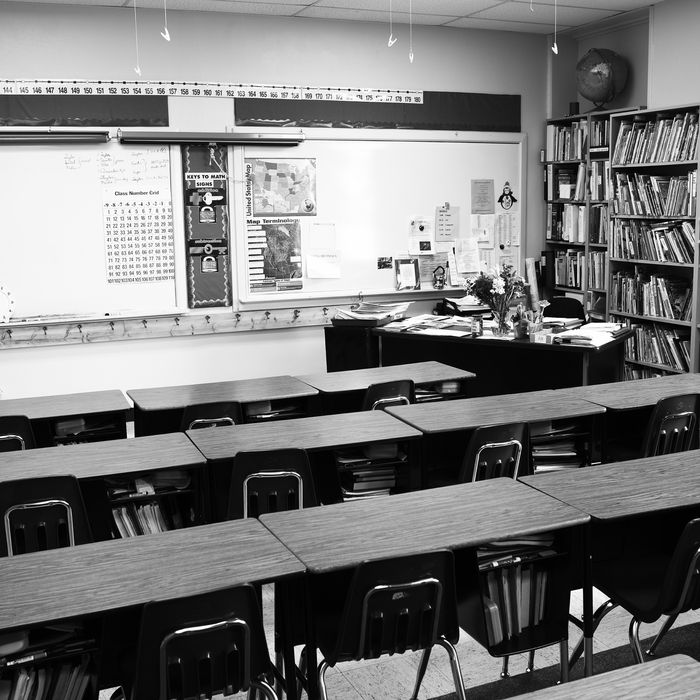 Photo: Yellow Dog Productions/Getty Images
Three children and three adults were killed in a mass shooting at the Covenant School, a private Christian elementary school, in Nashville on Monday, according to The Tennessean.
Nashville police identified the students who were killed as Evelyn Dieckhaus, Hallie Scruggs, and William Kinney. They were all 9 years old. The adult victims were identified as Cynthia Peak, 61, a substitute teacher; Mike Hill, 61, a custodian; and Katherine Koonce, 60, who was the head of school, according to the school website. The Covenant School serves around 200 children from pre-K to sixth grade and is in a building that is also a church.
Authorities identified the shooter as Audrey E. Hale, a 28-year-old who "at one point" attended the school. John Drake, the chief of the Metropolitan Nashville Police Department, said that the shooter entered the school by shooting through a locked side door with two assault rifles and a handgun. The shooter proceeded to the school's second floor and fired at random students before being killed by police, Drake said. According to the Washington Post, Hale's parents thought that Hale owned one gun and had sold it, but police said that Hale legally purchased seven firearms at five local gun stores. Hale, police said, had been receiving treatment for an unspecified "emotional disorder."
Several publications, including The New York Times, The Washington Post and The Tennessean, report that there has been some confusion about Hale's gender. While Chief Drake said that Hale identified as transgender and cited a recent social-media post and a LinkedIn profile in which Hale used masculine pronouns, officials referred to Hale with "she" and "her" pronouns. Drake told NBC News that officials "feel that she identifies as trans, but we're still in the initial investigation into all of that and if it actually played a role into this incident."
Drake told reporters that although Hale clearly targeted the school, no specific individual was targeted and it was too early to discuss a possible motive. Hale's friends have speculated that the recent death of a close friend played a role in the shooter's emotional state leading up to the shooting, according to NBC. Police said that they are looking at what they described as a "manifesto" — writings, detailed maps, and the school's security protocols that Hale appeared to have used leading up to the shooting — to try and understand what motivated Hale to target the school.
"We have a map drawn out of how this was all going to take place," Drake said. "There's right now a theory that we may be able to talk about later but it's not confirmed, so we'll put that out as soon as we can."
Nashville police released body-camera footage from the two officers they say shot and killed the shooter. The footage shows officers rushing through the school, checking classrooms, passing student cubbies and ultimately fatally shooting Hale. The response appears markedly different from the police response during the shooting at Robb Elementary School in Uvalde, Texas, last year, when multiple officers were criticized for not rushing inside the school to confront an active shooter.
Many Republican politicians and conservative pundits have used the shooting as an opportunity to spread misinformation about and fuel hate toward transgender people. Transgender people rarely carry out mass shootings, while cisgender men overwhelmingly do; in fact, transgender people are far more likely to be victims of violence than perpetrators of it.
Bill Campbell, a former headmaster at the school, told NBC News that he believes Hale was a third-grader in 2005 and fourth-grader in 2006, citing his collection of yearbooks. Hale was not in yearbooks for the following years, leading Mr. Campbell to believe that Hale transferred in fourth grade. "I've looked back in my annuals and I do remember her as a former student," Campbell said to NBC News. "She was just one of our young ladies … She was just a typical co-ed. A typical student."
At least 19 shootings have taken place at a school or university so far this year, according to CNN, which is tracking incidents in which at least one person was wounded. The Nashville mass shooting comes just days after a 17-year-old opened fire in a Denver high school and injured two administrators. He was later found dead.
This story has been updated.