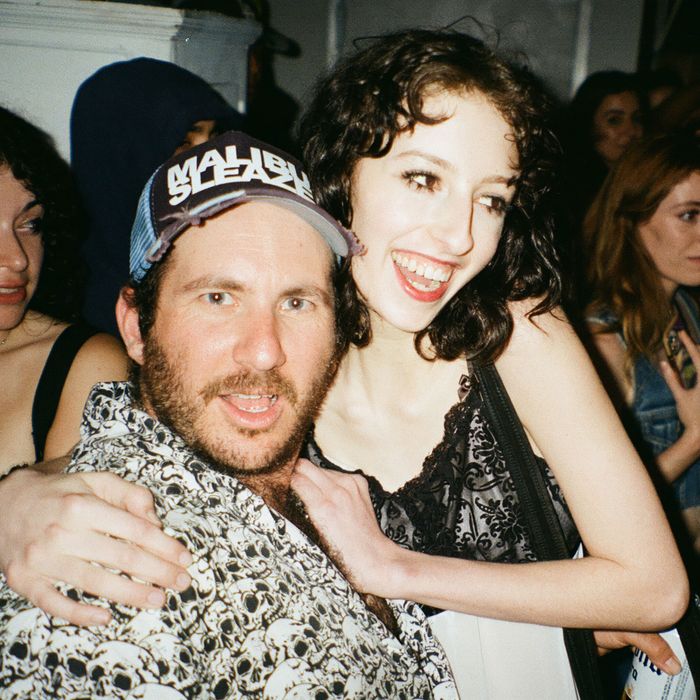 Mark Hunter, a.k.a. the Cobrasnake, at the McKibbin Lofts on June 11.
Photo: Matt Weinberger
When I met him three weekends ago, Mark Hunter, a.k.a. the Cobrasnake, greeted me the way I expect he greets most people: by throwing his camera in my face and taking a blinding flash photo that I was sure, the moment he took it, was not going to be very flattering. In the early aughts, Hunter was niche famous for this, being a kind of hipster-dork Weegee who zipped between New York and Los Angeles on $99 JetBlue flights, snapping quick-strike photos of the famous and almost-famous culture heroes at play and putting them up on his blog. He credits his technique — "Basically just be the paparazzi" — for his unfiltered appeal: "My style is never to ask for consent before I take a photo. It's a bit abrasive. But that's how I get the real photo."
After a decade or so out of the game — now he's 36, lives in L.A., and wears jorts — the Cobrasnake has come slithering back out of after-hours retirement. Earlier this month, he invited me to an underground party he wanted to shoot, something billed as a "virginity party," hosted by a friend group of Gen-Z indie-sleazy femmes fatales for their new party series, "A Sexy Party." Hunter was in the city to plug his new photo book, The Cobrasnake: Y2Ks Archive. It's a scrapbook of that flip-phone era, when he was ubiquitous and knew all the cool girls in all their sweaty, hot-mess glory. Page through the book and there's Chloë Sevigny and Paris Hilton and Hunter's former girlfriend, the model Cory Kennedy. There's Telfar before the bags, Jeffree Star before YouTube, and Ye before he was "blond and gone." There's Opening Ceremony in 2007, Lady Gaga in American Apparel, and Hilary Duff on her 19th birthday. There's Virgil Abloh and Dash Snow. Everywhere, there are Motorola Razrs. "I don't really brag about all the shit I've done. But you look at my book, and you're like, Fuck. Every page is a young celebrity or an 'It' girl or whatever it is," Hunter tells me. He doesn't want his career to become a nostalgia act, though, and says that Meg Superstar Princess is partially to thank for his return to the scene: "She was a portal into the new generation. Because I was out of the loop in a way. I started in '04. I needed somebody like Meg, somebody that was tapped in." Soon he was also in with the gatekeepers of Dimes Square, and the invitations started coming. "It's kind of like a dream. Relevancy is a currency. I already had the most insane career in the 2000s," he says. "To have that sort of happening again, it's like you couldn't ask for more. It's better than money. It's better than anything."
11:05 p.m. | Once again, I am standing near a sidewalk trash heap outside the McKibbin Lofts, where tonight the door is surrounded not by selfie-snapping influencers but cigarette-wielding, vibe-shifting androgynes in platform boots and fishnets and, even though it's supposed to be a sexy virginity party, an awful lot of hoodies and all-black outfits. Inside is a dance floor covered in rose petals, on which the heroin chic are starting to sweat. "I actually am a virgin," a girl in a flowery skirt tells me. Is she looking to lose it tonight? "I don't know … maybe." It's definitely possible: One of the hosts announces drolly over a microphone, "Sex is allowed. So please have sex." Then again, who wants to lose their virginity in front of the Bushwick public?
11:17 p.m. | Before I can find Mark, I meet a very tall ("I'm six-foot-five. I tell people I'm six-foot-two; that makes them feel small") 23-year-old named Matt who tells me he is Mark's protégé ("He's my boyfriend if I had a boyfriend"). They've been together all day photographing Gov Ball. "There's something happening in the city right now, an interdisciplinary mix of people doing things transgressive and anti-woke. I mean, they're lefty people, but …" he begins, looking around the dance floor. In other words, Matt hangs out in Dimes Square a lot and thinks something important is happening for the culture at large there. And working with the Cobrasnake (they met at the downtown party spot Bella Ciao) has its perks: He shows me his many upcoming social and work engagements on his Gcal and swipes through our scene-kid mutuals on Instagram. Though, to be honest, not that long ago, "I didn't really know who Mark was."
11:20 p.m. | Mark is down with the party: "It's not about flashiness and money. An intimate setting like this is great for images because it's going to get hot and sweaty in here, and it's real. There's not as many phones out. It feels like 2007 again." Of course, maybe that's also because the DJ is playing "Fergalicious."
11:40 p.m. | While the party fills out, Mark and I take a work break — well, he takes a work break — on a couch in the hallway. "Everybody wants to invite the photographer. People want us there because it adds a level of excitement; it's documentation that will last forever," he says, stopping every few minutes to cheerily compliment an outfit or point someone in the direction of the party: "What's up guys!? I hope you're having a fun night!" He notes appreciatively of this new generation surrounding us, "It's not everyone looking like a Kardashian … The messy girl is back." Unlike the messy girls here tonight, Mark tells me he is mostly soberish: "People have stories they made up, saying, 'I remember I was on this crazy coke bender with Cobrasnake in New York until six in the morning.' I've never done drugs. For real. My whole life. That's why I've been successful. I didn't lose my mind in all this."
Midnight | It's that time of the year when every party is so hot and humid that a second party inevitably forms in the cooler air outside. There, I meet a gaggle of girls with piercings in places I would never get pierced and who introduce themselves as "Trouble." They just got here from the Brooklyn strip club Pumps, where they were turned away from auditioning as dancers. I ask one of them, a girl wearing snow boots who is adjusting her hair — "Look my track is out! I'm trying to fix my fucking extension right now" — to describe her scene here tonight: "Cunty. Full cunt. Full I don't give a fuck kind of attitude, but also I'm going to do it clean. I'm not going to give a fuck, but if I do it, I'm going to do it perfect. Do you know what I mean? DO YOU KNOW WHAT I MEAN?" I don't, but before I can figure it out, she shows me her friend's crystal ring ("Everyone does their blow and ketamine off of it") and offers me a bottle of poppers ("I HAVE SOME POP. WANT SOME POP? I've got some pop. We love a pop"). All of these teen vampires seem like the kind of kids people are referring to when they talk about the return of indie sleaze, but when I ask them what they're going for, like, aesthetically, one of them responds, "No. There's no answer to that." Snow Boots says, "I feel like I'm only inspired by obscure-ass artists. You wouldn't know them." She's probably right.
12:42 a.m. | "Look at how alternative this is," Mark tells me when I find him again shooting the party on the sidewalk. "Nightlife is such a great place to network, and there's synergy in terms of like-minded people and stuff" (he loves the word synergy). Which leads us to talking about Dirty magazine and what he calls "the party hotline": "Dirty introduced me to Café Forgot. Then I went on Montez Press Radio. Then I met the Drunken Canal." Speaking of Dirty, I ask if he has ever shot more … X-rated content. "I shot for Playboy before. In my really early years, I was shooting sort of BTS on adult films," he begins hesitantly, before promptly turning his attention to a girl looking for a lighter. "What's blue about your cigarette?" It's a menthol, she says. "You're hard-core."
12:50 a.m. | A lispy woman in elaborate eye makeup and a dog collar trips over her six-inch combat boots: "These heels are annoying. But they're my favorite thing in the world." Been there, sister.
12:57 a.m. | Mark introduces me to a 53-year-old artist and former reality-television personality whose name is … Sucklord. He's here tonight with a gum-smacking videographer (in a T-shirt that reads "Save the Twinkie") who tells me he's "scouting" for "sexy shit." Which is to say both of them are currently trying to talk a 27-year-old male model with a very pretty face into shooting a porno. The videographer says NSFW content is "the last punk-rock thing left in digital life," but the model isn't convinced: "In this very moment, I can't commit to acting in a porn film with my face" (also, he prefers older women). Sucklord maintains his horny hopes: "Someone indulged me yesterday. It got all my juices going. Someone let me do what I wanted, finally, after a very long time. It got me into a heightened state. And now I'm thinking, Who else?" Not me.
1:10 a.m. | The male model has turned his attention to a willowy girl using the rearview mirror of a car to reapply her lipstick. Unprompted, she tells us all of the people she tends to remind other people of: "Shelley Duvall, Rose McGowan, Shalom Harlow when I have curly hair. Parker Posey. If there's ever a Party Girl remake, I have to be in it." The model says she looks more like "the muse of an Austrian painter." They collectively decide that I look like Natalie Portman (they mean Nicole Kidman) in the beginning of The Stepford Wives (not wrong). The model, possibly very stoned, shares with me his present thesis on relationships: "l'll only find love when I accept that I'm truly alone. Love is just an intense beat sensation, but sustained. I feel that. I feel it rising. The serpent is rising inside me." Sucklord interrupts: "Yeah, I feel that serpent too."
1:11 a.m. | Rather than going back inside, Sucklord decides to wait by the door and "catch the dregs as they come streaming out." He thought tonight would be a more explicitly sexy party, and he blames the fact that it's not on all of the young people. In fact, he has a lot to say about Gen Z and sex: "My experience is this is a highly sexualized generation, but they're not actually having sex. They're projecting a very sexual atmosphere, but in practice, they're very innocent." I'm not sure I want to know more about this "experience."
1:23 a.m. | Mark seems sweaty and tired, but he tells me his evening is far from over. He needs to be at a photo shoot at 8:30 a.m. with Kelly Cutrone — she's an old friend; he says she used to instruct New York publicists and party planners, "Only Getty and Cobrasnake" — but before then, he'll need to edit and upload all of the photos from this party to his website tonight. Needless to say: "I don't sleep that well."
1:32 a.m. | Back inside, I meet a lanky comedian who tells me he has been coming to McKibbin since the early 2000s, back when it was a hub for punk-rock music: "I'll tell you this: There was definitely not as many girls back then. Now this feels a lot more female centric. The guys are only here because the girls are here." We're interrupted by a boy named Blaze who just got a tattoo in the apartment kitchen — several people are getting ones that say sex with a strike-through — and is wearing a massive lock around his neck: "I'm doing great man. I just had three people grind on me, and I made out with all three of them. In the last 20 minutes. Go crazy because the dance floor is getting less lit by the minute."
2 a.m. | Not everyone is in their 20s, though why someone much older would be here doesn't make much sense to me. On the dance floor, I talk with a 30-something nerdy filmmaker who is here looking for inspiration: "There's this real sense of apocalyptic hedonism that I find to be very fascinating. It feels like, Ehhh, things are not getting better, so people are just going to try to have fun. It's post-plague New York." Then a Russian redhead who kind of reminds me of a naughty Mrs. Maisel tells me "I look like I eat virgins for breakfast" and brags about how she can make someone come in about 40 seconds. Apparently she's a partner in the Brooklyn Burner club Eris and is here to convince the hosts to bring the party there. She's also horny. "Everyone here is really, really hot," she says before kind of propositioning me. When I tell her I'm not interested, she and her boyfriend leave the party: "You just broke my heart, baby."
2:24 a.m. | Mark keeps at it, throwing his camera in the faces of as many people as possible at the party. Then he hands out pink business cards that read YOU'RE A STAR ON THECOBRASNAKE.COM. "I feel like I'm at Disneyland. You get your souvenir photo," he says, giggling.
2:30 a.m. | "Do you see the sweat on the walls?" Mark asks me. The walls are in fact dripping with condensation, so we head back outside for a breather, and he tells me about hanging out with Julia Fox back in the day: "I remember she had this truck, and she was driving all of us around all the time. And we ended up after a hot, sweaty Misshapes show going to a 7-Eleven and stealing Slurpees and taking photos. It was, like, so cute" (he loves saying so cute). Finally Mark takes one last lap around the party. By now, his shirt is buttoned way, way down. On his way out, we run back into his Mini-Me, who is proud to say people have been mistaking him for the Cobrasnake all night long. Now he's got a girl and is heading to the dance floor. Job perks!
2:53 a.m. | The party doesn't last much longer because the cops show up and start kicking everyone out. Out on the street, the partygoers search for something to do next: "Do you have any moves?" "After-party at my house!" "Go left. That's where the hot people are going. Wait, you're hot — where are you going?" "We're gonna restart this party, right?"
4:44 a.m. | Mark must still be awake because I notice that tonight's photos are already on his website. As I head to bed, I think back to a long monologue Sucklord entertained me with earlier in the night: "New York City is fucking lit right now. It's live. I love that there's this sort of break from the past. The city has no reverence for its history at all. It'll just cannibalize itself over and over again without any mercy. Some institution, some restaurant, some store, some scene is always beloved and important to the culture! Then the building gets knocked down, everybody dies, and the city moves on. And hopefully there was some photographer and lore master that captured it so they could make a book out of it, make a movie, or a documentarian and keep it in the conversation."