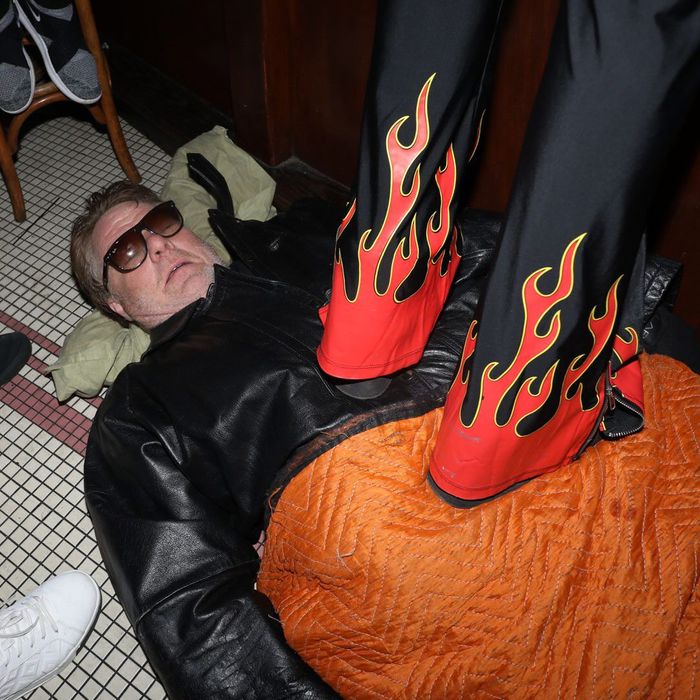 Meet Kevin Carpet, the Carpet Guy.
Photo: Cobrasnake
Unbeknownst to me, I first encountered Kevin Carpet at Basement, an anything-goes Berghain-ish club in Maspeth, Queens. There was a dusty old carpet placed directly in front of the bar, which it turned out was his cocoon for the evening. When I realized I'd stepped on a person, not an obstacle, I didn't quite know how to feel about it, but thinking about it definitely killed my high. I'll admit — even sometimes in public — to a number of personal perversions, and I'm not one to yuck people's yums, but … did I really want to step on a middle-aged gentleman wrapped in a rug? I certainly hadn't asked to.
I later discovered that, when uncarpeted and standing upright, Kevin is a gregarious man, often in a leather jacket and a fedora. Several times a week now since the 1980s, he lies down on the sticky floors of New York clubs and positions himself so that people can stand on him. Or can't avoid doing so. Eventually, he took to wrapping himself Cleopatra style into carpets, which is why he's known as Kevin Carpet. It's not not a risky pastime, and Kevin sensibly prefers steppers to wear something rubber soled, ideally Docs, Keds, or Vans. Unsurprisingly, he despises high heels. That's how he got 14 stitches on his forehead not that long ago: an encounter with a stiletto.
The first thing Kevin Carpet wants me to know about him when we meet up for a drink — well, I order a glass of wine; Kevin doesn't drink (not even water) so he won't pee in the rug — before going out "carpeting" on a recent Thursday night, is that it's definitely, despite all evidence to the contrary, not some kink. "This is not a fetish for me. I don't get off on it," he insists. To put it bluntly: "I don't do it to jerk off. A couple of times, these girls have said, 'Do you get off?' I said, 'No.' They said, 'Let's see.' So they stood on my … area. And they were rubbing it back and forth. Nothing." It's not a foot thing either. Kevin says he hates feet. "That's why I could never move to Florida. They wear sandals all the time." In fact, he tells me that he hasn't had sex in roughly 30 years and doesn't really care to, quoting Woody Allen from Annie Hall: "Don't knock masturbation. It's sex with someone you love." I don't dare ask what it is that he thinks about while self-pleasuring. I do take note that he interrupts me constantly — "Let me show you some more of these because they're, like, so adorable" — to show me pictures on his phone of model-quality young women and genderqueer clubland hooligans kissing, smoking, and go-go dancing on him.
Kevin considers his pastime a sort of long-durational performance art not unlike that high priestess of the stare-down, Marina Abramovic. "After the second hour, I start zoning out. It's a Zen-type state. I'm feeling the people, hearing what they're talking about," he tells me. "I'm looking down at everyone hanging out, and I just phase out of being a person."
According to Kevin, he's a trust-fund baby who spent his childhood between California and New York. (He declined to share his age or last name publicly). He was also a child model, and to prove it, he shows me old magazine advertisements featuring a freckled, redheaded boy straight out of a Norman Rockwell painting. Based on the gentle eyes, I believe it's him. He says the residuals from his modeling gigs plus his father's salary as an exec at Universal Pictures have allowed him to forgo a full-time job for life. (He lives in Bayside in a home he inherited.) Carpeting is not usually a paying gig, it seems.
Like other undirected children of prosperous parents, Kevin says he attended Tisch, where an improv teacher instructed his class to pantomime an inanimate object — say, a chair or a lamp. Kevin chose the floor. "What I loved is being a third wall. I was lying there, and people were stepping on me, ignoring me, using me as a carpet, walking on and off and not even acknowledging that I was there." Back then (this was in the 1980s), he was living on St. Marks, working the door at Peppermint Lounge, and really into punk rock. That scene, with its grubby counterculturalism, welcomed him. Trash and Vaudeville, the store that clothed Debbie Harry and the Ramones, "let me lie behind the counter, and the people would be stepping on me and checking bags and doing the register. I said to myself, You know, this is pretty cool."
With that, Kevin couldn't get enough. He talks about carpeting at Paradise Garage, Mudd Club, Area, and Continental and meeting Larry Levan, Michael Alig, Stephen Saban, and Ian Schrager (or at least their feet). At Limelight, he "met" Joan Jett: "She had red Pro-Keds and two other people with her. I didn't move." He says Madonna gave him the boot at Danceteria, and later there were shared moments with Avril Lavigne and Lady Gaga. (In a 2008 interview on YouTube, Gaga raves about a "sex party" in Hell's Kitchen where "there's a lot of people hanging out, getting drunk, having a good time," and "a guy wrapped in a carpet underneath the bar"; a representative for Jett and Lavigne declined to comment.)
About the carpets: He used to get stepped on without their layer of protection. The idea came about in the early aughts, when he decided to wrap a floor mat around his legs at the Delancey Lounge. The carpet, he says, is for our comfort, not his; as a bonus, those who are comfortable stand on him for longer. He bought his latest batch, which he lugs around in a silver SUV, at one of those big-box carpet stores for $50 each. It's critical they're cut into the right size for his stocky frame: roughly six by 12 feet. Through "trial and error," he's discovered everything works best if he uses two carpets, one thick and one thin, plus some slabs of cardboard and a moving blanket. Then he's sturdy enough to stand on. He lies face up because "I can get out easily if I'm being squashed." When he leaves the club, often in the wee hours of the morning, he refuels with a bacon, egg, and cheese and a Snapple.
"I always liked oddball nightlife characters like him because they turned the clubs into a sort of three-ring circus of wacky fun that you could never find in mainstream entertainment," Michael Musto, the Village Voice's longtime nightlife columnist, who interviewed Kevin in 2012, told me. He also noted that "Kenny" wasn't the first weirdo club character of his kind. Musto recalls Danny the Wonder Pony, who let the inebriated ride him like a horse, and Lady Hennessey Brown, who squirted partygoers from her ever-lactating boobs ("I always joked that I would hold out a cup of Kahlúa and end up with a White Russian," said Musto).
Other members of Kevin's nightlife generation whom he name-dropped couldn't remember him but similarly lamented that he represents a lost art of sorts. Over the phone, Lady Bunny told me, "Cameras killed nightlife; that's all there is to it. I remember when Drew Barrymore would shake her tits at SqueezeBox! The cameras turned a world that was permissive and kinky into a world where well-scrubbed and boring people are ready to pose for a paparazzi pic." When I messaged James St. James, the real-life Club Kid from Party Monster who wrote Disco Bloodbath, he couldn't remember Kevin but texted his friend Ernie Glam, who responded, "I recently had a chat with him at Basement … The funny thing is that he asked if I remembered him from the Limelight. I responded, 'How could I remember you when you were always wrapped up in carpet?'"
To be clear, there are plenty of people who do remember Kevin (maybe because they've partied a little less over the years). When I asked my friends on Instagram, one said, "I remember seeing him at a bar my first year in New York (2011) and feeling like I had made it." And another: "I sometimes really hate men and being able to step on a man would release so much anger for me. I know a girl who stepped on him and she said it felt magical." Mark Hunter, a.k.a the Cobrasnake, said he first met Kevin at Happy Endings back in the early aughts. (Just to be clear, Kevin is not to be confused with Georgio the Human Carpet from Malta. Georgio admits his carpeting is a fetish, and a 2009 profile of him in the New York Times said, "Georgio knows of only one other person in New York doing a similar thing, a guy who calls himself Kevin Carpet.")
Sure, others told me they've stepped on Kevin and found it "creepy" or "weird" or various other unflattering descriptors, but as Kevin says, "If you're popular, you're going to have haters. I think personally the only person that never had haters is Mr. Rogers." Kevin knows he's a New York icon, and lately, perhaps because of a shared taste in techno or a similar complicated and often contradictory relationship to sex, he's experiencing a newfound popularity with the indie-sleaze kids coming up downtown. As one person in that scene told me about seeing him all over the parties on her Instagram this summer, "I don't want to have FOMO every morning because of Kevin Carpet."
On our night out together, Kevin and I started at Singers, a newish queer bar in Bed-Stuy run by a group of especially beautiful people who'd featured Kevin as an attraction at their opening party earlier this year. They'd met him near Union Square, while he was "street carpeting" near a construction site (that's how he got his fix during the pandemic), and extended an invitation by stuffing a note written on a paper plate from Joe's Pizza into his carpet. "They're like family here. I love them here," Kevin told me when we arrived in the bar's backyard, filled with sparkly gays — and one city councilmember — on dates. He'd just gotten a fresh haircut and a brand-new yellow button-up, thus ready for the camera. (As one person put it aptly, "The whole outfit is giving Walter White.") The staff quickly gathered around to enjoy his origin story, not for the first time. "Never bother women because they have enough troubles with guys out there," he told us between showing off more pictures and another movie impression, this time of Marlon Brando in The Godfather (which required stuffing his mouth with napkins). "I accept everyone, and I don't make it creepy." Everyone at Singers seemed to agree.
Afterward, we headed to an event at the DIY club Trans-Pecos in Ridgewood, where Kevin was welcomed just as enthusiastically by the raving models recently back from Europe. "So many beautiful people in their outfits are stepping on this man who is so nice; it's like the most interesting thing, you know?" observed one college student hoping to make a documentary about him, as Kevin lay on the ground outside — the managers wouldn't let him take out his carpet because it would be a fire hazard — and let someone pound him in their Balenciaga Crocs. "I think he just figured out this is how you make friends. This is how he gets into a scene," said one maybe less generous onlooker. A towering male model, who'd invited Kevin to the party, told me Kevin's always offering to buy his drinks or give him a ride home. He usually declines. "I don't want Kevin to feel like he has to buy my friendship. I like the guy for who he is."
All night, Kevin kept telling me, "You should really take a picture on the carpet" — always referring to "the carpet" as if it were something separate from himself. I was hesitant, but Kevin had been nothing but friendly and often funny, constantly telling people, "You're so fabulous," or complimenting their "good attitude" or their clothes or, especially, their shoes. The last thing I wanted to do was disappoint him, so, just after 2 a.m., I climbed aboard and smoked a cigarette. "That was excellent. You outdid yourself," he told me when I jumped off.
Last year, after that stiletto mishap at a party hosted by Dirty magazine, Kevin considered retiring. He doesn't have the easiest time getting off the ground anymore, and there's only so much relief warm baths or the hot tub at LA Fitness can provide. Still, he's not ready to quit yet. He dreams of being a human runway speed bump during New York Fashion Week. Not everyone he encounters appreciates what he does, but it's how he makes friends. His parents are dead ("I'm happy they passed not knowing I was a carpet. What would they think? Are you kidding, rich Jewish parents?"), and it's the life he's chosen. "I do it for fun, to be involved in fun parties, just to be a plaything people can have fun on!"