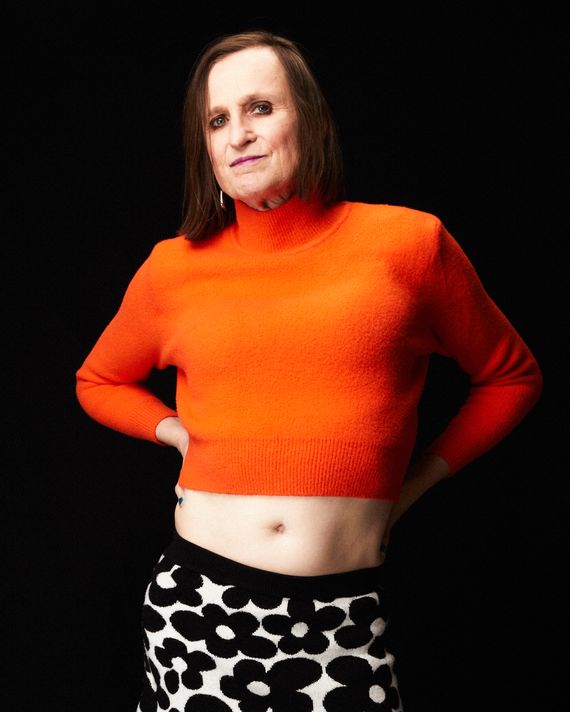 Consummate rave mom and New School professor McKenzie Wark.
Photo: Marcus McDonald
It's 10 p.m. and McKenzie Wark, dressed in a short white skirt dotted with black flowers, opaque black tights, a red beret, and knee-high Stuart Weitzman suede boots, is on her way to her second rave of the day. "I got up at five o'clock this morning to be at a party by six. But I didn't stay for long. I'm 61," she says. "I don't have, like, 12 hours of dancing in me." Not to mention "I can't hear a damn thing anymore," and all that dance-floor fog can be hazardous: "I just don't want to break a hip!"
Wark has been clubbing since before most of the people we will see tonight at Nowadays — "Nowies," she calls it — in Ridgewood were born. She had taken some time off from going out late (or early) to raise her children and got back into it seriously only a few years ago, coinciding more or less with her coming out as trans. But her mom instincts remain strong: She will always remind you to hydrate. And she comes prepared. To know that, all you have to do is take a look inside her "rave bag," the metallic-silver cross-body purse she brought with her that contains anything you might need to dance your face off for hours and hours: lipstick, chewing gum, a weed vape, more weed to refill the vape, and — her pro tip — a white garbage bag for stashing her winter coat safely behind a speaker. "You've seen what the floor is like in these places. It's just, Ugh," she says. "This is my one innovation."
A few years back, Wark wrote a book that the queer-theory nerds I know couldn't stop talking about: Reverse Cowgirl (at one point in it, she instructs the reader to roll the paperback up and fuck it). It recounts her sexual-coming-of-age journey from being a clubfooted fey boy in an industrial town in Australia. She's had an adventuresome life: If you want to read about her "brief fling" with the writer Kathy Acker in the 1990s, she published two books about her, including I'm Very Into You, a compilation of their email correspondence. These days, she's a professor at the New School, where she teaches classes such as Race, Gender, and Nightlife and Black Techno/Queer Rave (the syllabus includes a playlist she curated herself), and this month she's publishing a new book, Raving. "I ask my students where they go so I don't go there," she says. "I tell them if they see me, they can say 'hello' or not. It's okay either way. But if they're in trouble, I'm there."
Raving melds autofiction — "Fictions dancing around the facts," as she puts it—and autotheory, which is to say she is an academic who processes her experiences into concepts. "It's not always easy, being a middle-aged, clockable transsexual raver," she writes in the first chapter, "Rave As Practice."
The book contains a glossary of terms: Coworkers are people for whom "a rave is a leisure activity outside of work time" and who are "likely to be overly enthusiastic." (She does admit that she herself could be considered one.) Punishers are another kind of dance-floor menace: "often, but not always, straight, white, cis men" who "get in the way." Femmunism is "a collective state … from which masculinity that expresses itself as domination is subtracted as technically obsolete." K-time, if you have ever used the dissociative drug ketamine, needs no explanation.
The party we're attending is called Dweller, part of an annual event that bills itself as "a festival celebrating Black electronic artists." Wark is careful to acknowledge her — and our — whiteness in this cultural context. "Techno is Black music," she says. "And I'm like an uninvited guest in it, so I try to make the best of that."
Nowadays, and other legit clubs like it, are "an important part of the infrastructure of techno as a music and dancing as a cultural practice," she lectures, but it's clear that she'd prefer to go somewhere more underground tonight. "All I want is for just a little corner of nightlife to stay kind of queer and dancing focused," she says. "I like illegal raves because they're illegal." She's looking for an outlaw experience. As she writes in Raving, "Never let your party be found by journalists who will sell you out for a byline." The footnote at the end of that sentence leads to a citation of a story I wrote in 2020 about underground parties during the pandemic. "It's said with love, you know," Wark reassures me.
Raving is also a sort of manifesto about techno — music "made for aliens … a sound in which no human body is more welcome than any other" — as a distinct practice for trans people, a resource for unwinding the apocalyptic feelings emanating from the world and sometimes from within one's own body. "Coming out solved a lot of things for me, and there's some low-level dysphoria that just never goes away. But when I'm dancing, it seems to work," she says. "A few years ago, my trans mom was like, 'Oh, you gotta come to Unter'" — a popular underground queer rave in the city — and "that was the end of me. I've been doing it ever since." She even threw her 60th birthday party at Bossa Nova Civic Club, Bushwick's "Techno Cheers."
"My feeling when I first get on the dance floor is I hate everybody. And it takes a good half-hour to work through that," Wark tells me when we get into the club, which is so far rather empty. We're joined by her lover, a slightly younger woman with a haircut that's not dissimilar to Wark's, who tells me she's a bookseller from Long Island new to the rave scene.
First, we spend a few minutes hydrating. Wark doesn't consume much alcohol when she's out — her real rave friends, she says, stick to drugs — and tells me this is one piece of advice she gives to amateurs: "It's better not to get hammered; it's not a thing you can do for very long. There's other experiences you can have." Her other big piece of advice? "Let the music fuck you."
Then we take to the dance floor, and Wark pops in her earplugs. She and her girlfriend get into it immediately, passing a weed pen back and forth, and Wark stomps her feet to the beat and waves one hand in the air. She tells me that, because of what she always refers to as her "crip feet," she's not much of a dancer — "She's got the moves; I have the enthusiasm," she says, pointing to her lover — but in the moment she looks like a natural. Maybe she's entering ravespace, defined in the book as "dissociation into existing within and without the body simultaneously, free of selfhood." Then she fetches us another water.
Nearby, a wide-shouldered bro is talking loudly to his friends — a mix of punishers and coworkers who also appear to be cishets (cisgender heterosexuals) — all of whom are moshing against one another. That kind of behavior is frowned upon at serious dance-music clubs like Nowies (a sign at the entrance reads, "Please remember the dance floor is for dancing."). The problem with straight cis guys, Wark says, is they don't let the music fuck them.
"You have to let the music fuck you," she tells me again when we take another water break from the dance floor. In submitting to it — Reverse Cowgirl is, among other things, a book about bottoming — Wark believes, you can leave the world, "history gone bad," behind. In some real sense, then, the DJ saves her life. Back on the dance floor, a friend I run into seems to get it. "This set is fucking me. It's sexual. I'm sorry!" she yells before taking a sniff of her poppers and closing her eyes.
Shortly before 1 a.m., I lose Wark and her girlfriend in the crowd, and though I spend a couple of hours looking for them and send a text, I never find them. I chalk it up to K-time. A few days later, Wark responds to my text: "Not sure when we bounced … Cishets can be annoying at the parties run for ppl like me so I don't want to be That Bitch at someone else's space."
This article originally appeared in are u coming?, a newsletter about New York nightlife. Sign up here.