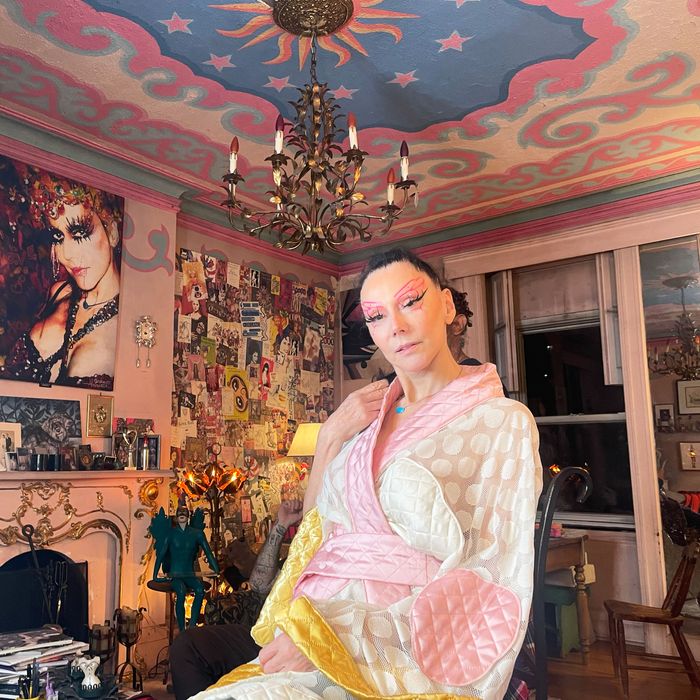 Susanne Bartsch getting ready at home in the Chelsea Hotel.
Photo: Brock Colyar
"Do you feel like the city is … alive again?" my Uber driver asked me hesitantly as we pulled up to a blocky building beside the West Side Highway which is home to the new megaclub Musica that you can't miss because it's painted with massive white letters that spell out "MUSICA." It advertises itself as the most mega of several new megaclubs — this one was opened by Cipriani — that have popped up in the past year or so as the city has emerged out of lockdown ready to party. In some ways, it's a return to form for a kind of big-box flashy nightlife that the Bloomberg era drove out of Manhattan or into the underground. In other ways, it's something entirely of this decadent moment we're in, or just leaving.
And you know who was ready for this resurgence? Susanne Bartsch, the storied Swiss nightlife doyenne who's been throwing Technicolored parties here in New York and internationally for the past 36 years. These days, Bartsch's evening hours are booked. In addition to her weekly Tuesday night party at Le Bain and her monthly party at the House of X, Bartsch has taken on some creative direction on Thursday and Saturday nights at Musica, where she intends to give people "a visual feast" — "basically fashion meets opera meets vaudeville meets burlesque meets show business, you know?" As one of her groupies told me a few days before, when I joined them for the opening celebration Saturday night, "She can feel people's energy and turn the room to make it great."
Another night, I met up with Bartsch at her (also legendary) apartment in the Chelsea Hotel, where, while sitting in her makeup chair in front of her at-home makeup artist, she told me the secret to her long reign: "I love flirting. Flirting is like one of the best medicines in the world. And I think that's partially why I like my business. People flirt." She was in a quilted robe and jeans, by the way, not yet one of her space-vixen getups. "This is like my art. Dressing up, doing looks. I don't sing, I don't dance, I'm not an actress. I enjoy doing looks. But then when I go and see the energy of the people," she says, "it's a high. I'm addicted to that high. I guess that's my drug."
All night at Musica, I watched Bartsch hold court in the club's the Box–esque cabaret-ish downstairs lounge with a bar and a stage called the Whisper Room, where she gathered her club-kid posse: designers and dancers and other bohemian hangers-on and Amanda Lepore. But what I found at Musica was not necessarily what I'd associate with the Bartsch brand, which the New York Times once described as "the equivalent of a couture label" in party throwing. Instead, it felt like yet another hub for woo girls, muscle bros, and rich, Burner-y technoheads who value a certain carnival-y queer-adjacent aesthetic, something very millennial but definitely not the millennial aesthetic, in their nightlife. Bartsch, the consummate professional, just sees it as good business. "The audience I love to be around has already seen and knows what I do," she told me while attempting to order a bottle of Champagne on Drizly and monitoring the application of her hot-pink eyebrows. "I get a lot of straights, too, in my events. But they're always more … um … adventurous straights. There's different straights. There's also different gays, as you know. I think it's fun, and I'm happy to have a new audience to do this with."
10:15 p.m. | Susanne has yet to arrive, so I bypass the Whisper Room and head upstairs to check out the larger dance floor for the plebes, where the DJ is already playing techno and the strobe lights are flashing cotton-candy blues and pinks. Neither dance floor, on this first 90-degree night, seems to be air-conditioned. Time for a drink.
10:36 p.m. | "Tonight, it's mostly trans girls, old men, and young models! Like Studio 54!" observes a tatted Italian babe I approach at the bar after hearing her order "anything with an ice cube." She tells me she's an HIV researcher and this is her second night in a row at Musica. She says it's sexier than her usual spots, like the much-talked-about private club Zero Bond, which she considers overrated and decorated like "a hotel lobby." At Musica, there are fake vines and roses on the ceiling, which is also kind of hotel lobby. "Last night, there were 100,000 naked men here, and my boyfriend was the only straight one," she says, giggling. I make a note to come back again on naked-men night.
10:45 p.m. | The researcher introduces me to her hunky fashion-photographer husband. Something about the way they're purring at me makes me wonder if they're swingers, and by "swingers," I don't mean the chesty women swinging from the ceiling above the dance floor. Susanne's not here yet, so I let them take me to the VIP bottle-serviced lounge behind the DJ, where I meet the Viking-like owner of Gospël, a well-gate-kept club for bottle-service Burners in Soho. He tells me their clientele isn't dissimilar: "Burners, artists, influencers, and revolutionary spirits." I'm not sure what's so revolutionary about this room with so many bald guys in black T-shirts and their accompanying ladies, mostly of the basic, boobalicious, or European variety.
11:13 p.m. | The House of Bartsch marches in, and I meet them backstage downstairs, where Susanne, in three-inch eyelashes and a silver chandelier-shaped dress, is zipping around the room like a little pixie putting finishing touches on various nudish, glitter-and-latex-covered performers. "This crotch is way too big. But it'll look fine in the dark," she says to one. To another: "Look at those titties!" And then: "Corsets and drama, corsets and drama …" One member of the tribe, in a headpiece larger than his actual head, tells me he lived with Susanne in the Chelsea Hotel for part of the pandemic. What was that like? "Like Mercury always in retrograde." Across the room, I hear Susanne coo, "Get prepared for pussy!"
11:30 p.m. | A bucket of Champagne arrives, but Susanne moans, "This is not the Veuve. You know I get a migraine if I drink something else." I ask another assistant, who has neon-blue hair and a neon-blue beard, how he feels about coming uptown tonight. "It's really incredible, honestly, to be so inclusive in a heteronormative space," he says. "That's my whole M.O. with Susanne. We infect spaces with queer culture!" Which doesn't quite explain the culture outside. A woman in a shellacked Cleopatra-like wig is less effusive. "I feel completely neutral about it. It's a gig."
11:46 p.m. | "Oh, Mandy, let me get you a chair," says Susanne, when Amanda Lepore slowly struts into the room with a chipper twink in tow ready to fetch her a shot of tequila. "Amanda and I are lovers. Club lovers. We only see each other at the club. She's a New York institution — like the Statue of Liberty," Susanne tells me before getting back to work and giving Amanda some instructions for her performance later tonight: "Do the thing you always do. Go out and unzip your dress." A job that might be even better than mine …
12:25 a.m. | The Whisper Room continues to fill with twinky club kids, 30-something women, and even older men, all of whom are entirely excitedly onboard with Susanne's curation of curiosities. Don't get me wrong: The half-naked woman crawling inside a human-size balloon is certainly entertaining in a House of Yes–y way, but I can't figure out exactly why this crowd loves the semi-seedy PG-13 shtick so much. I seek out an explanation. The wife of one of the performers tells me, "Every time you're with them, it's a moment because it's a legendary expression. It's very push the envelope but make it glam." But surely everyone here could afford something naughtier.
12:33 a.m. | There's a couple near the stage who've been screaming and gyrating harder than anyone else tonight. I tell them I'd like to have a little bit of whatever they're having … but the woman, an artist in a white prom dress, tells me, "I've never taken drugs in my whole fucking life. I like craziness! I'm very lucky I don't need to take drugs to be crazy. I was born crazy." Then, for some reason, she asks me to feel her stomach, and her friend, who looks just like Seth Meyers, gets on his knees to kiss her crotch. "We are having fun all the time! I want the extreme!" she screams.
12:50 a.m. | A blonde with a blowout introduces herself as the former publicist for this Hell's Kitchen venue back when it was a different club called Space Ibiza and then another one called FREQ. She was here the night "A$AP Rocky started smoking joints on the dance floor" and when Kelly Cutrone threw what she remembers as the worst party she's ever been to. Like so many others tonight, she tells me she's out seeking "an actual experience" — something more than just dancing and drinking, though she doesn't elaborate on what that "experience" might be. Whatever it is, she's not finding it here. "It feels like we're at a midtown club," she tells me. Is that a good or bad thing, I ask? She repeats herself: "It feels like we're at a midtown club." Which I can tell is a ding on it, but nobody around us seems to have a problem with that. There's different straights and also different gays, after all.
1:00 a.m. | Susanne continues to run the show from backstage, and I decide to head to the dance floor upstairs, which is now filled with what must be well over a thousand people untsing to music so loud I can feel my clothes vibrating. I begin to answer a text message, but a bald guy whose arms are bursting out of his sleeves slaps my phone away. "Yo! Just have a good time, bro."
1:05 a.m. | I spot three women snapping a selfie and figure that's a sign they're having a good time, but when I talk to them, that doesn't seem to be the case. "Look at this shit crowd. If you see a guy with a trucker hat next to you, you never want to come back," says the loudest friend, pointing at a guy with a Guns N' Roses hat. "Why are there so many guys wearing caps in here? What the fuck? Like, I wore the best I could possibly wear tonight. And you bring that stuff in here? What the fuck?" I quietly doubt to myself that what she's wearing is "the best" she could possibly wear tonight. What vibe is she looking for instead? "St. Tropez. Or St. Barts! I'm sorry. I'm very international."
1:35 a.m. | In the smoking area outside, I chat with a spray-tanned 36-year-old in Chanel earrings. "They need to get more face control," she moans, pointing to the crowd waiting in line. I'm not sure what she means. She huffs. "Face control. Stylish people. People in sneakers should be in Bushwick at the House of Yes. That's where they belong. This is Manhattan. Wear heels." Then she moans again in exasperation and orders a cab back to her nearby apartment. She could've walked but, you know, those heels.
2:06 a.m. | Downstairs, I find Amanda readying for her 45 seconds of fame onstage by dancing alone like one of those windup ballerina toy boxes. I ask if it ever gets old. "What else are you going to do?" she responds. The club kid with the hat complains about the partygoers: "The crowd up there has money, you can tell, but they are boring as fuck. It's like when there's a gun on stage in a Chekhov play and it's not used." What does Amanda think? "It's very different," she responds politely.
2:18 a.m. | As instructed, Amanda hops onstage and unties her dress. Susanne, pausing for maybe the first time tonight, snaps photos from the audience like a proud mother. Everyone else loses their mind while nightlife's Lady Liberty sparkles.
2:25 a.m. | Amanda and Susanne decide to take a lap upstairs to see the bigger dance floor for themselves, but after about 120 seconds basking in all of its smelly, straight glory, they quickly hop back in the elevator. I notice a mural that reads "There are no accidents in the universe."
3:04 a.m. | Susanne and most of her crew head home for the night, and while the Whisper Room slowly empties out, the dance floor upstairs keeps going. I run into a downtown club owner who texted me earlier tonight, "I hear Musica is Burning Man Brooklyn Mirage in Manhattan." The rumors are true. Now that he's here, he compares the night to Tina Brown's Talk magazine launch party on Liberty Island back in 1999, which media pundits like to say was the decadent last stand for print media. "This is the death of crypto," he says. "But there has to be somewhere to go live your bright-lights, big-city aspirations."
3:14 a.m. | I interrupt a couple making out upstairs to ask how their night's going (obviously pretty well). The man tells me, "She's smart. And a good girl." Ick. Are they going home together? "I don't know. I don't read the future. I just know what's happening now."
3:45 a.m. | I spend a few more minutes sweating profusely on the dance floor, still struggling to understand what everyone's high on. They continue to throw the same words at me: "Ibiza," "techno," "Burning Man," "the Box," "Brooklyn Mirage," "Mykonos," "Where's the air-conditioning?" When a fleet of men with mops arrives to start cleaning the floors, I decide to head home. Waiting on a car, I consult one last partygoer: a sexy British DJ with a nice scruff of chest hair. "I guess this is what people want?" he mumbles morosely while lighting a cigarette. "All fake boobs and Rolexes. They don't have brains. You can pretend you're having fun here. As opposed to going to a real club with a real girl with normal tits. Honestly, like if you're trying to actually have fun and dance, this is not the place." On the other hand, he was there till 4 a.m.