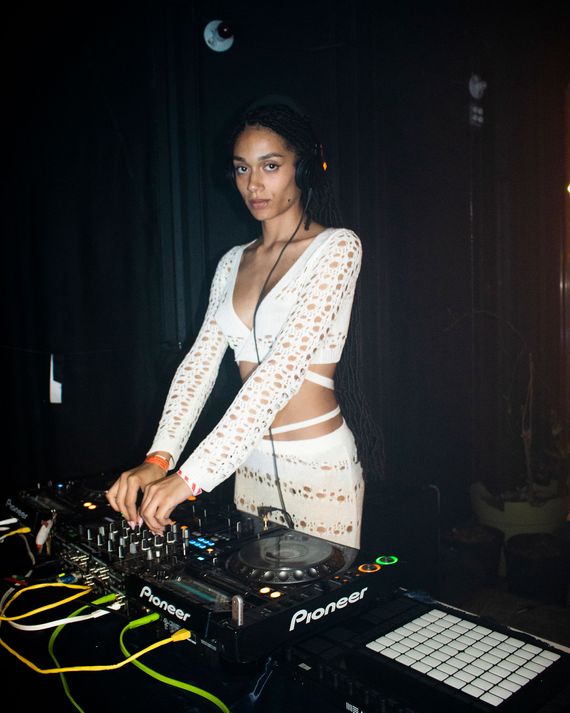 Back on Pride weekend, in the early hours of the morning, I stumbled into a semi-secret rave in East Williamsburg called MORE MORE MORE. There, down in the basement, I first encountered the DJ Memphy. Everyone at that point at the party was looking sweaty and strung out — me included, I'm sure — but she looked flawless and unbothered and enraptured the entire dance floor, snapping the crowd back from its druggy stupor. I was immediately a little bit obsessed.
Memphy — full name: Memphis Murphy — is just on the edge of 22 and likes to punctuate her sentences out loud with a hard t. She's a true city kid, born in Harlem and raised downtown (she went to high school in Park Slope), so she has been going out since she was a teenager with the help of one of those fake IDs you buy online. She also has very stylish genes: Her mother, Sydney Oliver, worked in fashion — they once were co-interviewed by Refinery29, talking about a shared love for vintage clothing and how Memphy found her incorrectly gendered school uniforms "honestly traumatizing" — and her father, Mic Murphy, was the singer-guitarist for the '80s synth-pop duo the System. "He had me fucking around with instruments and stuff from a very young age," Memphy recalls. "I think I was too feminine for playing instruments. It hurts my fingers, bitch! Drumming, ow! Guitar, ow! I want nails. I never wanted to be a singer. It's giving … DJ."
Lately, there is a sort of "dollmania" in the city's dance music scene, inspiring Pitchfork to declare in July, "Trans Women DJs Are Taking Over the Club." (Memphy was name-checked.) She has played at most of the requisite party spots in Brooklyn, raves under the Kosciuszko Bridge, and Madonna's Pride party at Terminal 5, in addition to modeling for Savage x Fenty, Hood by Air, and Dion Lee. She describes her nightlife environment as "more glam than cracky" — a "community" centered around "creating safe spaces and also pulling looks and being fab together. Instead of being just, like, normal."
About a month after Pride, I joined Memphy and her friends for a night at one of her gigs. Later, she told me, "I feel like the party you came to was kind of wack. It was just a boring Friday night. It wasn't like there was anything special going on," though, of course, nobody would ever accuse her of being boringly normal.
10:39 p.m. | Memphy asks me to meet her at her friend's birthday party at an apartment in Tribeca belonging to two 20-something scene kids who apparently, if their very spacious loft across from the Odeon is any indication, are doing something right in life (or maybe, as is so often the case in New York, their parents did). For some reason, Zachary Quinto is here, which, well, okay. He's sweating profusely, but to his credit, it's an incredibly hot night and so are all of the much-youngins. Memphy's in the kitchen towering over almost everyone and looking particularly fabulous in a skin-baring ivory knit top and skirt with long braids hanging far below her bum; even her Airbab matches the outfit. I get to chatting with an uncomfortably close-talking friend of hers, a model who looks like she could be the third Fanning sister. She tells me she just moved to the city. "I'm a fashion doll, but I'm living on the Lower East Side: frat central," she complains, before launching into a long, spitty spiel about bad dates and bad men. Memphy interjects her own dating philosophy at the moment: "It's giving … men are just toys for me for now. They're not worth it unless there's dollars." A lesson I wish I'd already learned at the slutty age of 21.
11:41 p.m. | Memphy is playing a 12:30 a.m. set in Bushwick tonight, so we quickly abandon the birthday party to get there on time. We're joined by two of her friends: another doll, who tells me at 23 that she has "retired" from nightlife ("I just needed to change my life, and I did. I'm happy about it"), and Fernando Casablancas, the model, modeling scion, and star of The Come Up.
11:50 p.m. | "Sir, do you have Bluetooth or an aux cord by any chance?" Memphy asks our Uber driver in her politely disaffected vocal fry before filling the Suburban with techno. And then, even more politely, "Sir, do you mind turning it up a little bit?" While we drive, she tells us about the party we're going to: "This is like a rave. I'm sure the girls are just trying to have fun. My vibe tonight is giving techno sexy princess." Then she turns on one of her dad's songs. "Damn, baby girl, I remember when you were 16," says Fernando. "I have this very vivid memory of being with you in some place in Soho or the Lower East Side. I think Marco invited me. Rio was there. Simon was there. Dove was there. And Lily. That sort of crowd." I have no idea who any of these people are, though I nod my head like I do, feeling maybe just a little jealous of their city-kid lives. Memphy replies, "Periodt. And now I barely see you. Tonight is the night." So enough of Daddy. "I'm, like, back to the techno."
12:05 a.m. | "We're here. Periodt," Memphy says when we hop out of the car at Market Hotel, a club directly above Mr. Kiwi's grocery store under the Myrtle Ave–Broadway JMZ station. (Provenance! But also, critically, there's a Popeyes, a taco truck, and a deli with $9 cigarettes within stumbling distance.) Tonight's event is called Intima, a new party series whose steely founder, Joni, describes it to me as a "combination of rave and performance art" and "a place for the dolls to dance and kiss." This stretch of Myrtle was once, not very long ago, the red-hot center of Brooklyn nightlife, but after Bossa Nova Civic Club closed due to a fire in the building, and the community's chosen successor, Rash, also burned down, there's some uncertainty in the air. Everybody's looking for "the new Bossa." "I think it all served as a good reminder to keep our friends close and safe. But I'm really optimistic. I think new and exciting things are happening," says Joni, which is why she started Intima. "I wanted to build my own stage. To be able to give myself and the dolls the opportunities and the bag we deserve. The dolls have been around for a very long time. The major difference is people are noticing now and starting to respect that. There's a doll takeover, as it should be. The dolls of Bushwick are the future." Inside, Market Hotel is surprisingly forcefully AC'd and, unlike most parties around here, filled mostly with women — specifically Bushwick girls (not in the derogatory sense) holding Tecates and wearing more than a few pairs of combat boots. It is just Sapphic and spaced out enough that I don't fret even once about monkeypox.
12:20 a.m. | Memphy heads straight to the stage to sway behind the current DJ on deck, the also towering, very tatted, and gothy Fashion LaBeija, who is wearing not much more than a neon bikini of sorts. There aren't many people here yet, but Fernando and Memphy's friend immediately break into dance. They throw their hands to the ceiling, then to the floor, bend over, and snap back up — now they have arrived. As I'm far too sober to do that, I chat with one of those shaggy Bushwick girls. She's a photographer who says she shoots a lot of "crazy events" such as this one. Nodding toward the stage, where Memphy and Fashion are almost too perfectly framed by a window looking right out onto the Myrtle-Broadway platform where other Saturday-nighters are boarding the subway and kissing one another good-bye, she yells above the music, which is loud enough to drown out the trains, "All the dolls are so hot. It's not fair. I want to be tall and beautiful like you queens."
12:30 a.m. | Our techno sexy princess takes over for Fashion (yes, that's what she goes by). She bobs her head only slightly, one long nail pressed to the right ear of her headphones and, in between button-pressing, checks her phone or takes a casual hit of her vape. (Ever notice how manic-addict most of us look vaping?) But then she makes a DJ error, mixing in "Get the Party Started" and sending some of the dancers to another room for another DJ. Without looking up, she reads the crowd's displeasure and soon brings it hopping back. Says Fernando, "She knows the vibe. She's smart."
12:40 a.m. | It's so foggy I can barely make out a single face. A little discombobulated (Damn it, am I getting old?), I head outside for a cigarette and mention to a partygoer in cowboy boots that it's actually kind of cold inside. Then we overhear a girl in hoops complaining about how hot it is inside: "I really have to get naked to come to this place." Maybe I'm not dancing enough? Maybe I need to retire from nightlife at 24? A shirtless guy then screams in my face, "Are you bricked up right now? Are you bricked up right now? Are you bricked up right now?" though I most certainly am not. Now I'm really feeling old. Luckily, Fernando is here distributing rice crackers from the bodega to undernourished partygoers on the sidewalk.
1:10 a.m. | On her way out the door, I meet another doll DJ, Eva (Instagram bio: "demure transexual pawg"), who just finished her own set. I ask her about that Pitchfork story, but she's eager for more than good press. "I want the girls to get paid," she says. "All these girls work hard. You'll see them at small places. You'll see them at big places. Taking just about anything that comes to them. They're going to care regardless." Again we get to talking about finding "the new Bossa." This party she likes: "It's a chaos party." But perhaps not chaotic enough for the weekend. Now she's considering heading down the road to Nowadays. "I'm overwhelmed," her friend says, hesitating. Eva shoots back, "How about you snap out of it?"
1:20 a.m. | The drink of choice around here is a yerba mate with vodka, tequila, or, if you're tasteful, mezcal. This club will never be Bossa, because they don't let you swig part of the mate bottle to make room for the liquor; they give the rest to you in a pitiful plastic overflow cup, which gives me clinic vibes and not in a hot way. Then again, this is "Club-Mate" mate, which they apparently serve at Berghain, not "White Label" mate, which they served at Bossa. None of this really matters, but also maybe it does.
1:34 a.m. | The shag photographer tells me Joni will be incorporating an "old lady," who's currently standing to the side of the dance floor in a see-through white slip and dangling pearl earrings, into the performance accompanying her set. Whatever that entails, we miss it; as soon as Memphy's finished, she snaps a quick photo and heads toward the door, calling behind her, "Let's go to Le Bain." (In case you were wondering, Joni later informed me she found the "proud 86-year-old cougar," named Hattie — who was once named one of the Reasons to Love New York — on Craigslist. She's also a sex coach. Luckily, there's photos.) Fernando coos, "You came, you slayed, you conquered, and you left gracefully." "Periodt."
1:40 a.m. | We make a quick stop downstairs at Mr. Kiwi's for water, where Memphy graciously accepts compliments from passersby. ("You look so cunt.") She's quiet and seemingly not entirely pleased by the turnout tonight. When I tell her I enjoyed the set, she replies, "You think?" It was just a gig, after all, and now's her chance to have some fun; perhaps the journalist isn't much of a welcome presence anymore. In the Uber to Le Bain, we don't talk much while Memphy scrolls Instagram and nods along to her radio station of choice, 97.1. She breaks the silence only to comment, "I love Lil Uzi Vert as a they/them." Fernando gazes out the window at other people leaving the bars and says breathily, "New York is always going to be New York."
2:24 a.m. | There's a long line streaming down the block to get into Le Bain, but before we stand in it, Memphy's friends suggest checking in with Connie Girl, the "door bitch," who lets us skip the line. "You have to stay humble," she tells me. "Periodt." In the elevator, she coolly disregards an overfriendly drunk guy and then, as soon as she's on the rooftop, she gets handed a vodka Red Bull and melts into the crowd. Within the hour, she's out the door, off to meet "David and Lenny," more presumably cool people I don't know.