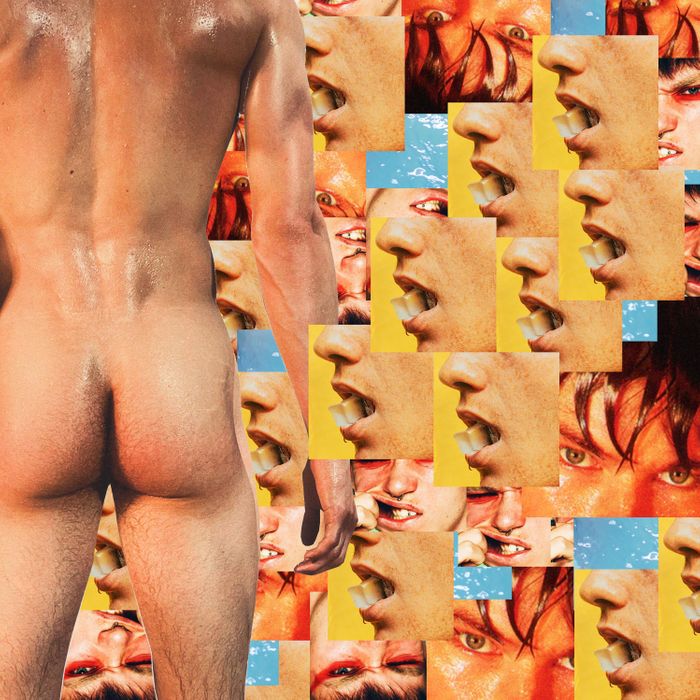 Photo-Illustration: by: Marylu Herrera
New York Magazine's Sex Diaries series asks anonymous city dwellers to record a week in their sex lives — with comic, tragic, often sexy, and always revealing results. The column, which began in 2007, is the basis of a new docuseries on HBO.
This week, an artist goes cruising and hooks up in the Greenpoint loft where he's cat-sitting: 29, single, Brooklyn.
DAY ONE
11 a.m. I arrive at my new home for the week. I have three roommates, so it was a no-brainer when my friends offered to pay me to watch their cat in their enormous Greenpoint loft. The cat is gorgeous and friendly, and I immediately notice my friends' great record collection: I love music and make sound art from field recordings in my spare time. I'm also a freelance writer — when I'm not at either of my part-time gallery jobs — and with two deadlines this week, I'm looking forward to the solitary writing hours. As well as a neighborhood full of hot people.
4 p.m. Get a decent amount of work done and get to know the cat. She snoozes on my lap as I log into Grindr and Sniffies, a gay hookup site. I set my location to the neighborhood and put a few photogenic dick pics up on my profile.
8 p.m. I pop my daily PrEP pill and start chatting with a guy nearby. He's unbelievably hot: ripped body, sexy smile, and a nice ginger mustache. I tell him to come over in a couple of hours.
11 p.m. Still haven't gotten his name, but the redheaded guy is on his way over. The chemistry is strong from the second he walks in, and we start hooking up in the kitchen. His jeans come off, revealing a red jockstrap. We head to the bedroom and have a voracious fuck. After we both come, he pulls his jeans back on and heads out, saying that we should do this again.
Midnight. I shoot him a message saying how hot everything was and thanking him for coming by. He replies that he can feel my come dripping down his leg, to which I respond that I'm still hard. He suggests he come back over to fuck again, and I agree. A few minutes later he's back in the loft, and we really get into it. It's even hotter than the first time. Woof!
1:30 a.m. After he leaves, I reopen my apps and am shocked to see that his profile picture has disappeared without a trace. He must have blocked me immediately after leaving the apartment! No explanation. I start to spiral, confused and paranoid, wondering what that was all about. Eventually, I form a theory: He must have found me on Instagram, recognized mutual friends, and got freaked out. Anon or bust, I guess?
DAY TWO
10 a.m. Waking up here in the loft with all the sun and plants is dreamy, despite how last night ended. I check my phone and see that this cute, hairy, digital nomad type — I'll call him B — messaged me. We start chatting.
3 p.m. I'm trying to wrap up writing so I can go to an opening at an art gallery. I'm getting good vibes from digital nomad guy — exciting. We make plans to meet tonight after the opening.
6 p.m. The exhibition is astounding. It's focused on an artist who makes architectural and mathematical drawings.
9 p.m. I head back to Greenpoint hoping that this hang with B will be as enriching as that art show. I have high hopes; he seems like a sensual guy and explains that he's been in a years-long open relationship with someone who is no longer interested in physical intimacy. But he loves physical connection and sex, and is also into music, which for me is a jackpot.
10 p.m. B arrives. We sit on the floor, listen to records, and talk for hours. We play an intriguing get-to-know-you game of his own design and learn all about each other's love languages.
12:30 a.m. We start kissing, move to the bed, and have the best kind of sex: intuitive and unhurried. I can't remember how many times we came, or even where we came. Afterward, he says he was thinking of heading to Bogotá for a months-long trip. I encourage him to go, and he buys a ticket right there in the bed.
DAY THREE
11 a.m. My favorite food and bookshop in Greenpoint reopens today, and I wake up excited for its amazing pork sandwich.
2 p.m. Eat lunch, then do some shopping.
5 p.m. It's one of those days where I blink and the sun is down, but it was nice to be slow and stay close to the roost. This loft is truly so dreamy.
11 p.m. Decide to call it a night. I enjoy a joint from a dispensary nearby, read a bit, then turn the lights out. I think about opening my sex apps, but for the most part, the guys I'm interested in seem to be playing hard to get.
DAY FOUR
10 a.m. I wake up from an elaborate dream, which I think is about my friend J — it's her 40th birthday today and she's invited me to a party in Ridgewood with musical performances, food, and other surprises. I send her a text about my dream and how excited I am to see her later.
1:30 p.m. I'm lazing around and open up the apps. I see that this tall skater-type guy, M, has been practically circling me on the map. I wonder if he's a dog walker. His profile says he's a top, and that he's "into 420 and jerking off." I message him, saying he can swing by for a stroke and smoke, if he wants. Surprisingly, he agrees.
2 p.m. I get the impression that this guy thinks I'm inferior, but he seems to be into my big dick, which he stares at for a while before asking if he can suck it. I say yes because this guy is truly hot: a tattooed stoner with a massive dick. He deepthroats me and I come as he finishes rubbing himself off. I thought he would leave after, but he lingers long enough for the conversation to get interesting.
I tell him about the redheaded guy who blocked me, and it turns out he knows him too! He pulls up the guy's Instagram profile and we talk about it for a while. I start to feel better about the ghosting. After a bit more conversation and smoke, I bid M farewell.
9 p.m. I take a car to J's birthday and it is everything I could ever want: Tacos, dancing, stellar live music. There are even goodie bags with calendula seeds and a snippet of 16mm film printed with abstract imagery. I leave at midnight, feeling like I've had a full and successful day.
DAY FIVE
8 a.m. Wake up early for work at the gallery in Manhattan. It's cold out, and I listen to a few songs on repeat to make the commute easier.
4 p.m. The day has warmed up considerably. As I get closer to the end of work, I consider going to the Rambles in Central Park. After dark it's an amazing cruising ground.
6 p.m. I skip the Rambles and head back to Greenpoint. It's rare for me to not do something fun after work, but the loft and the cat are my best options.
8 p.m. I get comfortable in the loft and open up the apps. Everything looks normal, until I see something troubling: A photo of my penis, in my bed — the photo that is currently my profile photo on Sniffies — being used by someone else! Ah! I always knew I had a nice dick, but for someone to use one of my dick pics to catfish people is deeply unsettling. I get a little worried about the impersonator … Does this person have more photos of me? Ugh.
10 p.m. I report the profile and try to not think about it too much. I attempt to see it as a compliment. I also change my profile photo on Sniffies so that people don't think I'm the fake account.
DAY SIX
11 a.m. A nice, slow morning with the cat sleeping near me. It's so quiet around here, and it's so nice to not have roommates. My only plans for the day are to write and relax and have a friend over for a couple of hours in the afternoon to listen to music.
3 p.m. Good progress on the writing. My friend P comes over for a music hang. We listen to this  record we love from 1969; it's a bunch of sound recordings from a farm in New Hope, Pennsylvania.
6 p.m. Grab dinner in Bushwick before seeing some experimental films nearby.
10 p.m. Head back to Greenpoint afterward. The warm weather entices me to stop at the cruising spot near McCarren Park. There's about half the number of people Sniffies says are there, but it's not a bad turnout. Someone is getting head. I watch a little, like everyone else, jack off into a bush, and then go home.
DAY SEVEN
10 a.m. Work at the gallery. It's very chill, only a few people walk in, so I have plenty of time to write.
6 p.m. When I get off I head to Williamsburg for a music performance. I meet my lovely friend T there. It's hard to tell what his sexuality is or what our relationship might look like so I'm just letting it unfold naturally. Maybe he only dates women but is open to intimacy with me? Or we might just be friends.
9 p.m. After the show, T and I walk along the water and joke about finding our way into one of the nearby buildings under construction. T tries a door and, miraculously, it opens! The building is empty and it seems like there is no security system yet. We prowl around the ground floor, which is wrapped with Netflix ads for the Noah Baumbach movie White Noise.
11 p.m. We're still winding our way through all the floors of the building. Eventually we make it to the roof, where we share a joint, arms touching, standing side by side.
Want to submit a sex diary? Email sexdiaries@nymag.com and tell us a little about yourself (and read our submission terms here.)