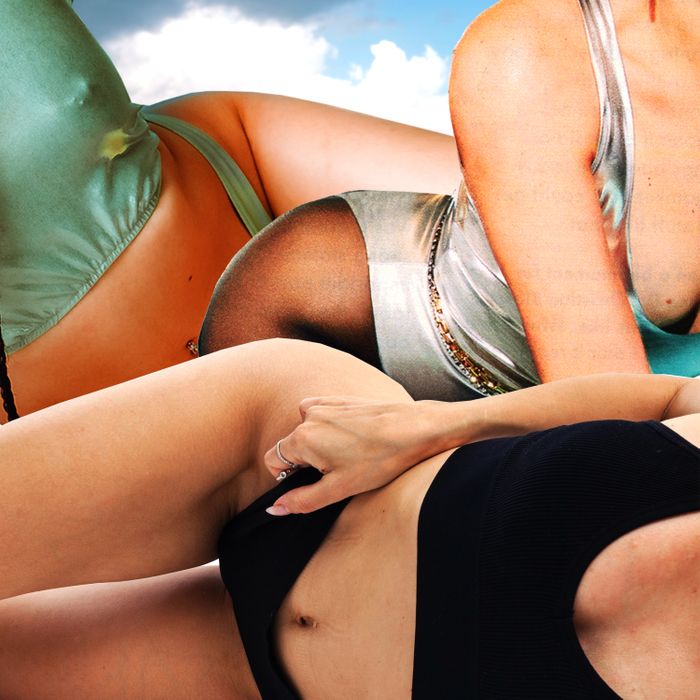 Photo-Illustration: by Marylu Herrera
New York Magazine's "Sex Diaries" series asks anonymous city dwellers to record a week in their sex lives — with comic, tragic, often sexy, and always revealing results. The column, which began in 2007, is the basis of a new docuseries on HBO.
This week, a musician broods over his doomed love affair while smoking too many cigarettes: 33, in a relationship, Brooklyn. 
DAY ONE
5 a.m. I wake up to Charlie crawling into bed with me. "Was I a monster last night?" she asks. When I picked her up, she'd been drinking martinis for hours. I reassure her that she was fine, and we go back to sleep. Charlie and I met a year ago; we had different gigs with a major touring artist. She introduced herself to me after opening night, and I fell in love immediately. While on tour, we were seeing each other every day. I knew she was married, but she never mentioned her husband, until one evening when we were finally alone. We agreed nothing could happen between us and held each other. Then a few days later, we kissed — and a few days after that, we had sex.
7 a.m. She has to get up for work. We have sex, but I'm a little worn out. For the 10,000th time, I tell myself I need to quit smoking cigarettes. It limits my ability to have sex and run up the subway stairs. Charlie hates smoking, which is something I admire about her.
8 a.m. I sit on the couch and read and feel useless. Charlie, meanwhile, has several jobs, and she's always rushing around. I don't know if I should help her get ready or stay out of her way. Her apartment, which she shares with her husband, is tiny. He's currently in New Jersey while they figure out their marriage, which was good before we met, or at least that's what she's told me. Now it's in pretty bad shape. Her husband knows about me but isn't aware of the breadth or depth of our affair.
9 a.m. Walk Charlie to work. Picking her up and dropping her off is one of the joys of my life. She's running late, so I offer to get her a coffee and bring it to her while she clocks in.
9:15 a.m. I drop off the coffee and start wandering south. It's a beautiful day; happy tourists are everywhere. I love New York. I get on the J train and head to Bed-Stuy, where I've just moved.
1 p.m. Walk around Brooklyn. I slip on a bag of dog shit and get it all over my $700 sneakers. I bought these shoes using a credit card when I was feeling distant from Charlie. It was a way to communicate with her because she's passionate about clothes.
1:05 p.m. Get to a trash can and try to wipe the shit off my shoe with a napkin while the wind tries to blow off my hat. I hate New York.
5 p.m. At the gym, I think about Dinah, the other woman I'm seeing whom I'm meeting tonight. I met her seven years ago, when we were both working at a summer camp. I always thought she was cute, and I liked that she was into books. We only see each other when I'm going through one of my many breaks with Charlie, whom Dinah knows about. There's a lot of affection between us, and normally I would be crazy about her. But my heart's not in it because I'm in love with Charlie.
5:30 p.m. Dinah suggests we meet at a bar uptown. It's an interesting suggestion — usually we meet at her place, even if we're going out. Either way, it's a good thing for me, because I think I need to break things off with Dinah tonight. I'd rather do it at a bar than in her bedroom.
6 p.m. The trip uptown is punishing. When Dinah and I started seeing each other, I lived uptown too, but this commute is reason enough to end things.
7:45 p.m. At the bar with Dinah. She seems well. I once asked her if there was anything she's insecure about, and she couldn't think of a single thing. I don't know anyone else like that. We have a little catch-up and then there's a quiet moment. Before I can say anything, she asks if we can talk about our feelings and then — unexpectedly — says she thinks we should just be friends.
I agree we can just be friends, and I mean it — I'm friends with nearly all my exes. The mood between us is relaxed. I recently finished my first novel, and she asks if she can read it and even offers to help with it. She works in publishing.
10 p.m. After we part, I get on a bike and ride south, stop and buy a pack of cigarettes, and talk to my sister on the phone.
DAY TWO
8 a.m. Get up early and make coffee. I've been in my apartment for two weeks, after hopping between sublets and house-sitting situations for almost two years. It feels good to finally be settled.
11 a.m. I'm at the studio I share to work on music. I compose for theater and film projects. Occasionally, I get paid a little for doing it. That's how I support myself, barely.
1 p.m. I haven't heard from Charlie all day, which means she's probably having a drawn-out fight with her husband.
4 p.m. Worried I still haven't heard from her. She's always so solid, even in the face of major hardship.
6 p.m. I ride a bike with a flat tire home from the G stop, and it almost kills me.
9 p.m. I get some moving-related garbage to the curb and call it an early night.
DAY THREE
11 a.m. I have a leisurely morning. I'm trying to ignore the fact that I have to get a job as soon as possible. I've never had a real job or family money to rely on. Since high school, I've been getting by as an artist, usually making less than $20,000 a year.
1 p.m. At the gym. A man is gratuitously dropping weights onto the unprotected floor. It's my dream in life to join a better gym. For the time being, I wear earplugs to protect my ears.
3 p.m. At the studio. Work on a pop song I hope will connect with the world.
7 p.m. On the train ride home, I finish this novel Charlie lent me. It's about a woman's adventures in New York in the 1920s. People 100 years ago were drinking, smoking, and cheating on their spouses even more extravagantly than we are now.
9 p.m. Finally hear from Charlie. She apologizes for not being in touch yesterday. Indeed, she was having a fight with her husband.
The anniversary of the day we met is coming up. I even planned a trip for it — nothing fancy, just a drive into the mountains and a hotel. I get the feeling that it will never happen.
DAY FOUR
10 a.m. I have a free morning, which I waste by shopping for lamps on Atlantic Avenue. I can't find anything I can afford. Lamps are more expensive than I realized. I give up when it starts to sleet.
11 a.m. Smoke too many cigarettes and feel terrible about myself.
1 p.m. Constance, a woman I dated mostly long-distance for a brief but intense period last year, texts to tell me she's coming to New York to perform her solo show. We probably shouldn't sleep together, but that doesn't mean we won't.
3 p.m. Take several naps to recover from my punishing morning.
1 a.m. Spent all evening in the studio. I head out in the middle of the night. I'm starving, and I come upon a brightly lit coffee cart on a desolate street, where I buy a donut.
2 a.m. I should have bought more than one donut; the G train gets stuck in the tunnel, and the trip home takes 90 minutes.
DAY FIVE
11 a.m. At the gym. Everything is simple at the gym.
3 p.m. Charlie and I make plans to see each other tonight, so I'm happy.
7 p.m. I'm supposed to meet Charlie in her neighborhood, but she hasn't texted me. She went to happy hour with a friend at five. Since then, I've been lying in bed, waiting for her to text me. This is a familiar pattern, and it's not healthy, but since our time together is so limited, I want to be ready to see her as soon as I can.
8 p.m. Finally she says she's heading home. I trudge to the train. We sit on her couch and try to talk. After too many days apart, I often get upset with her because I feel she isn't prioritizing our time together. Lately, I've been more insistent that she come to a conclusion regarding her marriage, because I can't go on like this.
10 p.m. We decide to stop talking and have a good time instead. I haven't eaten all day, so we grab some pizza and head back to her place to watch Sex and the City (my favorite show).
11 p.m. Charlie has an early morning, so we go to sleep.
DAY SIX
7 a.m. We have sex in the morning. This is the reason we can't break up: We both feel too good to each other. I wonder if it's our biological instincts — like, we just have to keep fucking until we make a baby.
We actually talk about having a baby a lot. It's progressed from a joke to a more serious conversation. I never wanted kids until I met her. Now it feels urgent.
8 a.m. I walk her to work, and we stop and get a pastry at our favorite place. I wish our lives were actually joined and we could have sex, pastries, and walks every day.
9 p.m. Nothing good is happening at the studio. All I want to do is smoke cigarettes and drink Coke Zero — a lethal combination. I text Charlie to see if she wants to spend the night together, but she says she can't; she's cleaning her house. It kind of sounds like an excuse …
11 p.m. Walk to Court Square in the freezing wind to buy cigarettes. Feel like a complete fool smoking in these conditions, when there isn't even the illusion of pleasure or relief.
DAY SEVEN
11 a.m. At the gym. Charlie calls while I'm doing a floor exercise we learned together. Working out used to be one of the activities we shared. I can't help thinking that if only I weren't allergic to making money, I could solve some of our problems. Maybe if I had more money to spend on her — on us — she would take me more seriously. We could do more nice things together and talk about our future in a more concrete way. I accidentally decline the call.
1 p.m. At the studio. I call Charlie back. She apologizes for not making time for me yesterday, then, sort of as an afterthought, she says we have to break up. She's running into a class, so she has to go, but she says she'll email me later. She says this so casually, running between obligations, that I feel fear — fear that she really can discard me so easily.
10 p.m. Haven't heard from Charlie. None of our breakups have lasted, but this one feels like it might. We're both worn out. That's probably how this will finally end — in a fit of exhaustion. I consider all of the ways life would be easier if I weren't dating a married woman, but they bring me no comfort. I only want to be with Charlie.
Want to submit a sex diary? Email sexdiaries@nymag.com and tell us a little about yourself (and read our submission terms here).