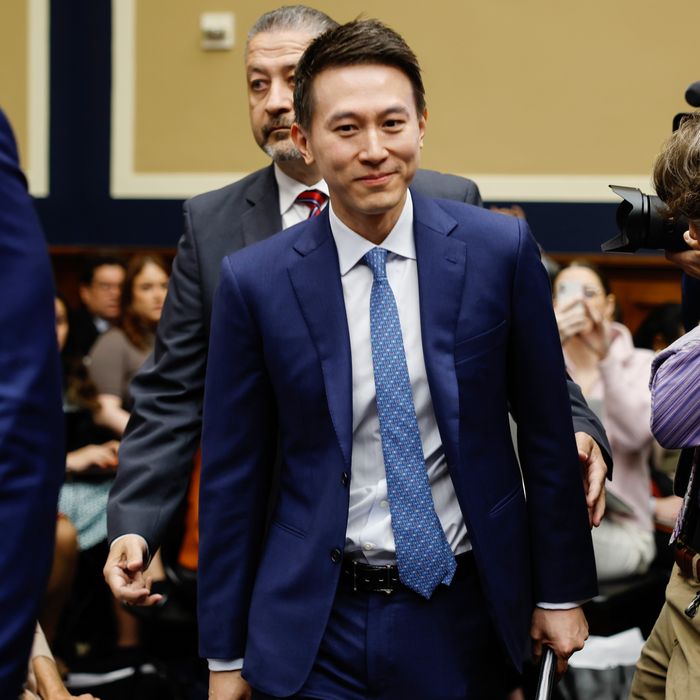 Photo: Chip Somodevilla/Getty Images
This week, TikTok CEO Shou Zi Chew testified in front of Congress to address lawmakers' concerns about the app's Chinese ownership. Because TikTok's parent company, ByteDance, is based in China and potentially subject to data audits from the Chinese government, the Biden administration wants to either force a sale to an American company or ban TikTok nationwide. How do TikTok users feel about all this? Horny, it seems. After Chew defended his company in Congress, an alarming number of fan cams lusting after the CEO appeared on my FYP.
While I don't condone thirsting after a tech CEO who may or may not be downplaying a national security threat, it's not totally surprising that Chew emerged from the hearing looking like a hero. As is often the case when our elected representatives attempt to reign in unwieldy tech companies, it was embarrassingly clear throughout the hearing that they didn't know what the hell they were talking about. At one point, Georgia representative Earl "Buddy" Carter asked Chew if phone cameras track users' pupil dilations, only to appear profoundly confused by the answer. Another representative, North Carolina's Richard Hudson, seemed not to have a full grasp on how internet connection works, asking, "Does TikTok access the home Wi-Fi network?"
Though his astounding patience answering these queries was admirable, Chew already had plenty of public support. The prospect of banning TikTok is obviously not popular with the app's users, and a handful of them arrived at the Capitol on Wednesday to protest. During his five-hour testimony, he vowed that the app prioritizes the safety of young users and outlined TikTok's plan to move U.S. users' data to servers owned and maintained by Oracle, an American software company. "We do not do anything that is beyond any industry norms," he told Congress.
Unfortunately, he wasn't very convincing to lawmakers. While TikTok is creating thirsty videos and making fun of our technologically challenged lawmakers, analysts have been calling the testimony a "disaster" from Congress's point of view. I guess they didn't see the fancams?