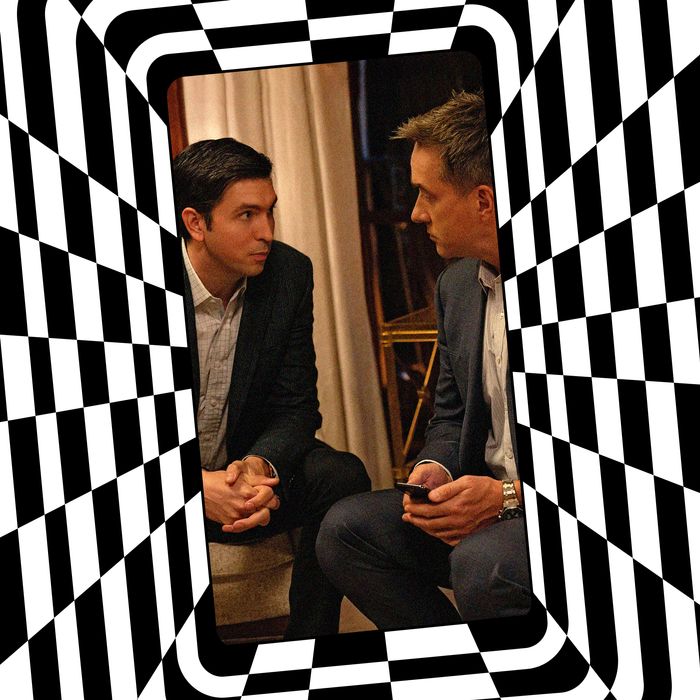 Photo-Illustration: by The Cut; Photo: HBO
I Can't Shut Up About: Deep dives into my online obsession of the week.
Name the most disgusting duo. Toothpaste and orange juice? Dumpsters and summer heat? The brother and sister with weird sexual tension in that 2009 Folgers commercial? Close, but the correct answer, as we learned in the premiere of Succession's fourth and final season, is Tom and Cousin Greg. Behold, the Disgusting Brothers.
Iconic duos? Out. Depraved duos? In, baby. With Tom separated (i.e., pre-divorced) and Greg … still as Greg as ever, these two bumbling dweebs have apparently been dating around since we saw them last. Tom is going to dinner with "models." Greg may or may not have "rummaged to fruition" with the plus-one he brought to Logan Roy's birthday party, a woman dubbed "Bridget Randomfuck" who carried around a "ludicrously capacious" Burberry bag. (In this sense, Greg brought not one uninvited guest, but two.)
As is to be expected, the Disgusting Brothers is a self-ascribed title, and Greg could not be more excited to have a fun little name for him and his best bud. (The way he sing-says "Disgusting Brothers!" is a simultaneous hit of dopamine and Schadenfreude.) Tom, on the other hand, doesn't want to celebrate the Disgusting Brothers, at least not publicly. "It was heavily ironized, Greg," Tom says, suggesting that it was Tom who came up with the name in the first place. Regardless, "Disgusting Brothers" is among the most embarrassing things Greg has ever uttered, a real feat for someone who once said in a court of law, "If it is to be said, so it be, so it is." (You needn't any context. That will not make the sentence any more comprehensible.)
So just what makes these brothers so disgusting? It's unclear at the moment, though the mind wanders. Is it something more disgusting than the time Greg got heatstroke while wearing a mascot costume and barfed through its eyeholes? What about the time Tom swallowed his own, uh, "fruition" at his bachelor party? Later in the episode, Shiv takes whatever air is left in the name Disgusting Brothers, mocking, "Do you have a logo? Do you do the rules?" This also remains unclear, but, dear God, don't give Greg any ideas.
Fortunately (regrettably?), Nicholas Braun, who plays Greg, told TV Insider that we'll "learn a bit more" about the origin of the nickname in the coming episodes. "You'll get a little bit more about why they're disgusting … It's Greg-Tom disgusting." It's more about "what they do with people," Braun continued. "It's more the concept of them [being] disgusting." Hmmm. This does not put my mind at ease.
Tom and Greg are among Succession's most beloved duos, maybe even usurping Gerri and Roman. And a Succession spinoff called "Disgusting Brothers" basically writes itself. Even Brian Cox, who plays Logan Roy, agrees that Greg is worthy of his own show. "The only character I think could be in a spinoff is Greg, possibly," he previously told Newsweek, saying the series would be a journey into Greg's "idiocy" and "ridiculousness." Braun joked that if he and Matthew Macfadyen, who plays Tom, did have their own series, their characters would go to Antarctica, where they would ultimately "die pretty quickly." I will second that and add a subsequent season where we follow Tom and Greg all the way to hell. The tagline would, of course, be: "What am I gonna do with a soul anyways?"