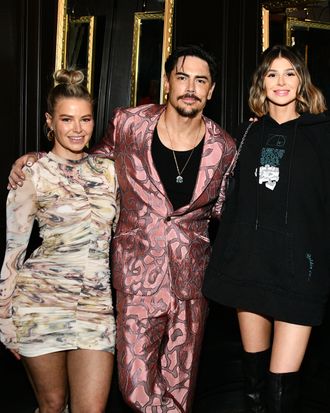 Ariana Madix, Tom Sandoval, and Raquel Leviss.
Photo: Araya Doheny/Getty Images
Have you checked in on the Bravo fan in your life lately? Chances are that they, like the rest of the Bravoverse, have been in a state of chaos ever since TMZ broke the news on March 3 that Vanderpump Rules stars Tom Sandoval and Ariana Madix had broken up after nine years together. According to TMZ, the breakup came after Sandoval cheated on Madix with their friend and castmate Raquel (Rachel?) Leviss.
Nearly a month after the cheating rumors became news, paparazzi asked Sandoval if he would change anything if he could go back in time. Speaking publicly about the scandal for the first time, Sandoval noted he could have handled things better. "Hindsight's always 20/20, man," he said, per ET.
Following the initial reports, Sandoval posted a statement to Instagram saying that he was "sorry for everything," writing, "I fully understand and deserve ur anger & disappointment towards me." To fans, this was both a confirmation and a confession. He later apologized to Madix in another Instagram post, saying, "I made mistakes, I was selfish, and made reckless decisions that hurt somebody I love. No one deserves to feel that pain so traumatically and publicly."
By the time news of their breakup broke, Madix had deleted her social-media accounts. This didn't stop friends, co-stars, fans, and seemingly anyone who has ever watched Bravo from publicly proclaiming that they were #TeamAriana. Madix eventually returned to Instagram, where she posted a photo of herself in Mexico and thanked family, friends, and "people I've never even met" for their support.
For her part, Leviss has apologized "for my actions and my choices foremost to Ariana, and my friends and fans," and she called the circumstances surrounding her relationship with Sandoval "indefensible."
The show is currently in the middle of airing its tenth season. When news of the split initially broke, filming and production had already wrapped (apart from the season's reunion). Andy Cohen has confirmed that cameras went back to film the fallout, and People has since provided a little peek of the post-scandal drama.
Meanwhile, fans, who have dubbed the situation #Scandoval, have been poring over old episode clips and social-media posts, passionately choosing sides and developing conspiracy theories about what went wrong and when.
If you haven't been obsessively following, here's what to know about the drama.
Hold on. Who are these people?
Now in its tenth season, Vanderpump Rules follows the lives and dramas of the staff — hostesses, servers, bartenders, and their friends — at former Real Housewives of Beverly Hills star Lisa Vanderpump's Los Angeles restaurants: SUR, Pump, and TomTom. Unlike more constructed reality shows (where people are brought together for filming, then never see each other again), the Vanderpump Rules cast is known for its close-knit and intertwined friendships, romantic relationships, and other entanglements.
Sandoval, 40, has been a cast member since the first season, when he was introduced to viewers as a bartender at SUR. Tom previously dated former cast member Kristen Doute, who infamously cheated on him twice with his best friend and co-star Jax Taylor (who was also Doute's best friend and co-star Stassi Schroeder's ex) while on the show. Sandoval himself was accused of cheating in the relationship. When Doute and Taylor's indiscretions came to light, a single slap and several punches were thrown, a book was written, and everyone appeared to move on.
Madix, 37, appeared on the show in its early days, officially joining as a cast member in its third season as Sandoval's friend and fellow bartender. Her disposition as a "voice of reason" made her a popular character with fans. They confirmed they were dating a few months after Sandoval's breakup with Doute. Soon, they were Instagram official and have been the show's most stable couple ever since. Well, until recently.
Leviss, 28, was brought into the fold during season six in 2016, when she was dating series regular James Kennedy (or, as he then called himself, DJ James Kennedy, the "White Kanye"). The two were engaged for seven months before breaking up in December 2021.
But Sandoval was (allegedly) cheating on Madix with Leviss?
Reports of Sandoval cheating with Leviss have left the Bravoverse in a state of utter disarray — not just because these three are on a show together, but because they are close friends.
Leviss has spoken in the past about how much she values her friendships with Sandoval and Madix, particularly in the wake of her breakup with Kennedy. She has previously called Madix one of her "true friends." Similarly, Kennedy and Sandoval were known to be close on the series with Sandoval — even helping plan and split the $25,000 cost of Kennedy's Coachella-themed proposal to Leviss.
To viewers, Sandoval and Madix's relationship seemed steady despite occasional tiffs about their busy schedules. Sandoval told paparazzi that he thinks part of why the cheating has become such an enormous scandal despite the show always having drama is because "it was really unexpected." Sandoval now helps run TomTom with co-star Tom Schwartz — with whom he's a junior partner — and the two recently opened another restaurant, Schwartz & Sandy's. A week prior to the breakup, Madix was photographed at one of Sandoval's cover-band shows. (Yes, a cover band: Tom Sandoval & The Most Extras.) All seemed well — or as well as could be at a cover-band concert.
"I just think it was really unexpected," he said.
During a recent episode of Doute's Sex, Love, and What Else Matters podcast, Doute said she was there the night Madix found out about the cheating, claiming that Sandoval's phone fell out of his pocket while he was performing, and a friend picked it up and handed it to Madix. "The real truth is that Ariana had his phone, and she told me that she just had this gut intuition to look at it," said Doute. "She just felt like she had to look, so she goes into his photos. He had screen recorded a FaceTime of himself and Raquel masturbating to each other."
As fans pored over old episodes, social-media posts, and interviews, many now feel that Leviss and Sandoval have been secretly gleeful in their cheating — like when Sandoval dressed as Leviss for Halloween and went out with Madix and Leviss (who wore matching costumes) that night. Some people even think that Sandoval and Leviss have been wearing matching lightning-bolt necklaces for months as a sign of their affection for one another. In a July 2022 interview, Leviss said that Sandoval had become one of her "best friends lately," which now has people raising their eyebrows.
So how long has Sandoval been cheating on Madix with Leviss?
According to some sources, since July. "This has been going on for upwards of 6 months — all the while, Tom was sleeping next to Ariana in bed," one source reportedly told People. "She was completely blindsided by this; devastated doesn't even scratch the surface of how she feels."
To add to the shock and confusion of it all, many fans previously believed that Schwartz — Sandoval's business partner — and Leviss were hooking up after they were allegedly seen kissing at Coachella in April 2022. Those rumors only escalated when they kissed at fellow cast member Scheana Shay's wedding in Mexico. On the current season of the series, one story line revolves around the flirty, "Will they or won't they?" nature of Leviss and Schwartz's friendship and the drama it's causing in the group. (Schwartz's ex-wife, Katie Maloney, is a cast member.) Recently, Leviss seemed to lean into the speculation, posting a photo of herself with Schwartz on Instagram. Now fans suspect that the whole thing was a misdirect intended to distract people from the affair between herself and Sandoval — a tried and true strategy on other Bravo shows. In his Instagram post over the weekend, Sandoval seemed to address the theory by claiming that Schwartz "only found out about this very recently." Schwartz recently told TMZ that he didn't kiss Leviss to cover up her affair with Sandoval. "I was just a pawn in the game," he said.
On SiriusXM's Andy Cohen Live on March 6, Cohen described an "odd energy between" Schwartz and Sandoval when he filmed with them in February: "Schwartz was looking at Sandoval the entire time, almost for guidance on answers." Cohen said that during a pre-break up episode of What What Happens Live he asked Shay and Leviss which Tom they thought was cuter — Sandoval or Schwartz — and they both, surprisingly, said Sandoval. Cohen said that during the commercial break, Shay said to Leviss, "I only picked Sandoval because I knew that you were going to pick Schwartz," to which Leviss responded, "Well, Sandoval has abs." On her podcast, Doute claimed that Schwartz found out about Sandoval and Leviss a month ago.
Cohen also warned fans that even though the current season of the show hasn't caught up to real life, the episode airing on March 15 would have a scene so "shocking," viewers would likely think it was recut after the scandal broke. "It was not recut," Cohen said. Well, thanks for the warning, Andy. In the episode, Kent confronted Leviss after Leviss made a move on Oliver Saunders — the son of Real Housewives of Beverly Hills star Garcelle Beauvais, who was married at the time — at a club in Las Vegas. Kent said to Leviss, "You drinking, I would never trust you around my man. Never."
Leviss responded: "Thank God you don't have a man to like f–king have around."
Moments later, Maloney said that Leviss was "Mrs. I'm gonna make out with your man," adding, "Hide your kids, hide your boyfriend, hide your boyfriend, hide your boyfriend." In a confessional, Maloney added, "I'm starting to see a pattern in Raquel. It seems that she's only interested in men that her friends are either married to or interested in, and that is a big red flag for me."
Fans have started to wonder if former cast member Taylor, Sandoval's ex–best friend with whom Sandoval's ex cheated years ago, was on to something when he said in 2020 that he saw Sandoval and Madix as "glorified roommates who hook up occasionally." Taylor recently told Cohen on Watch What Happens Live that Sandoval has cheated on Madix several times, not just with Leviss.
Have the other cast members responded?
The whole world, it seems, has rallied around Madix. Her brother, Jeremy, commented on a now-deleted post from Kennedy, who shared a screenshot of the TMZ story, that Sandoval is "a try hard having a midlife crisis with his cringy band" and "Raquel has faked her way to the top trying to make something of her life willing to step on whoever to get there starting with James."
Co-star Lala Kent posted several Instagram Stories — including one asking that everyone going to Sandoval's weekend show bust into a chant of "Ariana! Ariana!'" She added, "I am activated. I am activated as fuck. Now that I have consent from Ariana … blowtorch, gasoline, grenade launcher, it's all ready." (Someone did, in fact, chant "Ariana" at a show, to which Sandoval responded, "We love her.")
Following the split, Shay, Maloney and Doute were seen arriving at the house Madix and Sandoval live in together. (Meanwhile, Sandoval was seen sneaking into Leviss's apartment building). Doute (Sandoval's ex) posted a video with Madix with the caption, "I ❤️ Ariana. PERIOD. #TeamAriana #TeamSandwichShop." The two had their arms wrapped around each other. "I love you so much," Doute told Madix before they kissed. "I love you more than anything in the whole wide world, and I'll kill people for you."
Maloney posted a photo with Madix and captioned it: "You are going to thrive like you were always meant to!" Leviss's ex-fiancé, Kennedy, posted to Instagram: "Hope you all feel as sick as I do … This explains everything."
While Shay has been good friends with Leviss, describing herself as a big sister and encouraging her to hook up with Schwartz, Shay and Madix are longtime best friends. Following the split, Shay posted video from a Tove Lo concert with Madix to her Instagram Story with the words "we rally." Shay also posted a photo of the two of them with the caption "Always got your back! 👊🏼 #TeamAriana."
According to an early DeuxMoi tip, Shay allegedly punched Leviss when she found out about the cheating. The Los Angeles Times reported that Leviss filed a restraining order against Shay, while TMZ released photos of Leviss with what appears to be "her bruised eye and cut face" that were reportedly part of Leviss's court filing obtained by the site. However, in a statement to "Page Six," Shay's attorney, Neama Rahmani, called the case a "fabrication by a known liar," claiming that "Scheana never punched Rachel, period." A hearing is scheduled for March 29.
Support for Madix isn't just coming from cast members. Fans and Bravolebrities alike have spoken out as being on #TeamAriana. A number of fans have left bad reviews for TomTom and Schwartz & Sandy's (other staff and owners are asking people to please not do that). Per TMZ, people have left so many negative Yelp reviews for the restaurants since the scandal became public that Yelp had to stop allowing new reviews while it sorted out which ones were real and which ones were fake. Instacart even got involved, offering to bring Madix free groceries. (Through a rep, Madix asked the company to make the donation to a local women's shelter.)
What now?
Predictably, paparazzi have been hounding everyone involved and snapped some photos of Madix, McDonald's in hand, flipping them off. A source told "Page Six" that Madix and Sandoval filmed together in the days following the split, claiming she felt "gaslit" by Sandoval's excuses about why he cheated and never confessed to her about it. In his second apology since the scandal started, Sandoval said he was "beyond sad" that his relationship "ended the way it did." A week after the breakup, TMZ published photos and video of Madix dancing at a wedding in Mexico, claiming she "couldn't be happier."
In her statement apologizing, Leviss said she is talking to a counselor and "learning things about myself such as my patterns of codependency and addiction to being and feeling loved." She added, "I have sought emotional validation through intimate connections that are not healthy without regard for my own well-being, sometimes negatively affecting others and often prioritizing the intimate connection over my friendships."
In a subsequent Instagram post, Leviss said that her feelings for Sandoval are real. "Besides the indefensible circumstances surrounding our relationship, my feelings for Tom have always been sincere and born out of a loving friendship," she wrote. "I care for Tom and I don't want to label anything or predict what lies ahead." She concluded the statement by writing that she needs time to "heal." Leviss recently told Backgrid that she doesn't know where her relationship with Sandoval currently stands. "We're just kind of trying to get through these next few steps and trying to, you know, make amends, hear everybody out," she said.
Meanwhile, when asked by TMZ if Leviss has called Madix to apologize, Madix responded: "I don't know who you're talking about."
TMZ reported that Leviss's lawyers say Sandoval recorded the "sexual" FaceTime video call with Leviss without her permission, and that they've sent a letter to cast members warning them against posting it to social media and forwarding it to others. In an Instagram Story video, Kent apparently took issue with Leviss's "little Mickey Mouse lawyer" contacting her directly, saying he should "SEND IT TO DARRYL" (Kent's lawyer). A meme and merch were born.
Appearing on Watch What Happens Live on Lisa Vanderpump — the cast's boss and owner of the restaurants where they work — said that she was "gobsmacked" and "flabbergasted" by the reports of cheating. "It's been going a long time," she continued. "That's what's so shocking to me. It wasn't just a shag." Vanderpump added that Madix is "devastated" and there have been "a lot of tears."
"Ariana was always that ride-or-die girlfriend," she told Cohen. "It seems like Raquel was the 'ride' girlfriend, she was the 'die' girlfriend."
Vanderpump asked fans to be kinder and more thoughtful in their responses to the scandal. "This kind of vigilante justice, I don't agree with it at all," she said. "These are people living their lives in a public forum, which is very difficult. There's so much infidelity in the world. It's not like they murdered [someone]. It's a show, but they're all hurting. I'm not saying we should let them off the hook. Condemn their actions, but don't condemn the people."
Meanwhile, viewers who were worried that the Leviss's restraining order against Shay would affect taping of the reunion can relax: Leviss attended the reunion. "I know I have to take accountability for my actions, so I'm completely prepared to do that," she said. Kent responded in an Instagram Story, writing, "We can't wait to see you @raquelleviss."
We sure will. Less than a month after the scandal broke, Bravo released a midseason trailer that shows the entire Vanderpump cast responding to what's gone down thus far. At one point, Sandoval can be seen telling Madix, "I wish we both would have tried harder," to which she responds, "You don't deserve one fucking tear of mine." The trailer suggests the rest of Season 10 will chronicle the general fallout, with clips showing other cast members weighing in. In the final few seconds, during what appears to be a very tense conversation, Sandoval asks Madix from the kitchen, "Do you want anything?" She breezily responds from the couch, "For you to die."
Ahead of the season's second half, we've gotten a few peeks at what's unfolding between the cast members. This week, in a spontaneous no-frills interview conducted outside a nail salon in L.A., Leviss shared that she and Sandoval were "taking a break for now" and "not putting a label" on things. A day later, Madix arrived in a sweatsuit with "1-800-BOYS-LIE" written on it. After the reunion, Leviss and Sandoval were spotted chatting in the parking lot while on a break, marking the first time they've been seen publicly together since news of their affair broke.
Taylor told Extra that he heard that at one point during the reunion that Sandoval and Schwartz had to be separated to keep from fighting and that the whole reunion was dramatic. "I heard it was crazy, heard it was everything that everyone thought it was going to be," he said.
This post has been updated.