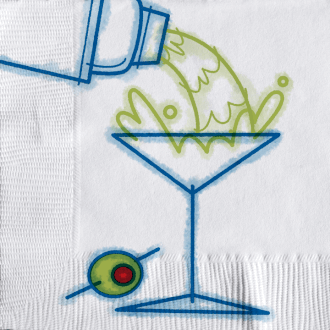 On Saturday night, Paramount Pictures sponsored a Diwali party at Manhattan's Pierre Hotel, gathering stars, journalists, and a handful of fashion executives to celebrate the festival of lights under the haze of a cough-inducing smoke machine. The evening, hosted by The Namesake actor Kal Penn, Nepali American designer Prabal Gurung, and others, raised money for the Asian American Writers' Workshop, a nonprofit that has supported the diasporic literary community since 1991.
When I arrived, a little past eight, hordes of guests were fanning themselves in the crammed foyer of the hotel's swanky Cotillion Ballroom, eating cubes of salmon sashimi on ceramic spoons and carefully avoiding tripping on each other's lehengas. On a winding princess staircase, stars and event coordinators took prom-style photos; one among the latter introduced me to British singer and producer Jay Sean, who was dressed in a glimmering pink-and-gold kurta.
As we waited for the ballroom to open, Sean plugged his various creative endeavors, including a canned sparkling-sake business and a TV show inspired by coming up in the music industry of the aughts, which, as South Asian millennials will remember, he took by storm with "Down" in 2009.
When the ballroom finally opened, its mirrored walls and ornate chandeliers were obscured by purplish smoke. Someone turned on strobe lights, and I was comforted to see such an elegant space transformed into a New Jersey sweet 16. Soon everyone began tearing up the dance floor to "Jalebi Baby," and one event coordinator remarked that the event was "putting Diwali on the map" despite the fact that the festival is over 2,500 years old. Below, I've ranked elements of the evening on a scale of 1 to 10 gulab jamuns.
Celebrity Esteem
It was a night of brown excellence, even if everyone was hidden by smoke. In addition to Penn, Sean, and Gurung, Padma Lakshmi, reigning Miss Universe Harnaaz Sandhu, and And Just Like That … star Sarita Choudhury were in attendance. So was Aparna Shewakramani, the breakout star of Netflix's Indian Matchmaking and a vocal detractor of matchmaking as a concept.
Beyond what a press release described as "prominent South Asian public figures," there were a bunch of truly random white people, including Pete Buttigieg and Ronan Farrow, who was nearly bulldozed by a guest trying to take a selfie. "Sorry, I'm just taking a hot photo of myself," she said. "I love that," replied Farrow, who agreed to take "a hot photo together." Two seconds later, four women joined the hot photo with Ronan Farrow.
Elsewhere, Kelly Ripa and Mark Consuelos mingled. "Tell me your name again?" a wide-eyed Ripa asked me when we shook hands, perhaps incorrectly mistaking me for another brown person. Before I could clarify, Ripa pivoted, admiring the lehenga of a woman nearby: "Oh, you look like the bride on top of the cake!" Later that evening, Gabriela Hearst gave her absolute all on the dance floor when no one else was bold enough to traipse it. For her effort, 5 jamuns.
Music
Sean informed me he was in charge of the evening's DJ set list, so I had high hopes. And as a figure of nostalgia himself, he did not disappoint, interspersing '90s and aughts Bollywood classics such as "Jhoom Barabar Jhoom" with throwbacks including "Murder She Wrote" and Lumidee's "Never Leave You." While I'm usually skeptical of mash-ups, I was particularly impressed by one of "Choli Ke Peeche Kya Hai" and Cardi B's "I Like It." Ripa and Consuelos danced bhangra, and Prabal Gurung informed me and another press person that "we could dance, too." Eventually, we did. 7 jamuns 
Food and drink
In the ballroom, Ashfer Biju, the executive chef at Perrine, catered a whole buffet line. It was top tier: There was a bhel puri station, a pav bhaji station, plenty of gunpowder masala, assorted chicken and lamb curries, seekh kebabs, creamy dahl, rice, and naan. Later in the evening, servers bustled around with trays of mango lassis while another table was filled with gulab jamuns, barfis, tiny chocolate tarts, and even tinier rasmalai-inspired cakes. The bar and a Johnnie Walker station stayed open all night. 10 jamuns
Clothes
VIPs were dressed ornately in Falguni Shane Peacock, so there were many feathered shoulders, paisley illusion fabrics, and jeweled, flapperlike headpieces. It was also a big night for statement kurtas: Gurung's black kurta and juttis were thoroughly bejeweled in rhinestones; Penn's understated kurta glimmered with metallic accents. Consuelos wore a suit. 9 jamuns
Conversation
Slowly barbecued by smoke-machine smoke and music, it was impossible to overhear — or find — anyone. In the end, I sat on a gilded block in the photo-booth corner, watching Farrow jam out to "Desi Girl." 3 jamuns
This post has been updated.