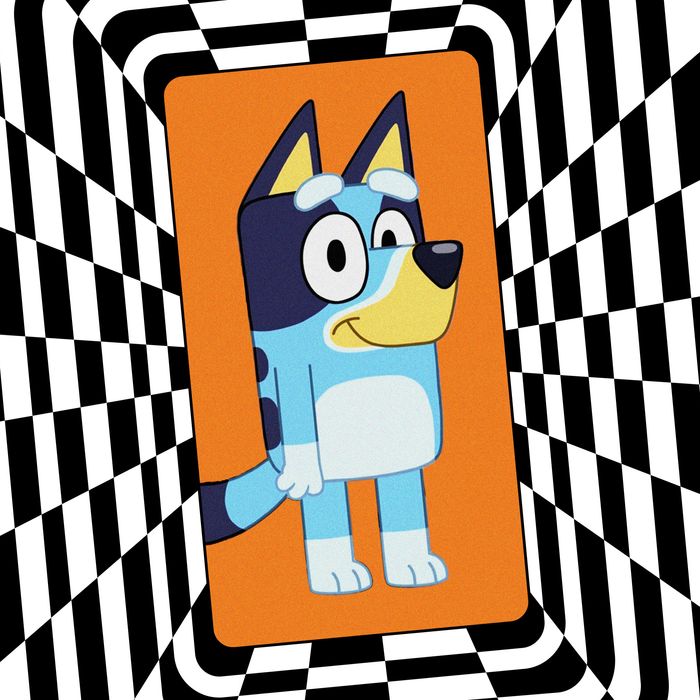 Photo-Illustration: by The Cut; Photo: ABC Kids
I Can't Shut Up About: Deep dives into my online obsession of the week.
To know Bluey is to love Bluey. The Australian animated series, which gained global popularity in 2020 when it started streaming on Disney+, follows a family of four dogs, the cleverly named Heelers. There's dad Bandit; mom — excuse me, mum — Chilli; younger sister Bingo; and the titular Bluey. As the characters alone suggest, the show is primarily meant for kids and, by extension, their parents. However, Bluey has done what most every modern television series dreams of doing: capturing the minds, hearts, and memes of young (childless) adults everywhere.
The premise of any episode of Bluey is pretty straightforward (e.g., Bluey learns to ride a bike; Bluey and Bingo have a sleepover with their cousin). Rarely is there a B-story. And the episode usually revolves around a game, one that bears uncanny resemblance to the sort of bizarrely mundane game an actual kid might make up. In the pilot episode, "Magic Xylophone," Bluey and Bingo pretend their toy xylophone can freeze time. Of course, sibling squabbling inevitably ensues when the two have a hard time sharing. In another episode ("Keepy Uppy") the kids play one of their most beloved games where they simply have to keep a balloon up in the air. However, a balloon cannot be shown in the first act without popping by the end. Thus, Bandit and Chilli have to figure out how to console their kids when the balloon bursts and Bluey and Bingo both scream like they just saw their best friend explode.
In that sense, the show isn't really simple at all. As anyone who has spent even a day with a child can tell you, everything is at once straightforward and serious, sweet and absolutely batshit. One time, a kid I was babysitting asked me where darkness "comes from." (Literally, what??) This is the same child who, on a different day, looked at the mole on my cheek and said, "Hey, you've got a little nipple on your face." Not only do Bluey and Bingo act exactly how kids act, Bandit and Chilli usually respond how parents want to be able to respond. Both according to at least one analysis and some parents themselves, Chilli and Bandit are the platonic ideal of parents. Bandit, in particular, is an anomaly. He is a shining TV example of a competent, involved parent, forgoing the bumbling-dad trope you can see in so many animated series (Homer Simpson, Peppa Pig's Daddy Pig, et al.).
However, this doesn't necessarily speak to Bluey's growing fandom of college students and other childless adults (many of whom were, unsurprisingly, first introduced to the series on TikTok). Fortunately, you needn't look further than the comments sections of any TikTok posted to the official Bluey account (which has 2.2 million followers, by the way) to find that answer. The replies can be distilled down to a mix of nostalgia, admissions that a ten-second clip made them cry, and people saying the show has healed their inner child. For a generation who has spent much of their adult life amid various crises, Bluey is visual Xanax. It's got the low stakes of something like Great British Bake Off and the whimsy of Sesame Street. It's cute in a way that isn't overly saccharine, capturing the same sort of soft, sincere energy as a Pixar short. And the show is genuinely funny. If you enjoy the Recess Therapy account on TikTok (a.k.a. the birthplace of corn kid) and felt a spiritual connection to that viral clip of Elmo feuding with a rock, Bluey is absolutely right for you.
If you need more proof, Bluey was among the ten most-streamed shows of 2022. It has been nominated for a Critics' Choice Award and won a BAFTA. Some of its fans include Elijah Wood, Natalie Portman, and Eva Mendes. Last month, Chilli was on the cover of InStyle Australia. In addition to its earworm of a theme song, the music in Bluey is well-done by any measure, let alone for a kids' show. This is by design. "I don't think we ever approach it from the place of getting kids into classical music, or anything like that," Bluey composer Joff Bush told the New York Times in a 2022 interview. "It's always about the story, about what feels right and fits." One of Rolling Stone's favorite episodes, "Sleepytime," for example, incorporates music from Gustav Holst's renowned orchestral suite "The Planets." (The episode, as a whole, is on par with the opening sequence of Up and the incinerator scene in Toy Story 3.) In season two, there is an episode called "Handstand" that pays beautiful homage to the 1981 short art film "Tango." (You may have missed the reference if you were distracted by the one puppy who kept sticking his paw in a jar of frosting, licking it, and then going back for more.) Bluey was even the subject of an academic paper published in 2020. In many ways, Bluey is for intellectuals.
However, it is Bluey's ability to talk about real, difficult topics in a nuanced way that makes the show so remarkable. As NPR's Pop Culture Happy Hour podcast noted, Bluey is particularly adept at making "parents' emotions visible to kids in a way they often aren't." In an episode called "The Show," Bingo and Bluey put on a partially factual, mostly made-up play about how their parents met. When they get to the part where Chilli is pregnant, Bingo puts a balloon under her shirt. Then, the balloon pops unexpectedly. In the quick moment when you see the actual parents' reaction, their faces fall, they give each other a quick look, and Bandit rests his hand on Chilli's. Some have interpreted this scene as an acknowledgement that Chilli experienced a miscarriage. The subtlety, in particular, struck those viewers. It's something Bluey does well: balance the gravity and levity of day-to-day life, giving us childhood wonder with a knowing wink and a kiss on the forehead.
If nothing else, the series is the perfect salve to both our shrinking attention spans and increased propensity to binge-watch anything and everything. Each episode is nine-ish minutes long; seven-ish minutes without credits. (For context, TikTok's maximum video length is now ten minutes.) There are currently over 100 episodes of Bluey available to stream on Disney+. Use this information however you wish.